If you are looking for a fast soccer cleat made with leather, don't look past Mizuno Morelia Neo III Beta. It is one of the most improved super lightweight leather cleats on the market, designed to be quick, and has arguably the most barefoot feel among all leather cleats. It directly competes with any top-level speed cleat.
If PUMA is the brand to choose if you are looking for the lightest synthetic soccer cleats, Mizuno is the brand to pick out if you are looking for the most lightweight leather cleats. If you choose the MIJ model, you'll get a handmade version with the best materials that can surpass the lifespan of most soccer cleats.
It is the only soccer cleat you need for whatever role you have on the soccer field. And it took Mizuno several years to arrive at this design. Indeed, the Beta model is more advanced in lightweight materials and a barefoot feel while maintaining the same durability familiar to all Mizuno users.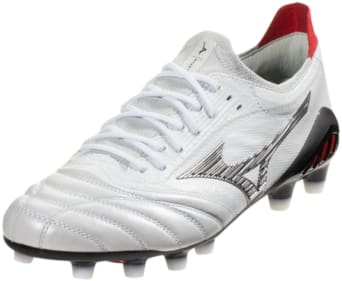 The Morelia Neo III Beta Design
The Beta model uses super soft kangaroo leather that doesn't stretch as much, no matter how hard you play. It has a stitch pattern that ensures it doesn't overstretch during the game. To make it even more lightweight, this leather cleat uses a durable, thin synthetic material in the midfoot.
This leather cleat also uses a BF (barefoot) knit on the tongue, which offers a seamless, one-piece upper designed to go with the foot. It has a modern, thinner soleplate with an added lightweight mesh in the outsole for stability, a responsive ride, and a more natural feel.
The soleplate uses all-conical studs and is more aggressive than you might think. However, we wished Mizuno could design an even more aggressive stud pattern if it wants the Beta to be the best speed cleat because it feels like you can go faster.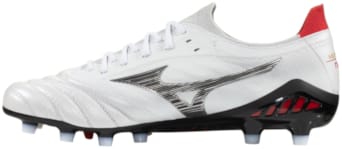 Fit and Feel
Having a K-leather upper, Mizuno Morelia Neo III Beta feels super comfy in every part of the foot. It is one of those soccer cleats you can wear all day and still feel comfortable after removing it. This model feels roomier than other Neo models. And the BF knit on the tongue does a great job of stretching out to accommodate wide-footed players.
This leather cleat also uses knit material on the heel and around the ankle, which offers more comfort and increased mobility. The soleplate has a stable base that gives you power when making multidirectional movements. And all-conical studs that help the foot function more efficiently.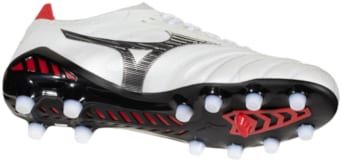 What Player Position is Best for Mizuno Morelia Neo III Beta?
Mizuno Morelia Neo III Beta is most famous among goalkeeper, defender, and midfield positions. It has over 15 professional players using it in high-level competitions. If you are a female player, you can use it anywhere on the soccer field because the outsole will give you a stable base and all-conical studs that allow the foot to function very well.
Final Thoughts
There is a level of comfort that only leather cleats can provide. The leather material hugs the foot and goes with it in all directions. It also offers better protection from impact, conforms to the shape of your foot better (over time), and is a more durable material than fabric.
Of all the leather cleats on the market, Mizuno Morelia Neo III Beta is the go-to shoe for a comfortable, fast, and super lightweight leather cleat. The Beta model is several years in the making and has massive improvements over other Neo models in weight and barefoot feel.
See also: