If you are looking for a soccer cleat known for being super light and fast, New Balance Furon V6+ Pro should be on top of your list. This speed cleat still doesn't seem to get the credit it deserves, but it has a superb performance admired by some of the fastest players of the game. If you've heard about it before and want to know more about it, this review is for you.
New Balance Furon V6+ Pro has only around six ultra-famous professional players using it in high-level competitions. But it makes enough noise to make this soccer cleat noticeable in the soccer community. Although designed as a speed cleat, it is also versatile enough to function very well in various roles on the soccer field, not just in forward positions.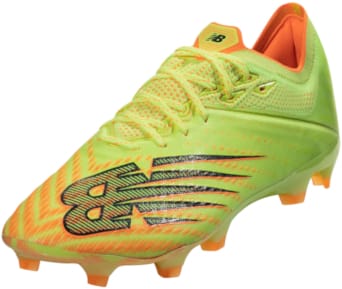 The Furon V6+ Pro Design
This new model significantly improved from the previous version and is better than its predecessor. The brand has even made it more lightweight by 6 grams. It now has an official weight of 6.2 oz only.
The upper uses a fresh approach to the Fit Weave technology, and the construction now feels closer to the foot for a more barefoot-like sensation on the ball.
The Hyposkin clear film now covers the entire top layer of the upper to prevent water intake during wet weather. Underneath it is the Fit Weave, which offers a supportive sock-like fit that gives stability in all directions. It has a redesigned knitted collar, which can give you more freedom of movement on the ball. However, we wish New Balance had designed the lacing system better.
This latest generation continues to use the same lightweight nylon plate as before with ribbed midfoot for a stiffer feel that can give you more stability and power when making those quick movements. The shoe insert also comes with an infiniGRIP technology designed to reduce foot slippage.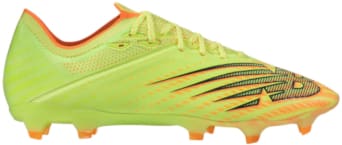 Fit and Feel
New Balance Furon V6+ Pro feels much like its predecessor but with less padding and a more barefoot-like feel. It is one of the most comfortable soccer cleats available with a superb locked-in fit and arguably the best cushioning and support in the heel and around the ankle.
"But why do all modern soccer cleats seem to move toward a more barefoot-like feel?" you may ask. Soccer cleats with a more barefoot-like touch on the ball and the ground offer distraction-free control of the ball and the field. Since your foot is closer to the ball, it gives you better control and allows your foot to generate more power and accuracy. The only drawback of a thinner upper is less protection from a forceful impact. So be careful when using such soccer cleats in defensive positions.
The thinner soleplate of the Furon V6+ Pro also feels stiffer in the midfoot because of the ribbed design. Some sports doctors love this soleplate and consider it one of the best stiffer soleplates that can prevent injury to the forefoot. The Chevron-shaped studs also give you power during rapid acceleration and quick changes of direction.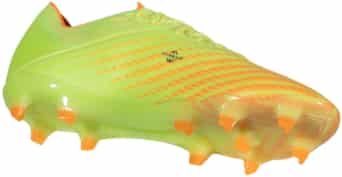 What Player Position is Best for New Balance Furon V6+ Pro?
The Furon V6+ Pro is super light and fast and is excellent in straight-line acceleration. While it is most suitable for use among soccer forwards, you will also see elite midfielders and defenders using it.
Should You Choose a Takedown Model?
The top-tier model, Furon V6+ Pro, costs $220 and has the best materials and modern technology this soccer cleat offers. It feels more premium than its predecessor. These materials and technology blend very well to help you with speed and performance.
However, if you find the price of the top-tier model too much, go for the next takedown model, the Furon V6+ Destroy. It costs $130 only and also has the improvements of the high-grade model. But it has less technology and uses a different material/design in some parts of the soccer cleat.
Final Thoughts
The Furon V6+ Pro is the best speed cleat New Balance has ever made. Professional players love it for its super light and fast features. It is also one of the most comfortable soccer cleats on the market, with a secure locked-in fit that goes with the foot. It can fit most foot types and has a wide version for wide-footed players.
New Balance did an excellent job on this model. The brand built it well from the ground up and has the modern technology you need to help bring out a better version of yourself. So if you are looking for the right moment to try a soccer cleat coming from a brand that knows the human foot very well, now is the time, and this is the soccer cleat.
See also: