Our top pick in the best soccer cleats for defenders is adidas Predator 20.1.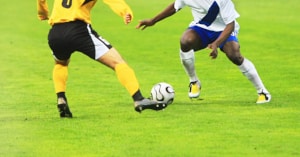 If you are a defender, you will wear your cleats faster than any other player on the pitch. Defenders have the most demanding role. And they must be stronger (or at least equal in strength) as the forwards of the opposing team, so they can put a stop to any scoring attempt. On top of that, defenders must be able to change direction quicker than the opponent to intercept the ball and stop any offensive strategies.
These powerful movements put rough treatment on your soccer cleats, but is very rewarding if you can defend your goal on a crucial match. Winning a game sometimes depends on how well the defensive lineup is after your team has scored a crucial goal.
Much is required if you are a defender, whether you play in the center-back, sweeper, full-back, and wing-back positions. You have to play at your very best to avoid costly mistakes that can leave your goalkeeper wide open to the opposing team's striker.
What are the Best Soccer Cleats for Defenders?
Here's what to look for in a soccer cleat:
Better grip on the ground.
Speedy recovery so that the player can run back into a better position.
Better stability for lateral movements and for quick release and change of direction.
With that said, the best soccer cleats for defenders are blade cleats because they have better grip on the ground, thinner, and offer superior turning ability. But you have to be aware that blade cleats are less stable than round cleats. Although every defender can live with it because of the defensive traits they offer.
Disclosure: We provide links to shoes mentioned in our reviews and use affiliate links to earn commission income from qualifying purchases at no cost to you. This site is an associate of Amazon, Nike, and Soccer.
Best Soccer Cleats for Defenders
1. Nike Tiempo Legend 8 – Sergio Ramos, Real Madrid CF
2. Nike Phantom Vision 2 – Daniel Carvajal, Real Madrid CF
3. Nike Magista Opus II
4. Nike Tiempo Legend VII
5. Nike Phantom Venom – Andrew Robertson, Liverpool FC
6. Nike Mercurial Superfly 7 – Junior Firpo, FC Barcelona
7. Nike Mercurial Vapor 13 – Nelson Semedo, FC Barcelona
8. adidas Predator 19.1 – Nacho Fernandez, Real Madrid CF
9. adidas Predator 20.1 – Ferland Mendy, Real Madrid CF
10. adidas Predator 20+ – Alvaro Odriozola, FC Bayern Munich
Did you know that a successful full-back can assume other roles on the pitch such as midfielder positions and still be as effective? A defender who is dominant in ball control can be an excellent midfielder as well.
A successful defender can score a goal while in a midfield position. And he is a feared opponent in the air during corner kicks.
11. adidas X 19.1 – Marcelo, Real Madrid CF
12. adidas Nemeziz 19.1 – Aaron Wan-Bissaka, Manchester United FC
13. adidas Nemeziz 19+ – Eder Militao, Real Madrid CF
14. adidas Copa Mundial
15. adidas Copa 19.1 – Joel Matip, Liverpool FC
16. adidas X 18.1
17. Under Armour Magnetico – Trent Alexander-Arnold, Liverpool FC
18. PUMA ONE 20.1 – Harry Maguire, Manchester United FC
19. PUMA FUTURE 5.1 – Dejan Lovren, Liverpool FC
20. PUMA King Platinum – Romelu Lukaku, Inter Milan
For those defenders who want better grip on the ground and quick release when running and changing directions, they must choose the soccer cleats with mix blade and round protrusions.
The mix blade and round studs will give you superior support for lateral movements so you can make a quick change of direction and quick release from ground at the crucial moment as you run to help your team on a counter-attack.
In fact, there is a growing number of amateur and professional soccer players who prefer the mix blade and round studs because they have the best of both worlds – stability, superior turning ability, and quick release from ground.
Mix blade and round cleats are very useful for wing-back defenders whose roles put heavier emphasis on the attack.
You may also like: