Our top choices among the best soccer cleats for wide feet this year are:
Non-leather cleat: PUMA Ultra 1.2, a well-padded and versatile speed cleat preferred by wide-footed players.
Leather cleat: Nike Tiempo Legend 9 Elite, a roomy and comfortable leather cleat with therapeutic support for problem gait.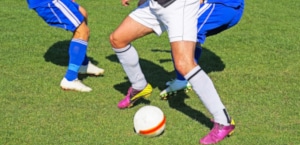 Did you know that wearing a tight-fitting soccer cleat can make your foot swell, causing it to widen? While this is not the only issue, finding the best soccer cleats for wide feet can be a long process if you don't know where to begin.
If you were born with wide feet, there is nothing to worry about when playing as a soccer player. You just need to look for wide soccer cleats or the ones with an option for width. If you are slightly overweight, you can have wide feet but it's easy to address them as you begin to train and lose weight. Wide feet are a common foot issue where there's no cause for concern most of the time.
But wide feet can become a problem with increasing age and foot deformities such as flat feet, bunions, calluses, and hammertoes. The size and shape of your feet become irregular; therefore, finding shoes that fit well can pose a more difficult challenge.
But regardless of what causes your feet to be wide, this common foot issue isn't represented enough by shoe manufacturers even on the game of soccer. That is why it's a challenge to find a snug shoe in every part when your foot is wide.
RELATED: Best Soccer Cleats for Overpronation & Flat Feet
What are the Best Soccer Cleats for Wide Feet?
The best soccer cleats for wide feet are comfortable and supportive in every part of your feet. They have normal widths that are wider than other cleats. The right ones must have flexible collars that allow easier entry into the shoe. And the toe box area makes sure your toes don't feel cramped so they can have room to splay and generate power at take-off.
If these are the boots you're looking for, have a look at our list of wide soccer cleats.
Disclosure: We provide links to shoes mentioned in this article and use our affiliate links to earn commission income from qualifying purchases at no cost to you. This site is an associate of Amazon, Nike, and Soccer.
Best Nike Soccer Cleats for Wide Feet
– Nike Phantom GT2 Elite –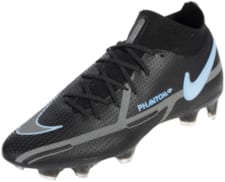 If you have super wide feet, Nike Phantom GT2 is the soccer cleat for you. It feels like the Mercurials, although less explosive and more like a smooth all-rounder that does everything well but won't hold you back if you decide to sprint. It's a versatile soccer cleat that you'll see being used anywhere on the soccer field.
Nike Phantom GT2 has a one-piece Flyknit upper with Generative Texture technology, designed to control the ball better. It has a Hyperquick system on the outsole, which offers more stability and dynamic traction for quick changes in the lateral direction. See full review »
– Nike Tiempo Legend 9 Elite –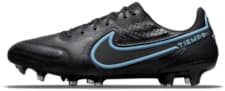 Nike Tiempo Legend 9 not only fits a wide foot type but also has more lateral and ankle support than most soccer cleats. It is one of the most comfortable modern boots with a classic touch. And it is doctor-recommended for flat feet, a defect that makes the foot more prone to fatigue.
This new model now has soft foam pods underneath its k-leather upper, which help lock the foot down (and give a personalized fit) through every change of direction. The Quadfit mesh is gone and the boot now offers a better close-to-the-foot sensation than before. See full review »
– Nike Premier II –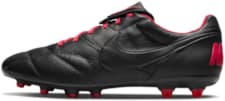 If you prefer the leather boot because of its excellent protection from an impact injury, but you're on a tight budget, go for Nike Premier II. It's up to 3x lower in price than the most expensive leather boots on the market. But it's not far behind in terms of leather quality and comfort.
Nike Premier II is an all-leather wide boot from the front of the upper to the back of the shoe. This latest model now has an added stitch pattern that prevents over-stretching of the leather material. It has an insert with good support on the arch. This boot has conical studs that add more stability to the shoe. See full review »
Best Adidas Soccer Shoes for Wide Feet
– Adidas Predator Freak.1 –
If you are looking for a wide soccer cleat designed to have complete control of the ball, Adidas Predator Freak.1 low-cut is one of your best options. It's a favorite soccer cleat for defenders and midfielders. This low-cut version allows easy access to the shoe and complete freedom of movement around the ankle.
Adidas Predator Freak.1 is arguably the most aggressive-looking soccer cleat. It has rubber spikes all over its upper, which offer extra grip on the ball. It can even make the ball swerve during passes and power shots. It has a CONTROLFRAME outsole with conical-like studs under the forefoot for more stability and quick release and blade cleats under the heel for optimal grip. See full review »
– Adidas Copa Mundial –
If you are looking for a wide football boot with the most classic design, Adidas Copa Mundial is arguably your best option. It is one of the best soccer cleats of all time. And it is still very effective on the soccer field. In fact, some professional players are still using it.
This soccer cleat has an all-leather upper, which offers not only the softest touch but can also protect you from impact injury. It has all-conical studs, which offer optimum traction and better pivoting ability. These conical studs add extra stability to the shoe and allow the foot to function normally. See full review »
Note: The only concern for Adidas Copa Mundial is its lack of anti-stretch technology on its upper material. So choose the snuggest fit when buying this soccer cleat.
Best PUMA Soccer Shoes for Wide Feet
– PUMA Ultra 1.2 –
If you are a wide-footed player looking for a speed cleat, don't look past the Ultra 1.2 because it is where your foot can be most comfortable.
PUMA Ultra 1.2 is a new entry to the speed cleat category, and already it has gained plenty of loyal following because of its being excellent in everything it does.
This speed cleat is an all-rounder and has more volume, and is well-padded than other speed cleats on the market despite its weight being 5.6 oz only. You'll see its versatility being displayed on various field positions from goalkeeper to striker.
– PUMA King Platinum –
When it comes to leather boots, you'd usually go up half a size to get the snuggest fit because of the thicker leather material. But not with PUMA King Platinum. With this boot, you can order your usual size, and it could fit perfectly as long as you don't have super wide feet.
Of course, the leather will stretch to adjust to your foot after a couple of games or training sessions.
PUMA King Platinum has a speed cleat design to it, so the leather upper will hug your foot very closely. In fact, this is the first football boot of Neymar Jr. under the PUMA brand.
This soccer cleat weighs 7.0 oz only and has a RAPIDSPRINT outsole for a quick take-off in all directions. It has mixed blades and conical studs for stability, excellent turning ability, and quick release from the ground.
– PUMA FUTURE Z 1.2 –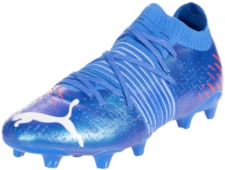 PUMA FUTURE Z 1.2 is a unique soccer cleat designed for agility, control, and speed. It has an adaptive FUZIONFIT+ compression band that wraps around the entire midfoot for optimal support during any explosive movements. The rest of the upper has structured support that follows your foot in all directions.
If you are a wide-footed player, you're going to love this boot. In fact, narrow-footed players can go down half a size to get the snuggest fit. The compression band in the middle does its wonder in adjusting to any foot type.
PUMA FUTURE Z 1.2 is one of the most comfortable soccer cleats for 2021. It has a soft lining you'll love. For this model, PUMA introduces a new technology named FUZIONFIT+ around the midfoot instead of the older NETFIT technology.
Other Wide Soccer Shoes
– Mizuno Rebula Cup Japan –
Mizuno Rebula Cup is a wide soccer cleat built for control and speed. And this latest model seems to be built more on improved comfort than performance, which is a good thing coming from an already great soccer cleat. In fact, professional players are using the Rebula Cup on goalkeeper, defender, and forward positions.
This soccer cleat has one of the best soleplates with conical studs on the forefoot for added stability and aggressive blade-like cleats under the heel.
– New Balance Furon v6+ Pro –
New Balance Furon v6+ not only fits a wider foot comfortably, but it is also the only speed cleat with an option for width. So it has the right sizes for the wide-footed players.
This soccer cleat has one of the best locked-in sensations through its Fit Weave technology in the Hypoknit upper that follows the foot everywhere. It has arguably the most comfortable heel support among modern soccer cleats. It has a soft lining and comfortable padding where you need it.
If you experience discomfort because of wide feet, you can choose a soccer cleat with leather material. A leather cleat is known to be more comfortable than a synthetic cleat. And it can mold to your foot to give you that exact custom fit. And the shoe can stay that way throughout its lifetime on the pitch. The only downside of a leather cleat is during wet conditions because it absorbs water and becomes heavier.
Final Thoughts
Finding a wide soccer cleat is not a walk in the park, but once you'll find the right one, it can help you perform better on the soccer field. Although this foot problem isn't represented enough by shoe manufacturers, some brands are reaching out by offering the soccer player a wider shoe or an option for width.
While it's more convenient to buy soccer cleats online, we think it is best to try the shoe before buying it if you have wide feet. However, online stores have expert representatives who can help you find your best wide soccer cleats. And you have more options buying online with an easy return policy. Just remember that the right soccer cleat feels good right away.
Frequently Asked Questions
What are the Best Women's Soccer Cleats for Wide Feet?
The best women's soccer cleats for wide-footed players are wide boots with conical-like studs for extra stability and better performance. The best examples of these boots are Nike Tiempo Legend 9, Nike Premier II, Adidas Predator Freak.1, and Mizuno Rebula Cup. These are unisex boots so women soccer players may have to size down a full size to get the right fit.
What are Wide Soccer Cleats with the Best Value for Money?
The wide soccer cleats with the best value for money are Nike Premier II, Nike Tiempo Legend 9 Pro, PUMA Ultra 1.1, and Adidas Nemeziz 19.1. You'll also find boots with great value for money among older models on our list of wider soccer cleats.
You may also like: