Our top pick in the best soccer cleats for wide feet is PUMA FUTURE 5.1.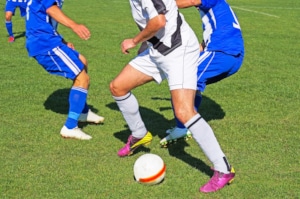 Did you know that wearing a tight-fitting soccer cleat can make your foot swell, causing it to widen? While this is not the only issue, finding the best soccer cleats for wide feet can be a longer process if not done right.
If you were born with wide feet, there is nothing to worry on the pitch. You just need to look for a wide soccer cleat or one with an option for width. If you are slightly overweight, you can have wide feet but they can be corrected as you begin to train and lose weight. Wide feet are a common foot problem where most of the time there's not a cause for concern.
But wide feet can become a problem with increasing age and foot deformities such as flat feet, bunions, calluses, and hammer toes because the size and shape of your feet becomes irregular, therefore finding the shoes that fit well can pose a more difficult challenge. Plus, other worse conditions that may add up to the swelling of your feet are heart failure and diabetes.
But regardless of what causes your feet to widen, this common foot problem isn't represented enough by shoe manufacturers. That is why it's a challenge finding a shoe that is snug in every part when the foot is wide. So your performance on the pitch will be affected.
RELATED: Best Soccer Cleats for Overpronation and Flat Feet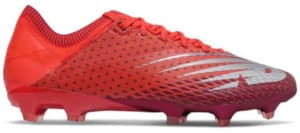 What are the Best Soccer Cleats for Wide Feet?
The best soccer cleats for wide feet are comfortable and supportive in every part of your feet. They have normal widths that are wider than other cleats. The right one must have a flexible collar that allows an easier entry into the shoe. And the toe box area makes sure your toes don't feel cramped so they can have room to splay and help generate more power to support your stride.
Disclosure: We provide links to shoes mentioned in this article and use our affiliate links to earn commission income from qualifying purchases at no cost to you. This site is an associate of Nike and Soccer.
Soccer Cleats for Wide Feet
1. PUMA FUTURE 5.1 – Luis Suarez, FC Barcelona
2. PUMA ONE 20.1 – David Silva, Manchester City FC
3. Nike Tiempo Legend 8 – Virgil van Dijk, Liverpool FC
4. Nike Premier II – Tommie Hoban, Republic of Ireland
5. Nike Phantom Vision 2 – Alexandre Lacazette, Arsenal FC
6. Nike Phantom Venom – Alex Oxlade-Chamberlain, Liverpool FC
7. Nike Mercurial Superfly 8
8. adidas X 19.1 – Mohamed Salah, Liverpool FC
9. adidas Copa Mundial – Luke O'Nien, Sunderland AFC
10. adidas Predator 20.1 – David Luiz, Arsenal FC
If you experience discomfort because of wide feet, you can choose a soccer cleat with a leather material. A leather cleat is known to be more comfortable than a synthetic cleat. And it can mold to your foot to give you that exact custom fit. And the shoe can stay that way throughout its lifetime on the pitch. The only downside of a leather cleat is during wet conditions because it absorbs water and becomes heavier.
11. adidas Nemeziz 19.1 – Lionel Messi, FC Barcelona
12. Mizuno Morelia Neo III – Lazar Markovic, FK Partizan
13. Mizuno Rebula 3 Japan – Aaron Hunt, Hamburger SV
14. New Balance Furon v6 – Sadio Mane, Liverpool FC
15. New Balance Tekela v3 – Rose Lavelle, USWNT
Of all the top brands on the list, only New Balance have an option for width in soccer cleats.
Final Thoughts
Finding the best soccer cleats for wide feet is not a walk in the park but once you are able to find the right one, you'll have confidence that you can deliver your best performance on a crucial game. Although this foot problem isn't represented enough by shoe manufacturers, some brands are reaching out by offering the soccer player with a wider shoe or an option for width.
While it's more convenient to buy soccer cleats online, we think that if you have wide feet, it is best to try the shoe on before buying. Although online stores have expert representatives who can help you find your best wide soccer cleats. And you have more options buying online with an easy return policy. Just remember that the right soccer cleat feels good right away.