If you are a dynamic player who constantly makes explosive movements in all directions, you need an agility boot that provides a stable and supportive locked-in fit. Of all the agility boots available, PUMA FUTURE Z 1.2 is the one that can provide you with an ingenious adaptive fit. It uses a FUZIONFIT+ compression band, which helps lock the foot down through every change of direction.
This compression band that wraps around the midfoot does a great job of providing multidirectional support without restricting your movements. Neymar Jr. loves the design, and he prefers it over the King Platinum, his first PUMA soccer cleat.
PUMA FUTURE Z 1.2 is one of the most famous soccer cleats, with over 260 professional players using it in major competitions. But it is less popular than Adidas Nemeziz and Copa. Although this soccer cleat will make you feel you are paying less than what you get from it in terms of premium materials and modern technologies.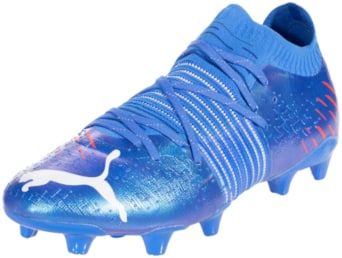 The FUTURE Z 1.2 Design
PUMA FUTURE Z 1.2 has the design to support any quick movements in all directions. The combination of the FUZIONFIT+ compression band and lightweight lacing system provides a superb locked-in fit that follows the foot and gives you confidence when you make multidirectional movements.
It uses a knit collar positioned below your ankle, designed to give you a snug and secure fit and prevent dirt from getting into the boot while you play. The upper has a coating technology, called GripControl Pro, for better touch and control of the ball.
This soccer cleat has a Dynamic Motion System asymmetric outsole that can give you optimum traction and grip on any natural and artificial surface.

Fit and Feel
PUMA FUTURE Z 1.2 is one of the most comfortable soccer cleats right out of the box. It has a comfortable footbed with a Nano Grip sock liner, designed to help reduce foot slippage as you make ultra-fast movements on the soccer field.
It is adaptive in the midfoot and could virtually fit all foot sizes. It feels longer than usual, though, so you may size down a half size to get a better fit. But in most cases, the FUTURE Z feels true to size. Just make sure the space between your toes and the end of the shoe will not be longer than ½ inch.
What Player Position is Best for PUMA FUTURE Z 1.2?
The FUTURE Z 1.2 is most famous among forwards, even strikers. But be aware that it is around 2 oz heavier than any top-level speed cleat and may not be as fast as the Mercurials on straight-line runs.
Neymar Jr. is the only one using it for Paris Saint-Germain FC. But you'll see that it is also a favorite soccer cleat by professional goalkeepers from other teams. And like any other agility boot, it will also work very well in midfield positions.

Should You Choose a Takedown Model?
If you want the best performance, go for the top-tier, most expensive model, the FUTURE Z 1.2. It is the lightest model with the most premium materials and the best technologies. But even this top-tier model is $25 cheaper than Adidas Nemeziz .1.
However, if you want to save cash, go for the first takedown model, the FUTURE Z 2.1. It costs $130 only with subtle differences compared to the top-tier model. This next-tier model still has the FUZIONFIT+ compression band but uses different upper materials with extra padding, which makes it a heavier boot. The sock liner also misses out on Nano Grip technology.
Final Thoughts
After PUMA let go of the Netfit system, it gave the FUTURE room to improve its fit and performance. However, this latest generation of the FUTURE Z may only differ from its predecessor on the upper texture. It's an excellent soccer cleat, but PUMA could have improved it.
Since the FUTURE Z 1.2 and 1.1 have minor differences, it may be wiser to choose the 1.1 because it automatically goes on sale. But be aware that its production date is at least one year ago, so the reduction in the value of the materials used may affect the lifespan of the boot.
See also: