Our top pick in the best soccer cleats for goalkeepers is Nike Tiempo Legend 8.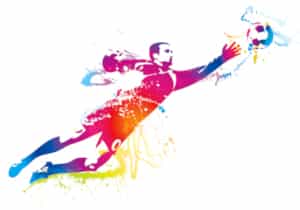 Have you seen a team that had little chance of winning but still won because of its resilient goalkeeper?
The soccer goalkeeper is one of the key players who can influence the outcome of any match especially when the game has reached full time goalless and it's time for the penalty shoot-out for a match that cannot end up in a draw.
This is one of those times when all of your team members would wish their goalkeeper is the best in the world because of the overwhelming chances of both teams to score a goal. In fact, any player has over 90 percent chance of scoring a goal in the penalty arc, which is just 12 yards away from the goal line.
The goalkeeper is the team's last defense who is not only directly in charge of guarding the restricted area of the pitch and preventing the opposing team from scoring a goal, he also helps in the defensive communication with defenders in preventing the opposing team from creating chances. In fact, the goalie must be in constant communication with his defenders because he is the one who sees everything from the goal line area.
But what makes a goalkeeper great? It is his ability to anticipate and get into position quickly to cover a vulnerable spot before an opponent gets there or before the ball gets there and into the back of the net.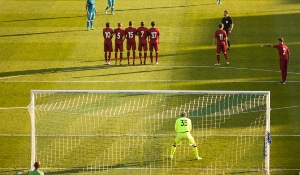 What are the Best Soccer Cleats for Goalkeepers?
The best soccer cleats for goalkeepers are lightweight and fast cleats, which can allow the goalie to take off and change direction in an instant. Most goalkeepers go for the cleats that offer comfort and excellent lockdown for side-to-side lateral movement.
Since you'll be assigned to perform goal kicks, choose a soccer cleat that offers great accuracy and ability to generate power during power kicks. Moreover, pick the cleat that fits your fancy.
Disclosure: We provide links to shoes mentioned in our reviews and use affiliate links to earn commission income from qualifying purchases at no cost to you. This site is an associate of Nike and Soccer.
Best Soccer Cleats for Goalkeepers
1. Nike Phantom Venom – Thibaut Courtois, Real Madrid CF
2. Nike Tiempo Legend 8 – Alisson, Liverpool FC
3. Nike Phantom Vision 2 – Willy Caballero, Chelsea FC
4. Nike Mercurial Vapor 13 – Odysseas Vlachodimos, SL Benfica
5. adidas Predator 20+ – Marc-Andre ter Stegen, FC Barcelona
6. adidas Predator 20.1 – Alphonse Areola, Real Madrid CF
7. adidas Copa 19.1 – Christian Fruchtl, FC Bayern Munich
8. adidas X 19.1 – Paulo Gazzaniga, Tottenham Hotspur FC
9. PUMA One 20.1 – Antonio Donnarumma, AC Milan
10. Under Armour Magnetico – Asmir Begovic, AC Milan
Since the goalkeeper is the only player who is allowed to use his hands in handling the ball, he must incorporate acrobatic skills and flexibility in the air to have energy and control of movement of his body during challenging situations. And since he is easily the tallest player among his teammates, he should maximize his advantage in the air where he is allowed to extend his arms to block or catch the ball.
An excellent goalkeeper is one who can stay patient and composed during the game. Because if your team has a solid defense and is the favorite to win the tournament, chances are you will be performing more goal kicks than catching the ball. But don't lose focus because anything can happen in an instant during the game. And one simple mistake can quickly cause an upset where the opposing team can score a goal and retreat to an all out defensive position until the game is over.
You may also like: