If your current role on the soccer field requires a bit of everything, a great all-rounder shoe is what you need. Only a few soccer cleats can do it all on the pitch, and Nike Phantom GT2 is the most famous of them all.
Nike Phantom GT2 has over 1,000 professional players using it in high-level competitions. It is one of the very few soccer cleats you'll see performing everywhere on the soccer field, from goalkeeper to forward positions. This shoe is excellent on straight-line runs, lateral movements, quick cuts, and full stops.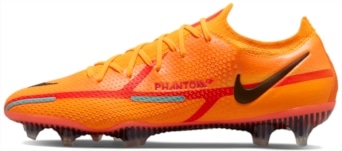 Fit and Feel
Nike Phantom GT2 has the combined technologies of two former great boots – the Phantom Venom and Vision 2. The Venom was a fast striker boot with a full Flyknit upper, designed to hug the foot and provide comfortable and pliable support that follows the foot. The Vision 2 was an all-around boot with an excellent locked-in fit.
The Phantom GT2 seems to position itself as a control cleat. It has a one-piece Flyknit upper with Generative Texture (GT), which provides precise touch and control of the ball. But they are not as grippy as the rubber spikes of Adidas Predator Freak. The GT2 also feels like a wide Mercurial. And if you have wide feet, this is one of your best options in the Nike lineup.
Nike Phantom GT2 Performance
This soccer cleat has a close-to-the-ball Flyknit upper and a Hyperquick soleplate system, which provides dynamic traction and excellent support for quick cuts and lateral movements. Although the soleplate is not as fast as the Nike Aerotrak 2 soleplate of the Mercurials, it won't hold you back when running at top speeds. With its ACC technology, it can do anything in dry and wet weather.
This latest generation has a redesigned generative texture, which now looks like a Chevron stud instead of a line protrusion. These elements provide an improved touch and control of the ball. However, the new model is a little heavier than its predecessor, which may also receive added reinforcements on the upper to make it more supportive and durable.

What Player Position is Best for Nike Phantom GT2?
This soccer cleat is a smooth all-rounder and does a bit of everything on the pitch. Professional players usually use it in defensive and midfield positions. And it is most suitable for player positions where other control cleats (Adidas Predator Freak and PUMA FUTURE Z 1.2) are most effective.
Final Thoughts
If you are a dynamic player looking for a versatile soccer cleat that can do everything for you on the pitch, don't look past Nike Phantom GT2. It has all the technologies of two former soccer cleats – the Phantom Venom and Vision 2. And it has all the elements to match your skills in dribbling, passing, and shooting.
See also: