Do you wonder why this 39-year-old soccer cleat still exists today when other old-school boots have disappeared already? Famous players like Diego Maradona, Zinedine Zidane, and David Beckham wore Adidas Copa Mundial in the past, and the soccer community still prefers it for its simple design and superior materials.
Adidas Copa Mundial has a timeless design from the ground up that appeals to both amateur and professional soccer players. It still has a loyal following of as young as 21 among elite players. And if you want to know what it's like to wear one of the most influential soccer cleats that have contributed much to soccer, look no further than this German-made Adidas legend.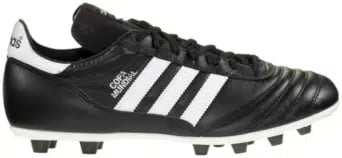 Adidas Copa Mundial Design
This leather cleat has an official weight of 11.7 oz. It offers two layers of soft full kangaroo leather, from heel to forefoot, with soft padding where the foot meets the ball. The upper has stitch patterns, which help prevent the leather from overstretching as you play.
The sole is dual-density direct-injected polyurethane, designed to be hard, durable, and scratch-resistant with traditional three rivets at the front to help prevent damage if you scrape the ground during an instep kick. It is a thicker and stiffer sole, which helps reduce overbending of the forefoot at toe-off. It also helps distribute weight and pressure from the ground and studs and prevents injury to the forefoot.
The Copa Mundial has long and well-placed all-conical studs for hard and dry natural fields. The molded studs provide extra stability, optimal traction, and pivoting ability, which help the foot function more efficiently.
However, with heavier premium materials and an old-school design, this Adidas legend feels less responsive than the modern, more lightweight options. But it provides dependable performance and excellent protection from impact injury.

Fit and Feel
Adidas Copa Mundial is very comfortable on the feet but may need a break-in period for some players. Its soft and thick leather upper provides a distinct comfort, and custom fit, and ensured protection from any forceful impact. It has a well-cushioned footbed, which conforms to the shape of your foot. You can even feel the arch support in there.
The rigid sole only easily bends under the ball of the foot, and you won't feel the studs pushing upward, even on hard surfaces. The touch and control on the ball are not as skin-tight as the modern soccer cleats with super-thin uppers, but they will deliver the performance you need.
What Player Position is Best for Adidas Copa Mundial?
This soccer cleat is most suitable for goalkeeper and defender positions where you need a heavy-duty shoe to deal with shock from the ground and collisions with other players. However, soccer forwards are also using it for attacking maneuvers.
The Copa is also ideal if you are new to soccer because it will provide the comfort, support, and protection you need for the hardening process of training. And it is technically sound and will give you confidence in your performance.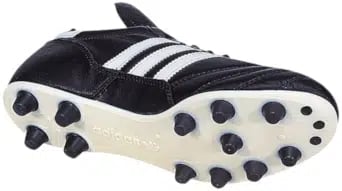 Final Thoughts
With the ever-changing soccer technologies, Adidas Copa Mundial is one of the few soccer cleats that have stood the test of time. It has been around since 1982 and could very well exist for as long as soccer exists. It is one of your best options if you need a top-tier boot with a less expensive price point.
The Copa is a technically sound classic leather cleat with high-quality materials and solid performance loved by amateur and elite players. It provides comfort, support, and protection and is most famous for its fit, which conforms to the shape of your foot once fully broken in. It is also a favorite soccer cleat for older players and those with a problem gait.
See also: