Nike Premier II is arguably your best option if you are looking for a good soccer cleat at a super low price. It's a top-tier model that doesn't have a takedown version, so it has the choicest materials and technology. This classic leather cleat directly competes with Adidas Copa Mundial and is a practical choice if you are new to soccer. It is $40 cheaper than the Copa and is more lightweight by around 87 grams.
Although no professional soccer players are using it in high-level competitions, Nike Premier II has all the elements of a good soccer cleat. This shoe has a full kangaroo leather upper that can protect the foot from any powerful impact. It has a comfortable footbed with a removable contoured insole that conforms to the shape of your foot. And shorter all-conical studs that provide stability and help the foot function normally.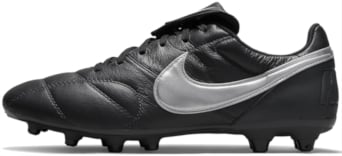 It has a low-cut design, which allows the ankle to have complete freedom of movement. The fold-over tongue secures the laces for cleaner ball contact. The overall design and comfort are classic, but it has modern technology to match your skills.
Fit and Feel
Nike Premier II is one of the best leather cleats you can buy, although it may only be most suitable for shorter natural grass. It is a comfortable classic leather cleat even in slightly wet conditions with a thinner and less bulky upper than some old-school soccer shoes.
This second-generation model has more stitch patterns than its predecessor to help prevent the k-leather from overstretching as you play. It has a full-length TPU plate and all-conical studs, which offer durability and stability.
However, to get the best performance, choose the snuggest yet comfortable fit so that when the leather stretches, it will still be effective in the field.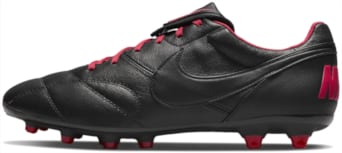 What Player Position is Best for Nike Premier II?
This leather cleat weighs 8.6 oz and is most suitable for goalkeeper and defensive positions. Although it has multidirectional flexibility and is like the Tiempo II in terms of design, the Premier II doesn't have the technology for speed and won't be worthy of soccer forwards.
Final Thoughts
The Premier II looks and feels like the model it replaces, which resembles the Tiempo II. It's not a heavy shoe and doesn't have the bulky sensation of some old-school leather cleats. It fits like a modern soccer cleat and offers the comfort of an actual K-leather shoe. However, if you compare it with the Copa Mundial, the Adidas legend will be superior in terms of performance.
See also: