Our top pick in the best soccer cleats for strikers is Nike Mercurial Vapor 13.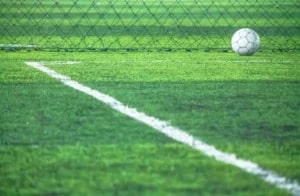 There is no other feared player on the pitch who can cause havoc on the opponent's territory than a fearless striker who knows how to create chances and is a prolific goal scorer. Every team member wants their favorite goal scorer to have high morale. And it is the coach's usual game plan to make his striker play throughout the game.
An excellent soccer striker has the following unique attributes:
He has natural talent and unique instinct.
He has excellent speed that can peel off any defender on a one-to-one situation.
He has a strong body that can withstand the physical challenges from any defender (although the striker doesn't need to be stronger than the defender).
He has an excellent ball control and dribbling skills.
He has a remarkable ability to pass the ball under pressure.
He has an exceptional ability to score a goal with just one touch.
He has great power and accuracy on both feet.
He has a unique strategy to position himself for great scoring opportunities.
He has a high level of confidence that can beat the odds.
What are the Best Soccer Cleats for Strikers?
The best soccer cleats for strikers are speed cleats made with the lightest of materials to help the striker speed up and change direction with ease. If you are a striker and you're looking to improve your game on the soccer field, try these speed cleats with great touch on the ball. They are the lightest in soccer cleats.
Disclosure: We provide links to shoes mentioned in our reviews and use affiliate links to earn commission income from qualifying purchases at no cost to you. This site is an associate of Nike and Soccer.
Best Soccer Cleats for Strikers
1. Mizuno Morelia Neo III
2. PUMA One 20.1 – Sergio Aguero, Manchester City FC
3. PUMA King Platinum – Romelu Lukaku, Inter Milan
4. PUMA FUTURE 5.1 – Luis Suarez, FC Barcelona
5. Nike Phantom Vision 2 – Alexandre Lacazette, Arsenal FC
6. Nike Mercurial Vapor 13 – Neymar, Paris Saint-Germain FC
7. Nike Mercurial Superfly 7 – Cristiano Ronaldo, Juventus FC
8. Nike Tiempo Legend 8 – Stevan Jovetic, AS Monaco FC
9. Nike Phantom Venom – Alex Oxlade-Chamberlain, Liverpool FC
10. adidas X 19+ – Luka Jovic, Real Madrid CF
The striker is the team's primary scoring threat and he should be a prolific goal scorer who can create opportunities, can hardly be stopped by any defender, and can finish well.
11. adidas X 18+ Purespeed
12. adidas X 18.1 – Michy Batshuayi, Chelsea FC
13. adidas X 19.1 – Karim Benzema, Real Madrid CF
14. adidas copa 19.1 – Adrien Rabiot, Juventus FC
15. adidas Copa 19+ – Paulo Dybala, Juventus FC
16. adidas Nemeziz 19+
17. adidas Nemeziz 19.1 – Lionel Messi, FC Barcelona
18. adidas Predator 20+ – Lassina Traore, AFC Ajax
19. adidas Predator 20.1 – Fabinho, Liverpool FC
20. New Balance Furon v6 – Sadio Mane, Liverpool FC
In a defensive situation, there can only be one player left on the opponent's territory to challenge the defenders – the striker. But time and time again has shown that when defenders give the striker enough distance, he can score a crucial goal for his team.
Competitive Vs Recreational Soccer Cleats
If your purpose in playing soccer is just for recreational, you can choose an Academy soccer cleat or a low-end cleat. It's the cheapest version of the model yet heavier (sometimes double the weight of the competitive cleat). And you'll give up on support, comfort, and performance.
But if you are positioning yourself to become a great soccer player, don't settle for less. Go for the highly competitive or semi-competitive soccer cleats. These cleats will help bring out the best in you. Yes, they have the most expensive prices but it's worth it because they're the lightest, most durable, and offers the best support, comfort, and performance.
You may also like: