Our top pick in the best soccer cleats for forwards is Nike Mercurial Superfly 7.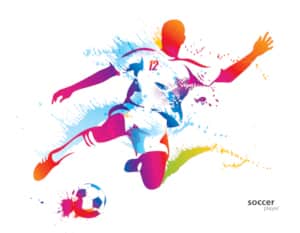 No matter how strong your team's defense is, if you don't have the attacking players with scoring prowess, your team will always end up either in a draw or defeat. You don't want this in a point system game like soccer because the point you will get in a draw is only 1. But if you win the game, you will get 3 points.
Soccer forwards start the game on the middle of the field, then spend most of the time on the opponent's field even reaching as far as the goal line. But you will seldom see a forward near his own goal line except for a last-minute defense when the team is winning the game.
If you are a center forward (or striker), you are the focus of your team's offensive play and their ball possession efforts will end up being directed to you. During a tough match, the defenders and midfielders may work harder just to get the ball to you so you can strike it to the back of the net of the opposing team.
Any forward can be a second striker whose duty is to create chances for the main striker but will not hesitate if given a chance to score a goal. The second striker should assume a midfield role if needed.
In addition, a forward can be a winger on either right or left positions. The winger's main duty is to dribble the ball past the defenders of the opposing team and pass the ball to the striker.
But regardless of the field position, a great forward must be quick, dominant in ball possession, and has the power to strike the ball with great accuracy on both feet. And when given a chance, he can score a goal with just one touch. Although he may not need to be stronger than the defenders of the opposing team.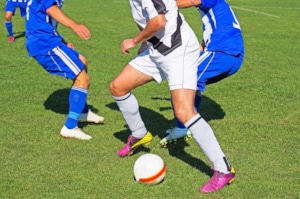 What are the best soccer cleats for forwards?
The best soccer cleats for forwards are speed cleats made with the lightest of materials to help him speed up and change direction with ease. Since forwards tend to be the faster players on the field, their cleats must be lightweight and (as much as possible) offer a barefoot touch on the ball.
If you are a forward and you're looking to improve your game on the pitch, try these speed cleats with great touch on the ball. They are the lightest in soccer cleats and used by the most famous forwards.
Disclosure: We provide links to shoes mentioned in our reviews and use affiliate links to earn commission income from qualifying purchases at no cost to you. This site is an associate of Nike and Soccer.
Best Soccer Cleats for Forwards
1. Nike Mercurial Vapor 13 – Neymar, Paris Saint-Germain FC
2. Nike Mercurial Superfly 7 – Cristiano Ronaldo, Juventus FC
3. Nike Phantom Venom – Harry Kane, Tottenham Hotspur FC
4. Nike Phantom Vision 2 – Gonzalo Higuain, Juventus FC
5. adidas X 19+ – Luka Jovic, Real Madrid CF
6. adidas Nemeziz 19.1 – Lionel Messi, FC Barcelona
7. adidas Copa 19.1 – Erik Lamela, Tottenham Hotspur FC
8. adidas X 19.1 – Mohamed Salah, Liverpool FC
9. Puma Future 5.1 – Luis Suarez, FC Barcelona
10. New Balance Furon v6 – Sadio Mane, Liverpool FC
In a defensive situation, there can only be one player left on the opponent's territory to challenge all the defenders – the striker. But time and time again has proved that when defenders give the striker enough distance, he can score a crucial goal for his team, which can cause an upset. And after doing that, he can retreat to a defensive position until the game is over. But even at the halfway line, an excellent forward can score a goal if the goalkeeper loses focus.
You may also like: