If you are looking for an affordable running shoe that can give you the best value for money, don't look past Nike Winflo 8. It only costs $90 but has everything you need to run more efficiently. It is perfect for short to long daily runs.
We loved its predecessor (the Winflo 7) for the value for money it offered. But this latest generation is even better in some ways with more technology and improved design (especially on the upper construction) while maintaining the same affordable price.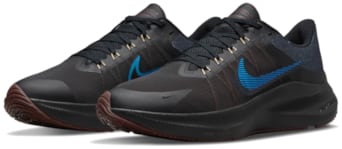 Nike Winflo 8 is true to size. It has stabilizing features that can help align your foot (so you won't waste energy) and prevent body pains as you run. The heel support is very comfortable. And it now offers a bit more breathability and a supportive upper, although the design of the tongue looks cheaper than its predecessor.
Nike even recommends it for those who have a problem with a gait like supination. Indeed, the Winflo 8 is one of those running shoes that can make you feel you are paying much less than the quality of materials and performance you are getting. Although you may not desire it if you are used to wearing expensive running shoes.
The Winflo 8 Design
The new Winflo is a supportive, neutral running shoe. It has a 10 mm heel-to-toe drop, which, according to some experts, is the new go-to drop in running shoes. The impact of running in the 10 mm differential is more gentle on the knee than a 12 mm drop running shoe. However, the 12 mm drop will provide a more familiar feeling on the foot because it mimics a casual shoe that you wear every day.
The new translucent mesh upper has Flywire cables that offer more support with added breathability in the forefoot. However, the lacing system remains conventional, which works for many runners.
There is a Zoom Air unit on the forefoot, a responsive technology, which helps cushion the impact and pressure during toe-off. This material quickly springs back to help even older runners generate power at take-off. Working together with the Zoom Air technology is the Cushlon foam, a soft and responsive material, which adds springiness to your stride.

Fit and Feel
Nike Winflo 8 feels like your typical neutral running shoe, but with added stabilizing features that can help align your foot and prevent pains in the knee, hip, and back. Even if you are slightly flat-footed but don't have any foot issues, this can be a comfortable shoe for you. It has a contoured footbed, which fits your foot nicely. And it feels super comfortable under the heel, with excellent foam padding that secures the ankle better as you run.
Like any neutral running shoe, the cushioning under the forefoot is not plenty. And we love the roomy toe box of the Winflo 7 more than this new model. With the Winflo 8, there is not much room for the toes to wiggle inside the toe box. Although you can't say the Winflo 8 is a special running shoe, it has improved over the previous model, especially on the upper support.
The mesh upper now feels a little more breathable, and the shoe is more comfortable even during hot weather. But it is not as breathable as the top, more expensive long-distance running shoes. So it may not be ideal for hot regions. The feel of the upper material is less premium as well. But the upper is now more supportive kudos to Nike for bringing back the Flywire cables.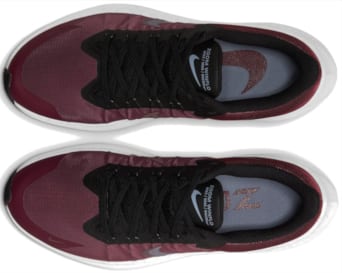 Final Thoughts
If you are a runner looking for an affordable running shoe with everything you need, the Winflo 8 is one of your best options. This everyday trainer is also comfortable for any walking activity, even walking all day.
It is true to size and has improved in locked-in fit and support on the upper. It has super comfortable heel cushioning and secure support around the ankle. The forefoot has Zoom Air, which helps with cushioning and responsiveness when pushing off. And the outsole provides dependable traction on the ground.
However, the mesh upper is less breathable compared to the more expensive running shoes, and the material feels less premium, too. So it may not be ideal for running in hot weather.
You may also like: