Our topmost choices for the best shoes for corns and calluses:
Neutral: Brooks Glycerin 20 — the most cushioned neutral running shoe of Brooks. It has a plush interior that provides a snug, breathable, and soft locked-in fit that surround the foot with comfort.
Support: Brooks Adrenaline GTS 22 — a support shoe with plenty of cushioning, energy return, stability, and comfort even for longer runs.
Corns and calluses occur when your body reacts to protect your skin from repetitive friction or rubbing. You can have corns by wearing ill-fitting or high-heeled shoes because they can give pressure on your feet. But if you are healthy, there's no need to treat corn unless they cause discomfort.
There is only a little chance that corn will affect your overall health. But you can suffer from infections if your feet have breaks in the skin and become exposed to germs. If you have diabetic feet, corn will cause more discomfort because it can prevent good blood flow. Other factors that may increase your risk of corn are bunions and hammertoes.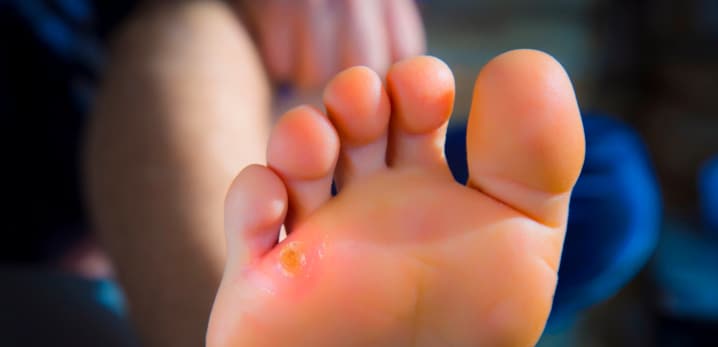 Bunions create a wider forefoot because of the deformity of the joint in the big toe. The foot with bunions will need a shoe with a wide toe box to avoid corns from forming. A similar approach goes with hammertoes, a deformity affecting the middle toes, causing them to bend. The foot with a hammertoe will need a shoe with a firm sole but soft in the upper to avoid the risk of corn.
But you can stop corn from developing by examining your skin for signs of irritation that can lead to the unwanted formation of dead skin. While it's easier to prevent corn than treat them, they can heal once you stop the irritation and rubbing.
What are the best shoes for corns?
The best shoes for corns provide excellent cushioning and shock absorption, proper arch support, and smooth transitions. They have a comfortable fit and a breathable upper that doesn't irritate the skin.
The Best Shoes for Corns and Calluses
The best shoes prevent corns and calluses. Here are 10 comfortable shoes to try:
New Balance 990v5
This timeless athletic shoe from New Balance continues to be very famous among running shoes. New Balance 990v5 has maximum cushioning. Its upper materials are breathable mesh and pigskin leather. This material combination is more comfortable than synthetic and can provide a better locked-in fit when running. The 990v5 has a 12 mm heel-to-toe drop, a differential very gentle on your foot, ankle, Achilles, and calf. It will also give you a familiar feel similar to a casual shoe.
Shop On Zappos
Brooks Ghost 15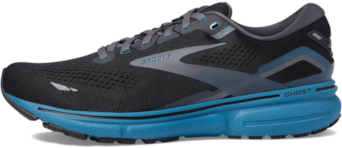 The Ghost 15 is one of Brooks' most comfortable running shoes. It has a breathable Engineered Air Mesh upper with an enhanced fit, which hugs and locks the foot as you move. You won't care much about how your foot lands on the ground because it has full-length DNA LOFT V2 technology, a better midsole foam cushioning that provides a soft landing during heel strike and a smooth transition through toe-off. It is the shoe to try if you are new to the Brooks brand.
Shop On Zappos
Brooks Glycerin 20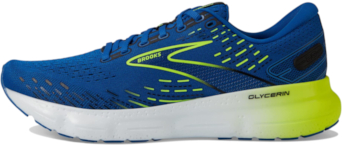 If you want a softer and more premium lining, Brooks Glycerin 20 is the one to choose. It has the plushest cushioning in Brooks running shoes. It offers excellent impact protection and shock absorption. It has a 10 mm heel-to-toe drop that doesn't put too much load on your foot, ankle, Achilles, and calf. The sole is wider under the forefoot, adding stability to your stride. It now has a roomy toe box. And the upper construction delivers a secure locked-in fit through a soft and plush new mesh material that feels super comfy.
Shop On Zappos
For more stability, go for Brooks Glycerin GTS 20. It is the Glycerin model with a GuideRails system. GuideRails helps reduce excess movement and provides proper foot alignment that also aids the knees while running. This latest model has a higher stack height than its predecessor.
Hoka Bondi 8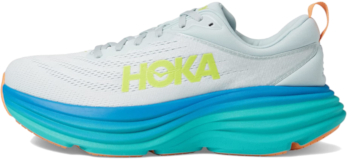 The Bondi 8 is the most cushioned neutral running shoe of Hoka. It has soft padding in the right places with stabilizing features that can reduce extra movement while running. It also has a soft interior and a breathable engineered two-layer mesh upper. The oversized compression-molded EVA foam midsole offers a 4 mm heel-to-toe drop suitable for long-distance running. The 4 mm differential also feels gentle to the knee and hip.
This latest generation of the Bondi has a fresh look, it transitions better than its predecessor and is lighter with a better locked-in feel.
Shop On Zappos
Another excellent option is Hoka's best daily trainer, the Clifton 9. This max-cushioned shoe is most famous for its soft, light, and stable features. It is arguably the best shoe to choose if you are new to running.
Brooks Adrenaline GTS 22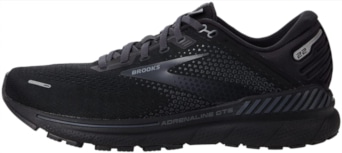 Brooks Adrenaline GTS 22 is a best-selling shoe with plenty of cushioning, energy return, and comfort even for longer runs. It is a support shoe that feels like the Ghost 14. It has a GuideRails system that offers proper foot alignment and protection to the knees. It has Brooks' softest midsole cushioning, the DNA LOFT foam, which takes care of total shock absorption and smooth transitions. And an Engineered Air Mesh upper that offers a soft, breathable, and secure fit.
Shop On Zappos
New Balance 840v5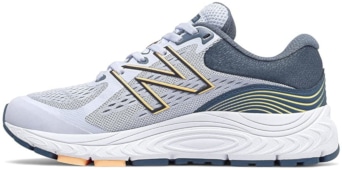 New Balance 840v5 is APMA-accepted diabetic footwear that can address your orthotic needs. It is a go-to neutral running shoe for people who have custom orthotics. It has plenty of cushioning, energy return, and comfort even for longer runs. It is excellent in providing plush cushioning, absorbing impact, and redirecting the force away from your body. And it has a breathable engineered mesh upper with no-sew material, designed to be gentle on your skin.
Shop On Zappos
Altra Escalante 3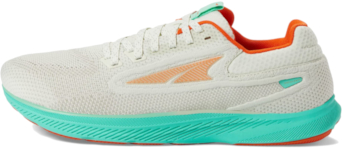 The Escalante 3 is Altra's top-rated neutral running shoe with balanced cushioning. It is arguably the most comfortable zero-drop running shoe out there. And if you crave a stack height that is equal from heel to forefoot, this daily trainer is the one to choose.
Altra Escalante 3 has a unique FootShape toe box, which allows your toes to splay naturally and generate power when pushing off. It uses an Altra EGO midsole with InnerFlex technology, which offers a soft, responsive, and flexible ride. It also has FootPod technology that allows your foot to move naturally.
Shop On Zappos
Mizuno Wave Rider 26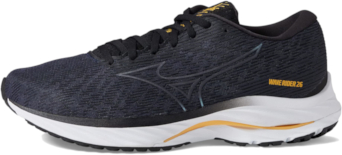 The Wave Rider 26 is Mizuno's most popular running shoe. It has a durable engineered mesh upper, which feels very comfortable and breathable. The fit is also spot-on in all areas of the foot.
This running shoe uses Wave technology, which encourages natural foot motion and delivers excellent cushion and shock dispersion. It features an added offering in the midsole region: the MizunoEnerzy, a midsole foam technology designed to increase rebound, softness, and toughness.
Shop On Zappos
Adidas Ultraboost Light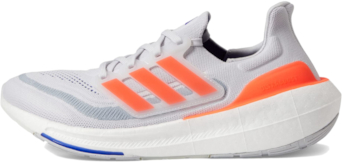 The Ultraboost Light is arguably the most comfortable Adidas running shoe. The brand made several subtle changes to this latest model, which now feels more comfortable than its predecessor. It is also more lightweight than the previous model because of the Ultraboost Light midsole, a foam designed to be 30% lighter than BOOST material.
Adidas Ultraboost 23 (Ultraboost Light) has a Primeknit+ FORGED upper, a cushiony, one-piece knitted fabric, which offers a sock-like fit that helps prevent friction and rubbing of the skin. It has tons of BOOST technology, a foam cushioning unique to Adidas. The Ultraboost Light midsole offers superior energy return, flexibility, durability, and temperature control.
Shop On Zappos
Nike React Infinity Run Flyknit 3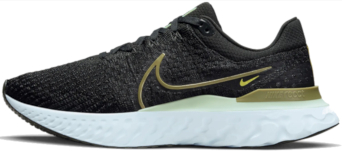 If you have heard great things about Nike React and wish to try what it's like on the feet, go for Nike React Infinity Run Flyknit 3. This running shoe has the most React foam cushioning designed to be more durable, comfortable, supportive, and stable. It can reduce running-related injuries significantly. It has a rocker geometry in the midsole for smooth transitions. And more Flyknit upper than ever, which is one of the best breathable upper materials you can get in a shoe.
Shop On Nike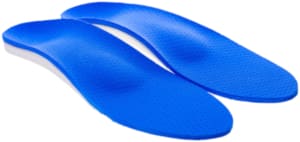 The Best Insoles for Corns and Calluses
Here's a list of the best insoles for corns and calluses:
1. Powerstep Pinnacle Plus
2. Powerstep Original
3. Superfeet Premium Blue
4. Superfeet DMP Copper
5. Superfeet Premium Yellow
6. Superfeet Premium Black
7. Superfeet Premium Orange
8. Spenco Medics Diabetic Insole
9. Spenco RX Orthotic
10. Spenco RX Full Arch Cushion
Heads up: As an Amazon Associate, we earn from qualifying purchases.
Best Shoes for Corns: Frequently Asked Questions
Will corns go away on their own?
It is easier to prevent corns than treat them. But they can heal naturally once you are able to stop the irritation and rubbing.
Can socks give you corns?
Yes. Socks can give you corns if they don't give your feet a chance to breathe. Wearing socks with less breathable shoes for a long time can result in unwanted moisture in the feet. The solution is to wear breathable shoes and socks with good material.
What shoes cause calluses?
The shoes that can cause calluses are ill-fitting and high-heeled shoes because they can create consistent pressure on the foot. The parts of the foot that receive shock will start having blisters, then comes the formation of corns or calluses.
Can loose shoes cause corns?
Yes. Shoes that are too loose can cause irritation and rubbing. But before you can get corns, you will have painful blisters. Ill-fitting shoes don't only cause corns, but they also force the foot to slide or roll too much, which may result in problems in the feet and ankles.
Can tight shoes cause calluses?
Yes. Tight shoes can cause calluses because they put extra pressure on the foot. And if you walk or run a lot (even stand a lot), you will be more prone to having calluses. So choose comfortable shoes that fit well and are breathable.
You may also like: