Adidas UltraBOOST ST is the UltraBOOST stability running shoe any overpronator can enjoy and experience support for long runs.
If you love the design and technology of Adidas UltraBOOST and you've been looking for a stability shoe that can correct foot and postural deformities, the UltraBOOST ST Parley is one running shoe you should consider. This shoe has renowned BOOST technology with cushioning designed for stability.
The UltraBOOST ST Parley has recycled ocean plastics (from Parley For The Oceans), made into thread and woven into this running shoe. Adidas Parley, an official collaboration product line between Adidas and Parley For The Oceans, attempts to solve the ocean plastic problem by expanding its plastic cultivation to more athletic product lines.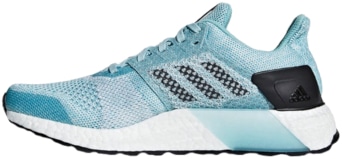 There are many Adidas models with BOOST technology (i.e., Clima, Uncaged, X, 19, ATR, etc.), but it's the UltraBOOST ST model overpronators can enjoy. We recommend this running shoe for long urban runs. And although the UltraBOOST ST Parley has a normal arch type, it has a Stabilising Torsion System which comprises lightweight arch support that allows the forefoot and rearfoot to move independently, adapting to various surfaces without straining the foot.
Notable Features
weight: 294 g
midsole drop: 8 mm
adidas Primeknit textile upper, which digitally knits the entire upper in just one piece
textile lining
Flexible Stretchweb outsole, which adapts and moves with the foot
Continental Rubber outsole for at least 30% more traction than any conventional rubber outsole in wet and dry conditions
dual-density BOOST cushioning under the arch, providing midfoot support
Flexible midfoot Fitband which hugs the foot for secure flexibility
Fitcounter heel for unrestricted fit
Stabilizing Torsion System, which keeps you supported from landing to push-off
The BOOST Technology
This trendy technology in the midsole uses thermoplastic polyurethane (TPU), which compresses during impact to deliver better shock absorption and incredible cushioning, then instantly bounces back to its original shape.
The BOOST technology in the midsole, which was first unveiled in 2013 in an attempt by Adidas to revolutionize the industry, has now become one of the most desirable technologies on the market. In fact, many experienced runners consider the UltraBOOST as the best athletic shoe Adidas has invented.
Who should wear Adidas UltraBOOST ST Parley?
This running shoe is best for those who need stability. Those people who have fallen arches (or flat feet) and overpronation can benefit a lot from the UltraBOOST ST because it has the much-needed arch support that can correct this type of foot biomechanics.
Overpronators need enough arch support because they have weaker leg muscles and over-flattening of the arch, causing the foot to roll inward more than the ideal 15% to stabilize the body for the next stride.
With overpronation, one can experience pain in the knee, hip, and back during a workout. In extreme cases, overpronation can lead to plantar fasciitis.
Who should not wear Adidas UltraBOOST ST Parley?
You may avoid this shoe if you're a supinator because it won't have the flexible support you need for your foot type. Therefore, it could cause pain in the calf and hamstring muscles even during initial runs.
Most Helpful Reviews
Very comfortable and lightweight
Can go long runs with no issues, even for sensitive knees and hips
It's thicker and so soft inside
They were a little small on the toe and narrow across the front
Great comfort that never disappoints
Delighted with recycled plastics for comfort
A favorite long-distance running shoe that keeps the shin splints away
Very comfortable and worth buying
Comfortable, stylish, well made
Very comfortable and flexible and cushioning is great.
Final Thoughts
According to our runner who tested this shoe for over a month, the UltraBOOST ST Parley offers genuine comfort and support for long-distance urban runs. With its trendy BOOST technology in the midsole and breathable Primeknit textile upper, you can expect this running shoe to deliver the best performance and luxurious cushion Adidas can offer.
So far, the materials used in the UltraBOOST ST Parley are holding up, but we hope that the recycled ocean plastics used as the primary materials in building this shoe will also last longer, considering the shoe's price. If in case you prefer to wear non-recycled materials, go for the UltraBOOST ST.
You may also like: