Shin splints are common injuries affecting the inner edge of the shinbone (also known as the tibia) because of repeated stress of tissue in that part of the lower limb.
The dull pain in the shin can occur during exercise when you spend less warm-up time. Shin splints can crop up when you make a sudden change of movement. And if left unchecked, this injury can develop into a stress fracture.
Athletes who perform a lot of running and jumping during training are prone to shin splints. This injury also affects aerobic dancers who spend most of their dance programs for long hours.
Non-athletes can have shin splints if they have deformities in the foot, such as flat feet and high arches, because they bring poor foot biomechanics. The postural deformity can also cause pain in the lower limb and back because the body doesn't have the right alignment. Other factors that can add up are obesity and weak calves, weak quads, weak glutes, and shoes with poor support.
What are the Best Running Shoes to Prevent Shin Splints?
The best running shoes that can prevent shin splints offer excellent cushioning and shock absorption during impact. They can give effective cushioning to ease the pain in the injured inner part of your tibia. You may also need a doctor-prescribed shoe insert, depending on the level of injury.
How We Choose a Running Shoe
We spend many hours testing new running shoes and reading discoveries, expert advice, and consumer testimonials on various foot conditions. And we choose the best running shoes for a specific foot problem.
Disclosure: We provide links to shoes mentioned in this article and use our affiliate links to earn commission income from qualifying purchases at no cost to you. This website is an associate of Amazon, On, Zappos, Spenco, and Runderwear.
Runderwear – Have a chafe-free running!
Best Running Shoes for Shin Splints
– Brooks Adrenaline GTS 21 –
Brooks Adrenaline GTS 21 has the famous GuideRails holistic support system, a technology that uses bumpers (on both sides of the midsole) to prevent unnatural calcaneal shifting and too much roll of the foot. The GuideRails system helps prevent pain in the knee, shin, hip, and lower back by guiding your foot in the proper alignment.
Brooks Adrenaline GTS 21 has a DNA LOFT midsole, an EVA foam cushioning that goes from heel to forefoot designed to deliver soft landings and smooth transitions.
– Brooks Glycerin GTS 19 –
If you love the plush cushioning of Brooks Glycerin, you'll love this new support shoe. Brooks Glycerin GTS 19 uses GuideRails holistic support system in the midsole to prevent excess movement of the foot that can cause the lower limb to be misaligned. This running shoe has a maxed-out cushion with DNA LOFT technology, a soft midsole cushioning designed to deliver a smooth transition from heel strike through toe-off.
– Hoka One One Arahi 5 –
Hoka One One Arahi 5 has a J-Frame technology, a firmer foam in the midsole designed to provide stability and foot alignment without limiting your freedom of movement. It has a maxed-out cushion with an early-stage Meta-Rocker, a technology designed to provide a smooth ride. This running shoe has a 5 mm heel-to-toe drop, which is (generally) gentle on your knee, hip, and lower back.
– Hoka One One Clifton Edge –
Hoka One One Clifton Edge is the most stable shoe among the Clifton models. Designed for long distances, this running shoe comes with a balanced cushioning, an extended heel for softer landings, and an early-stage Meta-Rocker for smooth, responsive cushioning.
– Saucony Triumph 18 –
Saucony Triumph 18 is the best-selling item and arguably the most comfortable running shoe of Saucony. It has a PWRRUN+ midsole, an award-winning cushioning technology designed to be more lightweight, offers softer landings, and absorbs more impact. This running shoe has a FORMFIT system, a three-layer cushioning underfoot designed to deliver a custom fit that is unique to you.
– ASICS GEL-Nimbus 23 –
ASICS GEL-Nimbus 23 is the most cushioned neutral running shoe of ASICS. It's a flagship shoe designed for long-distance running. It has Rearfoot and Forefoot GEL cushioning systems, which attenuate shock during the heel strike and toe-off phases and allowing movement in multiple planes as the foot transitions through the gait cycle.
– New Balance Fresh Foam 1080v11 –
New Balance Fresh Foam 1080v11 is arguably the most famous running shoe with a Fresh Foam midsole. This latest item of 1080 features a new Fresh Foam X technology, a soft, responsive full-length midsole cushioning design to deliver a long-lasting ultra-cushioned ride.
This running shoe has an Ortholite sock liner, which conforms to the shape of your foot, and an Ultra Heel design, which hugs the back of your foot for a snugger, supportive fit.
– Nike React Infinity Run Flyknit 2 –
Nike React Infinity Run Flyknit 2 has plenty of React technology in the midsole, a foam cushioning designed to be more durable, comfortable, supportive, and stable. This running shoe is engineered specifically to provide superb cushioning and shock absorption. It will help you run at a steady pace. And it has a mission to reduce running-related injuries.
Shop React Infinity Run Flyknit 2 »
– Altra Escalante 2.5 –
Altra Escalante 2.5 is one of the most comfortable zero-drop daily trainers. If you are a midfoot or a forefoot striker, you'll be comfortable wearing this shoe (although it may require a transition). It has an equal stack height of 24 mm from heel to toe.
Altra Escalante 2.5 has a level 4 cushioning with a ton of energy and comfort, even for long runs. This running shoe has a contoured footbed and an Altra EGO with InnerFlex midsole designed to deliver excellent shock absorption, explosive take-off, and a springy ride. This shoe uses a FootPod outsole that can encourage your natural stride.
– Mizuno Wave Rider 24 –
Mizuno Wave Rider 24 uses Wave technology, a midsole foam designed to encourage a natural foot motion, deliver an excellent cushion, and shock dispersion that scatters pressure evenly through the shoe. The Wave technology will make you run easier.
This running shoe has an added offering in the midsole region: the new MizunoEnerzy foam technology, which increases rebound, softness, and toughness.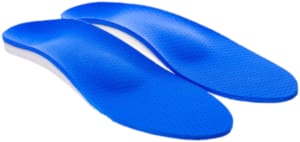 Shoe Inserts for Shin Splints
Here's a list of the best shoe inserts for shin splints:
1. VIONIC Oh Active Orthotic
2. Spenco PolySorb Heavy Duty
3. Powerstep Pinnacle
4. Superfeet Premium Green
5. Superfeet Premium Blue
6. Superfeet Premium Black
7. Superfeet DMP Copper
8. Sof Sole Memory Plus
9. Sof Sole AIRR Orthotic
10. Sof Sole Athlete
Did you know that between 13 and 17 percent of running-related injuries are shin splints? The people who are vulnerable to this injury are those who have high-impact activities and those that lack regular exercise.
If you are new to running, you'll likely have shin splints if you don't gradually increase your mileage to allow your muscles to adjust first and improve your running form. So find the best running shoes for your gait and achieve your ideal stride even for long-distance running.
You may also like:
Frequently Asked Questions
Will shin splints go away on their own?
If you are new to running, you might experience shin splints during your initial runs. But this pain should go away after a few days because your body will adjust to the stress of running. But if shin splints won't go away, make sure to have proper footwear and apply the right treatment before the condition develops into a stress fracture.