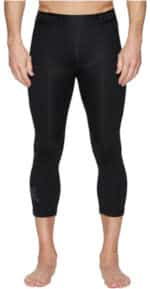 The Adidas Alphaskin is the best compression clothing Adidas has invented so far.
If you experience pain in your shin, calf, knee, and hamstring during a workout, the Adidas Alphaskin compression clothing might answer that problem.
This compression clothing hugs your skin like a second skin, delivering a locked-in feel and giving maximum support in every area it covers, reducing muscle vibration and eliminating distractions during high-performance activity. The Adidas Alphaskin is notably excellent in giving support to the knees during quick lateral movements and helps absorb impact during footstrike as you run for those long miles. It covers your skin, giving your muscles a comfortable compression and allowing you the full range of motion.
Notable features
71% nylon / 29% elastane doubleknit
Cooling Climachill; UPF 50+ UV protection
Climacool fabric that rapidly transports heat and perspiration away from the body
The adidas Climachill Technology
The performance fabric with Climachill technology looks like any performance fabric. Still, it has a more cooling effect and comfortable materials, which keep the athlete always on the go and away from distractions. Climachill features aluminum cooling shields that adapt to the temperature outside and deliver immediate or instant cooling effects to the athlete's body.
Originally available on shirts only, Climachill technology is now available on shorts. Besides aluminum cooling shields, Climachill also features titanium flat yarn, which adapts to the temperature outside to cool further the body of up to 36 percent increase in cooling capacity over the older Climacool fabric.
Not only does Climachill technology gives a cooling effect to your body, but it also makes the performance fabric very breathable with added enhanced moisture-wicking capabilities, which makes it quicker to dry (within just 5 minutes) than the performance fabric without Climachill.
The adidas Climacool Technology
This is the older cooling technology of Adidas, which you may still find in some of the compression clothing on the market. Like Climachill but now with relatively inferior technology, Climacool features well-placed mesh panels in the performance fabric, which pull the sweat away from the body and increase micro-ventilation. So, if you are given two options for Adidas Alphaskin compression, choose the item with the Climachill technology over the older Climacool technology.
Most Helpful Reviews
It fits perfectly and is breathable.
Adidas has irregular sizing across different products.
The leggings stay in place and don't move during exercise.
Very comfortable, nice design, nice colors, and good quality.
It runs a little long for those who have shorter legs.
Good for weight training.
Good quality with just the right amount of compression.
Very comfortable and totally squat-proof.
This fits right, looks great, and keeps warm.
I can't get how something compressing can be so comfortable and allow a full range of motion.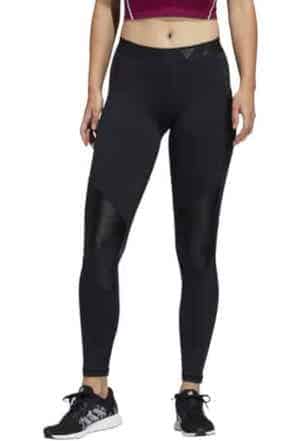 Final Thoughts
The Alphaskin gives an impressive first experience for anyone looking for excellent compression clothing. It hugs your skin like a second skin, reducing muscle vibration and giving an elastic compression that accompanies your movement. It protects every muscle it covers and stays in place where you put it.
The Alphaskin features a cooling and quick dry technology, which keeps the athlete always on the go and away from distractions. The only obvious improvement that Adidas needs to do is to increase the fabric's durability, considering its price, so that the athlete will enjoy it for a longer time.
You may also like: