Stability shoes are necessary if you have overpronation, and neutral shoes with stability mechanics won't work. Among numerous stable shoes, New Balance stability shoes are the go-to shoes for many people.
This shoe manufacturer, which started as an arch support company over a century ago, has stable shoes that can remarkably minimize the unfavorable effects of overpronation. These shoes have dependable support on the medial side of the foot that doesn't give up, even if you run for several miles or stand and walk all day.
Stability shoes are less versatile and usually heavier than neutral shoes, so why do I need them? You may ask. While most people who have overpronation don't have any issues with their feet, this pronation of the foot can increase the possibility of developing overuse injuries.
Overpronation makes a mess of your body's natural alignment and puts more stress on your lower leg, which may cause pain in your foot, shin, knee, hip, and back. And because there is excess movement of the foot, you can experience fatigue sooner than expected.
The Best New Balance Stability Shoes
Here's a list of the best New Balance stability shoes (in no particular order):
New Balance Fresh Foam X 860v13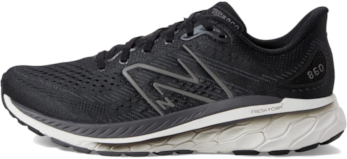 The Fresh Foam X 860v13 is one of New Balance's new-gen stability running shoes. It is only 8.5 grams heavier than its neutral sibling, the 880v13, but offers excellent support not just on the arch area (using the medial post) but also on the lateral side.
It has a 10mm heel-to-toe drop and can do a bit of everything as a daily trainer, from simple walks to running a marathon. It is also a great gym shoe with ample support for lateral movements.
The 860v13 uses Fresh Foam X, a next-level midsole foam that is softer and bouncier than its predecessor. The mesh upper has a breathable, no-sew construction with a roomy toe box. And the outsole is thick and durable.
Shop On Zappos
New Balance 1540v3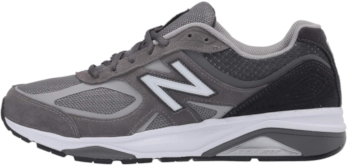 New Balance 1540v3 is an APMA-accepted running shoe with upgraded technology that prevents ankle rotation, which causes overpronation or supination. It has the famous Rollbar system and motion control features that lift the heel and maximize rearfoot stability.
It has a breathable mesh upper with a wide toe box and soft lining. And a soft ENCAP midsole that can help take the pressure off known foot injuries. It is a running shoe with a proven design that promotes good foot health.
Shop On Zappos
New Balance Fresh Foam X Vongo v5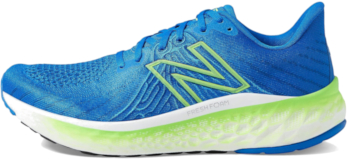 The Vongo v5 is a max-cushioned running shoe with a higher stack height (34mm/26mm) and a lower heel-to-toe drop (8mm only). It is 14 grams lighter than the 860v13 and the first Vongo model to use the Fresh Foam X, a midsole foam that is softer and bouncier than Fresh Foam.
It features a breathable Hypoknit upper, which provides compression and support in strategic areas of the foot. The toe box is roomy. The midsole has a medial post that doesn't push the medial side of the foot too much, giving you a stable and comfortable foot strike. And the outsole is super durable.
Shop On Zappos
New Balance 857v3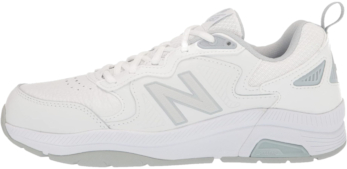 New Balance 857v3 is a stable gym and everyday shoe with a slip-resistant outsole tested using the standard test method (ASTM F2913). This shoe has superior traction on various surface conditions.
It has a comfortable leather upper, which conforms to the shape of your foot. It has a PU foam insert for all-day comfort and support. And a dual-density midsole that includes a Rollbar system that helps improve balance and reduce rearfoot movement.
Shop On Zappos
You may also like: