If you have excessive pronation and need more guidance on the medial side of the foot, a motion-control shoe is what you need. Among all the shoe brands, New Balance motion control shoes are probably the most sought-after because of their proven technologies
These shoes have motion-control features and a Rollbar midsole technology that combats overpronation and makes your every step comfortable and well-supported. They are also famous in the medical field and other jobs that require people to stand all day.
They have colorways that can easily match your outfit and offer support and cushioning that can last many hours.
The Best New Balance Motion Control Shoes
Here's a list of New Balance motion control shoes (in no particular order):
New Balance 928v3
New Balance 928v3 is a walking shoe that offers steady and stable support that lasts many hours. It is most popular in the medical field and other jobs that require standing and walking all day (and all night). It is also a go-to shoe for people with heel problems.
The 928v3 features motion control and a Rollbar stability system that provides enhanced support and helps control rearfoot movement. It has a leather and mesh upper, designed to comfortably and naturally hug the foot and adjust to its contours as you walk.
It has a compression-resistant Abzorb midsole technology designed to absorb impact and cushion the foot through every step. It has an odor-resistant seamless lining, which reduces foot irritation. And a rubber outsole with Walking Strike Path technology for a healthy stride.
Shop On Zappos
New Balance 1540v3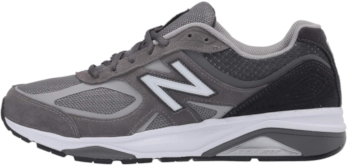 The New Balance 1540v3 is the only running shoe on this list. This APMA-accepted shoe is arguably the most popular motion-control shoe among men. It offers dependable stability that combats overpronation mile after mile. And it has a two-layer midsole foam for a supportive performance and soft bounce through Rollbar and ENCAP technologies. New Balance ENCAP has a core of soft cushioning of EVA.
Shop On Zappos
New Balance 847v4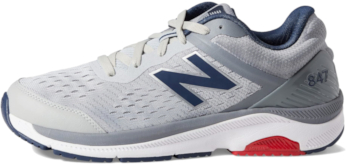 If you prefer a stable walking shoe with a much more breathable upper, the New Balance 847v4 is one of your best options. This shoe has a mesh upper, which enhances breathability and airflow as you walk. And like a true motion control shoe, it also uses a Rollbar stability post system for increased support and to help you control your rearfoot movement.
It uses an older midsole technology called TruFuse, a foam that is a little heavier than Fresh Foam, the upgraded New Balance midsole. And it also uses a full rubber outsole, which offers maximum traction over many surfaces.
Shop On Zappos
New Balance 577v1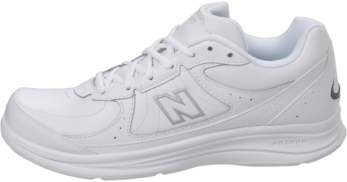 The New Balance 577v1 offers a durable leather upper but is much cheaper than the 928v3. And like its leather sibling, it also uses an Abzorb midsole, which resists compression, absorbs impact, and cushions the foot through every step. It also has a removable footbed with arch support. And a rubber outsole with New Balance's Walking Strike Path technology.
Shop On Zappos
Final Thoughts
A motion-control shoe is usually a little heavier than a standard stability shoe. It has a firmer structure on the medial side that corrects the foot and guides it to a more neutral position as it rolls inward at an increased angle.
These motion control features give the foot limited freedom of movement. It also makes the shoe less versatile. So unless you have issues with stability shoes and need more stability for support and comfort, make motion-control shoes your last option.
You may also like: