If you are new to running, choosing a pair of the best budget running shoes will have a lot of benefits. And it's easy to replace them once they wear out. Even the more experienced runners will find a budget running shoe practical to buy if they choose the right one.
Expensive running shoes do not always guarantee better quality, while some cheap running shoes may surprise you with how they provide excellent value for money. The best-value running shoes offer durability and quality performance for most types of runs. Some of these shoes may even surprise you with how they offer plenty of technologies and quality materials while maintaining a low, low price.
To help you zero in on your best budget running shoes, we have prepared a list of the best cheap running shoes this year priced at $100 and below. However, be aware that some of these shoes are less breathable, so there may be an issue wearing them on longer runs in hot weather. Also, the material will look cheaper if you put them side by side with expensive shoes. Plus, these cheaper shoes may also cause noise when you strike the ground as you run.
Heads up: As an Amazon Associate, we earn from qualifying purchases.
The Best Cheap Running Shoes of 2023
Here's a list of the best cheap running shoes (in no particular order) – these lower-end running shoes will also work as dependable casual shoes for daily wear.
Saucony Cohesion 14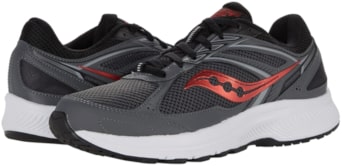 Saucony Cohesion 14 is the running shoe people will easily criticize because of its not-so-impressive beauty. Some would even wonder if it's a proper Saucony shoe considering the price being $65 only compared to the brand's most expensive and best-selling running shoe, the VIZIPRO Endorphin Pro 2, which costs $210. But the moment you put it on and start running, it will surprise you at how solid this shoe is in terms of support and performance.
The Cohesion 14 is a top-rated affordable running shoe suited for new and more experienced runners. It has a straightforward design: good traction on the road, responsive ride, and the durability you'd want in a running shoe. It also feels more comfortable than its predecessor. The VERSARUN cushioning technology does its job well in giving a responsive feel and durability that could hold up during diverse movements and activities.
ASICS GEL-Venture 8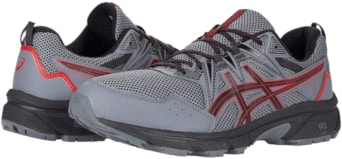 ASICS GEL-Venture 8 is the most famous budget trail running shoe and is arguably the trail runner with the best value for money. It will provide you with the stability, traction, and comfort you need on uneven surfaces of your favorite trail. It now has a sleeker design (but still on the ordinary side) that can fit wide feet. The sole can also give you solid protection against rocks and roots on the ground. This shoe is also excellent for hiking and discovering new towns/cities that involve pavement and trails despite being 2.2 oz heavier than its predecessor.
The GEL-Venture 8 is wide and breathable with an updated forefoot fit but may provide less protection on the upper than some trail runners. It has enough cushioning that can comfort you for plenty of miles thanks to its advanced GEL technology on the sole, designed to reduce impact and increase shock absorption. It is perfect for light to moderate trails. However, when the ground becomes more technical, you'd wish it had more cushioning in it.
ASICS GEL-Pulse 13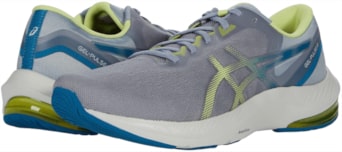 ASICS GEL-Pulse 13 is a budget running shoe designed for those who crave a more consistent run. It is comfortable and supportive and one of the better-looking shoes on this list. The durability is also good, and you will not have any issues getting a second pair because it only costs $90. However, this running shoe may be most suitable for runs of up to 10k only.
The GEL-Pulse 13 features an engineered jacquard mesh upper to make it breathable, comfortable, and lightweight. It has a restructured AMPLIFOAM cushioning, a foam technology, which offers soft yet durable cushioning. Underneath the heel is the GEL technology, designed to reduce impact, increase shock absorption, and create smooth transitions.
ASICS GEL-Contend 7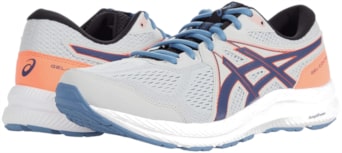 ASICS GEL-Contend 7 is one of the most beloved affordable running shoes suited for new and more experienced runners. You will love the 10 mm heel-to-toe drop on this shoe if you are a heel striker. It is a well-made running shoe with a soft and breathable lining and rich fabric padding around the heel. The footbed has an Ortholite insole, a durable sockliner that helps secure the foot and provides a supportive fit.
The lacing system of the GEL-Contend 7 looks traditional but functions better than some budget running shoes. It has a breathable mesh upper, which feels more premium and lightweight. The midsole is AMPLIFOAM and offers a soft yet durable cushion. And underneath the heel is the Rearfoot GEL technology, which reduces shock from the ground and helps with smooth transitions. The outsole of the GEL-Contend 7 also has a GUIDANCE LINE system, which guides the foot through its proper position even when the runner fatigues.
Nike Winflo 9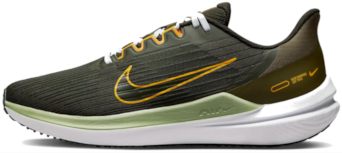 Nike Winflo 9 is an affordable running shoe with great value for money in the Nike lineup. It has the technologies found in high-end shoes with a slightly upscale design making it hard to believe it costs $90 only.
The Winflo 9 has a Zoom Air unit on the forefoot, a responsive technology, which helps cushion the impact and pressure on the ball of the foot and toes. Working together with this technology is the Cushlon foam, a soft and responsive material, which adds springiness to your stride. This new model has a full-length Nike Dot Weld Air unit, which adds support and responsiveness from heel to toe.
It feels more breathable than its predecessor, with a more supportive upper. The cushioning under the heel and support around the ankle is excellent, even better than some more expensive running shoes. However, this running shoe is only comfortable for short runs.
Shop On Nike
Nike Revolution 6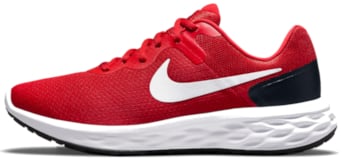 Some runners consider Nike Revolution 6 as the best budget running shoe. It is $25 cheaper than the Winflo 8, with plenty of choices for sustainable materials, with a purpose to help change the future by protecting our planet. Each Nike shoe labeled "Sustainable Materials" has at least 20% of recycled content by weight. It's the brand's move toward zero carbon and zero waste, starting with this new model, where you'll mostly see the recycled content on the upper, especially the laces.
The Revolution 6 is one running shoe, which will instantly look better on the feet. Nike says the foam midsole on this new model delivers a softer ride, and indeed, it feels more squishy underneath. It feels true to size, with comfortable foam paddings in the right places and a roomy toe box, which can fit wider feet. It is also a lightweight shoe with good upper breathability. And for performance, the ride is comfortable, and the traction is decent.
Nike Downshifter 11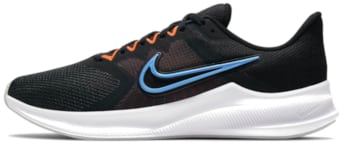 Nike Downshifter 11 is the cheapest Nike running shoe you can get. It is better than its predecessor, especially for support around the midfoot, making the shoe comfortable for extended periods. But mostly, it only had subtle updates from its previous version. We loved the Downshifter 10, but this new model has better looks and supports around the midfoot. Although Nike could still introduce more improvements, this latest iteration will satisfy you, considering it offers only a low, low price.
The Revel 5 is $150 cheaper than the most expensive Brooks running shoe, the Hyperion Elite 2, yet features a BioMoGo DNA midsole, a foam cushioning used by other Brooks' high-end shoes designed to supply long-lasting cushioning and support. It uses a Green Rubber outsole, a durable outsole, which offers excellent traction, a springy ride, and a smooth transition to keep your stride quick and efficient.
Brooks Launch 9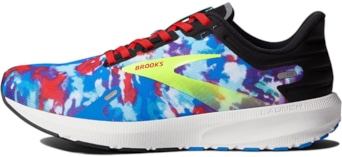 Brooks Launch 9 belongs to the speed category of Brooks shoes, and it is one of the most affordable speed shoes on the market today. This running shoe offers a flashy design at a cheaper cost. The upper of the shoe also features a super breathable air mesh material designed to keep your feet cool during hot weather. The air mesh upper is also supportive and helps prevent blisters. But despite its breathable upper, the lacing system and the quality of the laces are only on the regular side.
The Launch 9 is a durable daily trainer most suitable as a race shoe and for any speed workout. It is a lightweight running shoe with technology for speed. However, it only uses Brooks' dynamic BioMoGo DNA as a midsole instead of the faster and more lightweight DNA FLASH midsole found in other speed shoes. But even the BioMoGo DNA foam will adapt to your stride, weight, and speed. To give you the quick transitions you need, Brooks provided an air-injected rubber at the front of the outsole to keep your stride fast and efficient.
Note: If you need to put more stability into your run, go for the Launch GTS 9, the model with GuideRails technology, a support system, which comprises two bumpers on the lateral and medial sides of the rear foot. GuideRails sit above the sole, so you get to enjoy the soft Brooks midsole with no distractions. And the bumpers will only be there to guide your foot back to its proper position should it supinate or overpronate too much.
Brooks Revel 5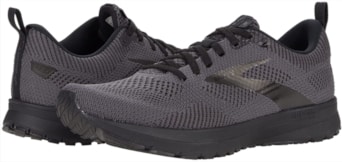 Brooks Revel 5 is a running shoe with a straightforward design that ticks all the boxes of what runners would want while running. It has an improved sleek knit upper, which provides breathability and a better locked-in fit than its previous version. It also has a roomier toe box. Being a neutral trainer will provide excellent cushioning under the heel and a responsive ride designed to energize your run. It belongs to the Energize category, which can handle most runs.
The Revel 5 is $150 cheaper than the most expensive Brooks running shoe, the Hyperion Elite 2, yet features a BioMoGo DNA midsole, a foam cushioning used by other Brooks' high-end shoes, designed to supply long-lasting cushioning and support. It uses a Green Rubber outsole, which offers a springy ride and a smooth transition to keep your stride fast and efficient. You can run hundreds of miles on this shoe before it wears.
Final Thoughts
If you are a runner looking for a new pair of running shoes with the best value for money, look for it among the top brands. These leading brands will often let you experience their best technologies so you can run more efficiently, even on their cheaper models. While buying budget running shoes will be easier and won't take a lot of thinking, be aware that they may only have a typical lacing system, less breathable upper materials, and are noisier on the road.
We wished there was more budget running shoes on this list. But there were shoes under $100 before that are now more expensive and couldn't keep the lower price tag after a series of updates. Top brands spend a lot of money on research. And if a particular shoe has the potential to improve and become much better, they won't hesitate to apply the obligatory upgrade that often comes at a price.
You may also like: