The Adrenaline GTS is the first Brooks support running shoe. Originally designed to support those runners who have overpronation, on its 20th iteration, the brand started using the GuideRails system instead of a medial post installed in the midsole. Now in its 22nd generation, this shoe continues to improve in support and performance.
The fresh approach to supporting using GuideRails technology made the Adrenaline GTS capable of doing a bit of everything. The GuideRails system has bumpers on the medial and lateral sides, designed to guide your foot if it wanders. And because the bumpers sit on top of the midsole, they don't distract the DNA LOFT cushioning underneath them.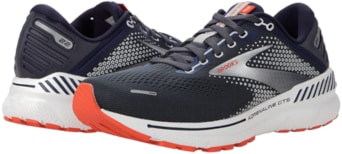 GTS stands for Go-To-Support, and all Brooks running shoes with GTS on them use the GuideRails system to help guide the foot and allow runners to stay in their optimal motion path. But this support only goes into action when you need your foot to return to its natural movement patterns.
If you are a runner who suffers aches and pains while running and does not know what causes them, chances are you are deviating from your run signature. Also, those who struggle with balance and those who have problem gaits like overpronation and supination need GTS shoes.
The Adrenaline GTS 22 Design
Brooks Adrenaline GTS 22 is a cushioned running shoe with a 12 mm heel-to-toe drop. Because of the higher differential, this shoe will give a familiar feeling to your foot, similar to a casual shoe you wear every day.
The GuideRails system plays a crucial role in this Adrenaline GTS shoe, and it will be there to align your foot to its proper position in case it rolls too far inward or outward. It will help you run more efficiently because if your foot rolls too much, you will waste energy doing this on every stride and be prone to injuring your knee and other parts of the lower limb.

Brooks Adrenaline GTS 22 uses DNA LOFT cushioning. It is the softest midsole cushioning of Brooks but does not feel too squishy. DNA LOFT is durable and takes care of absorbing every impact and reacting to your unique stride. If you are a runner who values protection over everything else, choose the shoe with a DNA LOFT midsole.
The Adrenaline GTS 22 also has a Segmented Crash Pad, designed to ensure a smooth transition from heel strike through toe-off. You may need the support features of the Adrenaline GTS 22 because even though you start with a perfect run signature, you may need support on the last stage of your run.
Fit and Feel
Brooks Adrenaline GTS 22 feels like the Ghost 14 with GuideRails system for added support. As long as your foot is on its natural movement patterns, you will not feel the bumpers taking action. It is not intrusive, and you actually won't need these bumpers if your foot remains aligned at the center position.
The arch support feels perfect on the feet, although some runners complain that the bumper on the medial side bothers the arch. If you have also experienced this, the next best option is to use a shoe with a medial post. Just make sure the arch support is not too high and uncomfortable.
We love the DNA LOFT midsole. Although it is not the softest cushioning among running shoes, it is reliable and gives a consistent feel to your run. The width of the shoe also feels more accommodating, the lining is super comfortable, as well as the support around the heel is excellent. The upper uses engineered mesh that provides good breathability, and it feels more structured, especially on the medial side.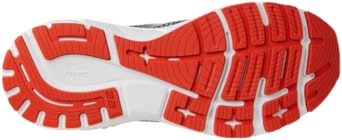 Final Thoughts
The Adrenaline GTS 22 has subtle changes over its predecessor and may have more support for overpronation now than before. The medial design of the upper and midsole feels more structured and more consistent than the previous model.
It continues to use DNA LOFT technology, a lightweight and soft midsole cushioning that prioritizes foot comfort and protection. The GuideRails system remains on top of the midsole and works for the medial and lateral sides should you need support in those areas.
This added support system is beneficial for runners who struggle with problem gaits and balance. And because the shoe has bumpers on the sidewalls of the rear foot, it will also work well on various gym workouts.