If you are looking for a speed cleat with powerful agility features, Adidas X Speedflow.1 is probably your best option. This soccer cleat has an engineered Agility Frame that locks the foot down and provides stability through every change of direction. It has a Carbitex SpeedFrame outsole with a carbon insert in the forefoot that enables an instant, explosive power transfer through the foot.
The X Speedflow.1 is the best speed cleat Adidas has ever made, and it is its fastest soccer cleat on straight-line acceleration. This new model is currently the second most famous soccer cleat, with over 1,390 professional players using it in high-level competitions.
If you liked its predecessor, the X Ghosted.1, you'd surely love this new model's much improved upper construction. Its top-tier model, the X Speedflow+, is still the best laceless boot since the previous version.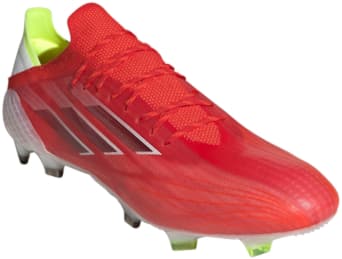 The X Speedflow.1 Design
Adidas X Speedflow.1 uses the same ingenious aggressive outsole that made its predecessor a star. It provides a secure, multidirectional grip on any natural surface and a forefoot design that makes you always ready to explode and speed up. The carbon insert in the forefoot creates the right stiffness during toe-off, which may help prevent injury to the forefoot.
But the most striking upgrade for this new generation is its upper material and design. It now uses a lightweight PRIMEKNIT upper instead of the Fluroskin upper used by the X Ghosted.1. The result is an upper with a more pliable, barefoot touch, and a better grip on the ball. However, since it's a super-thin upper, be aware that it will provide less protection against impact injury.
Fit and Feel
This soccer cleat is still on the narrow side but may fit a wide range of foot sizes because of the more elastic upper material. The PRIMEKNIT upper also feels more comfortable than its predecessor. Not only that but the X Speedflow.1 has the softest yet most supportive upper among all speed cleats.
Its Carbitex SpeedFrame outsole is excellent for rapid acceleration but will also give you power during quick cuts and other multidirectional movements. This latest generation has a sleeker design, which helps you move relatively swiftly.
What Player Position is Best for Adidas X Speedflow.1?
The X Speedflow.1 is the most famous among soccer forwards yet is equally capable in the midfield and defensive positions. There are accounts that goalkeepers also use this soccer cleat. It's a versatile speed cleat that can also function very well in roles dominated by control cleats. The only thing to worry about if you are a defender is its skin-tight upper, which offers virtually no protection from any impact.

Should You Choose a Takedown Model?
The laceless top-tier, most expensive model is the best option you can get if you are looking for a distraction-free upper. It feels more structured/rigid than the upper of its lace-up, next-tier model. The laceless model is a reliable boot used by some professional players for the 2021-22 season. The fit is tight, but you cannot adjust it.
The lace-up, next-tier model has a softer upper, and you can use the laces to make a custom, secure fit. It is cheaper than the laceless model by $25 and is arguably the best choice among all the models.
But even the lace-up model costs $250, so if you are on a tight budget, go for the X Speedflow.2. It is a takedown model, which costs $130 only. It feels like the top-tier model but uses different materials—a thicker semi-translucent Speedskin upper and an outsole that only looks like Carbitex SpeedFrame outsole but doesn't function as one. This model also offers less cushioning and support around the heel.
Final Thoughts
It is without a doubt that Adidas has made the best speed cleat so far. And if you are a soccer player who relies on speed to gain control in soccer, don't look past Adidas X Speedflow.1. This soccer cleat is much better than its predecessor in terms of performance and comfort. And it uses the same technology and material as Lionel Messi's new soccer cleat.
See also: