If you have heard many great things about Hoka and you'd want to try it for the first time, go for Hoka Clifton 8. It is Hoka's super lightweight everyday trainer and best seller, which works for most runners. It offers soft cushioning underfoot and a rocker sole that goes with the foot as you run.
We Know Hoka Clifton 8 for its low-profile and balanced cushioning. It has a heel stack height of a maximalist shoe (30 mm and up). The outsole is attractively oversized, yet the shoe is super lightweight. Having APMA's Seal of Acceptance, the Clifton 8 promotes foot health and may be ideal for people with arthritis and joint pains.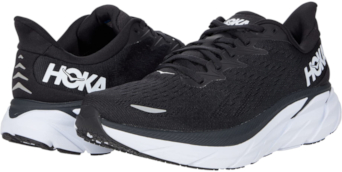 It offers soft cushioning underneath where the EVA foam can make you feel like you are running on clouds. The sensation of having an oversized outsole is also excellent for people who have issues feeling the elements of the ground while running.
The latest Clifton model is better than its predecessor in some ways, but you'll get that familiar feeling if you have already tried this running shoe before. The weight is like the model it replaces, although some runners say the latest generation feels lighter.
The Clifton 8 Design
This running is a mid-cushion neutral shoe, and it's best for people with neutral pronation and those with supination. It has a heel-to-toe drop that sits in the middle of low-drop and high-drop running shoes. And if you are used to wearing high-drop shoes, putting this shoe on for the first time will give you a unique experience (a great one).
It only weighs 7.2 oz for women and 8.9 oz for men. It has an upgraded heel and tongue design using an engineered mesh material for more breathability and comfort. The Clifton 8 also has Hoka's early-stage Meta-Rocker, a technology designed to give you a smoother ride that goes with the foot as you run. It offers a maximal cushion at a minimal weight and prioritizes overall support.

Fit and Feel
The 5 mm heel-to-toe drop is noticeable right away the moment you put the shoe on if you are coming from a high-drop shoe design. It feels like there is a complete transformation underneath your foot.
And because this shoe has a lower differential, it takes some pressure off the forefoot. It also creates the right balance of not putting too much load on the foot, ankle, Achilles, calf, knee, and hip. So good news for those people who have issues in those regions.
The new Clifton is squishy underneath, and it's easily the softest Hoka shoe. You'll love its support if you are fond of soft running shoes. The running shoe is also wide-fitting, which is good news for wide-footed runners.
It is comfortable even if you are slightly flat-footed. However, it is not ideal if you have issues with overpronation and balance because it doesn't have features that can counter the over-flattening of the arch.
It feels super comfortable on short to long runs and is more durable than some Hoka shoes. The early stage Meta-Rocker does well in following the foot and preventing overbending in the forefoot as you push off to complete your stride. This technology may also solve some foot issues.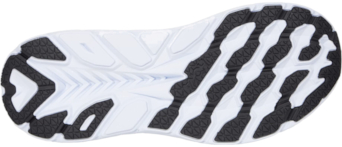 Final Thoughts
The new Clifton is a step forward in running technology and design. It is better than its predecessor with the tweaks you'll love. And it is now noticeably more breathable than the model it replaces, which makes it more suitable for hotter regions.
The soft EVA foam sole is also super lightweight and gives enough energy to your run, although it doesn't feel as energetic as Hoka's faster shoes. It provides sure traction on the ground. And the shoe is also excellent for any walking activity, even walking all day.
You may also like: