Our topmost choices for the most comfortable soccer cleats:
Synthetic: PUMA Future 1.3 — a comfortable soccer cleat for even the most energetic player. It is an all-rounder that feels plush right out of the box.
Leather: Mizuno Morelia Neo III Beta — the most comfortable and best-performing leather cleat this year. The Neo III Beta is even used by elite strikers.
If you can find the most comfortable soccer cleats, you will also get added protection on the soccer field because comfort always goes with some degree of protection. While moderate muscle fatigue is just normal if you play the entire game with no substitute, wearing the wrong shoes can make you struggle to reach the 90-minute mark.
Uncomfortable soccer cleats will not only give you unnecessary pain, but they will also limit your performance big time. But with today's technology and innovations, it is now easier to find the most comfortable soccer cleats that can match your skills on the soccer field.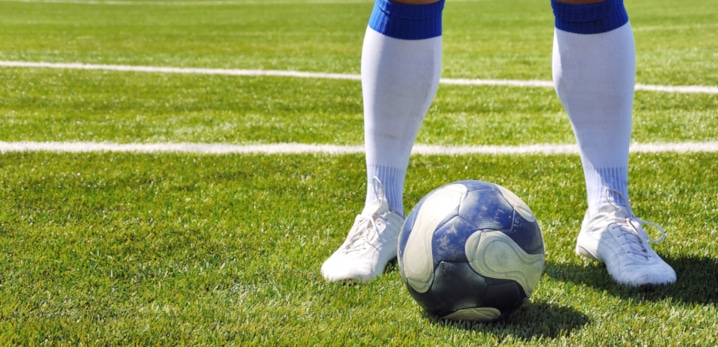 Conical studs vs. Blade cleats
Conical studs are more stable and comfortable than blade cleats. But blade protrusions have more grip on the ground and superior turning ability than conical studs.
Leather vs. Synthetic
If you want the most comfortable upper material, go for leather instead of synthetic. The leather material is not only comfortable, but it will also provide the protection you need against impact injury. Leather can last longer than the shoe itself. And it becomes more comfortable the longer you use it because it gives an exact custom fit.
The Most Comfortable Soccer Cleats of 2023
Here's a list of the most comfortable soccer cleats (in no particular order):
Mizuno Morelia Neo III Beta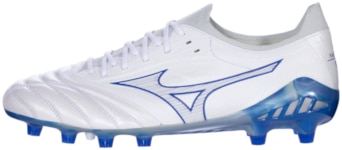 Effective positions: Goalkeeper, Center Back, Sweeper, Fullback, Wingback, Defensive Midfielder, and Central Midfielder.
The Morelia Neo III Beta is Mizuno's speed cleat. Weighing around 7 oz only, it is one of the fastest leather cleats with all the qualities of a super comfortable shoe. With the Neo models, the Made in Japan (MIJ) version is the most comfortable shoe. It is handcrafted and has the highest quality materials.
Mizuno Morelia Neo III Beta (Made in Japan) has round studs and a soft K-leather upper that feels like a second skin when touching the ball. It competes with any speed cleats but doesn't seem to get the credit it really deserves. It is an amazing boot, you wouldn't know how good unless you try it.
But you can never go wrong with the Morelia Neo III Beta. The fact is, you can wear it all day and still feel comfortable after removing it.
Shop On Soccer
If you want the most lightweight Morelia model, get the Morelia UL Japan. Mizuno made it from a lightweight premium K-leather upper. It offers only one color option – classic black/gold.
Another excellent option in terms of comfort is Mizuno Rebula Cup, a soccer cleat with an all-leather upper built for control and speed. The new Rebula Cup model is more comfortable than its predecessor.
Nike Tiempo Legend 9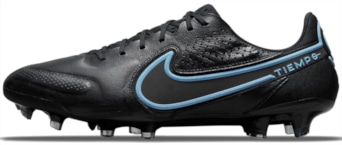 Effective positions: Goalkeeper, Center Back, Sweeper, Defensive Midfielder, Central Midfielder, and Center Forward.
Did you know that the models of Nike Tiempo Legend are doctor-recommended for overpronation and flat feet? These problems in the foot and posture can cause the body to be unable to distribute impact optimally. And foot fatigue is common because of the excess movement of the foot. With flat feet, you are also prone to ankle sprains.
Nike Tiempo Legend 9 has more lateral and ankle support than most soccer cleats. This new model is better than its predecessor and now uses soft foam pods underneath its kangaroo leather upper, which help lock the foot down through every change of direction. The soleplate has a conical and blade cleats combo for stability, quick release, and superior turning ability.
Shop On Nike
Diadora Brasil Elite Tech
Diadora Brasil Elite Tech is one of the best soccer cleats of 2023. It has the classic design elements of the 1990s Diadora boots but has the luxury feel and modern technology that makes it lightweight and highly influential on the soccer field.
The Brasil Elite Tech has a premium leather upper (made in Italy) that controls the ball better, teardrop studs for improved traction in all directions, and an external heel counter for extra stability. The leather material in the models of Diadora Brasil is arguably the best leather quality ever.
Shop On Soccer
If you want to go for a classic all-leather football boot, get Diadora Brasil K-Leather. Even the logo on this shoe is handmade with leather material.
PUMA Ultra 1.2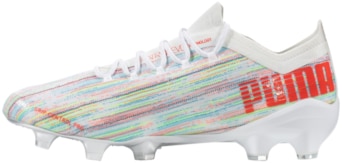 The models of PUMA Ultra are possibly the most comfortable speed cleats with a non-leather upper. This soccer cleat has comfortable lining and padding in the right places. It has a leather option – PUMA Ultra 1.2 Lazertouch – which feels more comfortable than the synthetic model. The Ultra 1.2 Lazertouch is much better than the Ultra 1.1 Leather.
PUMA Ultra 1.2 is one of the most lightweight and comfortable soccer cleats on the market. This football boot has a MATRYXEVO woven upper (made from reactive Kevlar and Carbon yarns), a technology designed to provide comfortable support during your fastest moments.
If you want a super comfortable boot with a more barefoot touch on the ball, go for PUMA Ultra 1.4. It is the latest Ultra model with less padding on the upper construction that brings the foot closer to the ball. It is also the lightest PUMA speed cleat with an improved upper for better touch and control of the ball.
Nike Mercurial Superfly 9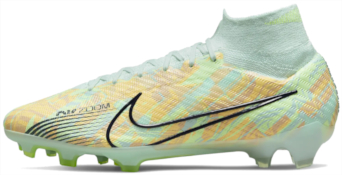 Effective positions: Center Forward, Striker, and Winger.
The models of Nike Mercurial are doctor-recommended boots for soccer players with heel pain and plantar fasciitis. Some Sports Medicine physicians say they have the perfect blend of comfort, flexibility, support, and shock absorption.
The Superfly 9 and Vapor 15 are identical, except for the Superfly's higher Dynamic Fit collar that offers a better locked-in fit around the ankle. The higher collar also prevents pebbles from getting inside the shoe.
These soccer cleats are so good that over 50% of professional players in the UEFA Champions League use them for Season 2021-22. The latest Mercurials are arguably the most comfortable Mercurials ever made.
Shop On Nike
Adidas Copa Mundial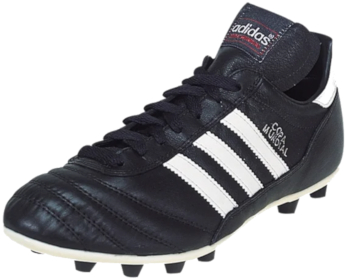 If comfort is a priority, you can never go wrong going back to classic shoes. Among the classic designs, Adidas Copa Mundial is our top-rated shoe in terms of comfort. This leather cleat is one of the most comfortable and supportive cleats, even for a problem gait. The fact is, it has good arch support that can correct common foot problems.
Adidas Copa Mundial appeared over 20 years ago. But may continue to exist for as long as soccer exists. Around ten professional players are still using it in high-level competitions. This shoe is a timeless classic with an all-leather design and conical studs ideal for wet and dry conditions.
Shop On Soccer
New Balance Furon V6+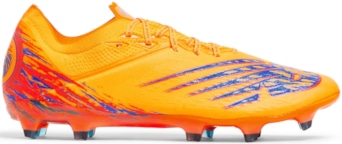 Effective positions: Goalkeeper and Winger.
This list won't be complete without mentioning a comfortable soccer cleat from a well-known brand that knows the human foot very well. New Balance is a leader in footwear, and it has been outstanding in the soccer world for the past few years.
New Balance Furon V6+ is the flagship speed cleat of New Balance. It is very comfortable having the upgraded materials and technology of the Furon V6. This shoe has a soft Hypoknit upper with Fit Weave technology that provides a sock-like fit and great stability even at high speeds. It has a nice lining with padding in the right places.
Shop On Soccer
PUMA King Platinum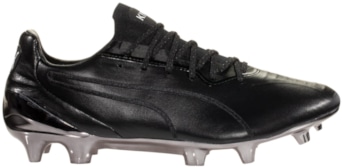 Perhaps only a few players know how comfortable this soccer cleat is. But you're in for a surprise at how snug PUMA King Platinum is on every part of your foot the moment you put it on.
This leather cleat was the first football boot of Neymar Jr. after he moved to PUMA. Although he is now using the FUTURE 1.3, he had this shoe for several training sessions and even during an actual match. Of course, Neymar used an improved version of King Platinum to match his skills.
PUMA King Platinum has soft, high-quality K-leather from the front to the back (except for the knitted tongue) for a uniform touch on the ball. It has an external heel counter for extra stability. This clean-looking soccer cleat directly competes with the models of Nike Tiempo Legend and Adidas Copa.
Shop On Soccer
PUMA FUTURE 1.3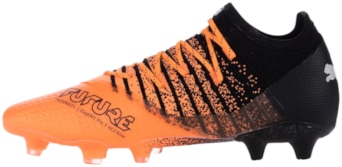 Effective positions: Striker, Center Forward, Central Midfielder, Defensive Midfielder, Fullback, Wingback, and Goalkeeper.
PUMA FUTURE 1.3 is Neymar Jr's official football boot. It is not only good-looking, but it is also comfortable even during awkward positions. This latest model is even more comfortable than its predecessor. And if you are as energetic on the soccer field as Neymar, this shoe is for you.
The FUTURE 1.3 has a unique second-generation adaptive FUZIONFIT+ technology, a knit construction designed to provide supreme lock-in and support for any movements of the dynamic soccer player. It has an outsole that offers agility, explosiveness, and a responsive take-off in all directions.
Shop On Soccer
Nike Phantom GT2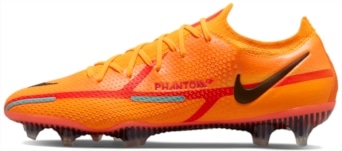 Effective positions: Center Forward, Second Striker, Attacking Midfielder, Central Midfielder, Defensive Midfielder, Center Back, Sweeper, and Goalkeeper.
If you are looking for a comfortable and super-wide soccer cleat, Nike Phantom GT2 could be your best option. The fact is, the players with narrow feet may have to go down half a size on this one.
Nike Phantom GT2 features a comfortable one-piece Flyknit upper that hugs and follows the foot in all directions. The upper has a unique Generative Texture (GT) technology, a grippy texture that can enhance your control of the ball during dribbling and shooting.
This soccer cleat has dynamic traction that makes it stable on the midfoot and responsive on the forefoot. The outsole of the Phantom GT2 is well-developed in all aspects and arguably smoother than the Mercurials. You can literally wear it in any position on the soccer field.
Shop On Nike
Most Comfortable Soccer Cleats for Wide Feet
Considering the above list, the most comfortable soccer cleats for wide feet are:
Frequently Asked Questions
Which soccer cleats last longest?
If you want soccer cleats that last the longest, go for leather cleats with battle-tested kangaroo leather material. K-leather can even surpass the life of the shoe itself. If you want the best leather cleats, go for Mizuno (Made in Japan) because they have the highest quality. Mizuno leather cleats are more expensive, but they are the only ones you need for all your games.
Are PUMA cleats comfortable?
Most of the PUMA cleats are comfortable. Even their lightest soccer cleat, the Ultra 1.3 (which weighs 5.4 oz only), is comfortable despite having a super-thin upper. If you are looking for the most comfortable PUMA soccer cleats, your best options are Ultra 1.2, King Platinum, and Future Z 1.2.
How long do Nike mercurial cleats last?
A Nike Mercurial can last between 5 and 10 months, depending on your style of play, field position, and how often you use it. If you are most particular with the quality of performance of your soccer cleats, use two pairs of shoes – one pair for training and one pair for match day.
Should soccer cleats be tight or loose?
If you want the best performance, choose the soccer cleats with the snuggest fit that still feels comfortable. There must be no extra space between the lateral and medial sides of the foot. Allow between ¼ and ½ inch of space between your toes and the end of the shoe.
Why are my cleats hurting the bottom of my feet?
Soccer cleats with a softer and more flexible outsole may hurt the bottom of your feet. A good soccer cleat has a firmer outsole that can prevent the studs from pushing upward against your foot. A stiffer outsole can also prevent injury to the forefoot during take-off.
Do cleats matter in soccer?
Yes. That is why elite players will only wear higher-grade models and not takedown models. Top-tier soccer cleats have the best materials and technology. They are also far more lightweight than lower-tier shoes. Even though a lower-tier model is sometimes more durable than the top-tier model, its low-quality materials won't help bring out the best in you.
You may also like: