Our topmost choices for the best Adidas soccer cleats:
Synthetic: Adidas X Speedflow.1 — a speed cleat that offers a zero-distraction fit for the fastest players of the game.
Leather: Adidas Copa Sense.1 — the most elegant-looking Copa ever made. It has a new TOUCHPODS technology, designed to absorb impact from the ball so it won't go through your foot.
If you are looking for a dependable soccer cleat that can last longer and has a solid reputation for performance, don't look past these new Adidas soccer cleats, because each of them is a straightforward choice for your next game.
The fact is, over 37 percent of professional soccer players prefer the Adidas brand over other brands. This German shoemaker has soccer cleats for every field position, which can improve your performance on the soccer field.
Having first developed spiked running shoes in 1924, Adidas enhances the quality of spiked athletic footwear. And the innovations continue with its modern soccer cleats, which made them the favorites of famous soccer players like Lionel Messi, Karim Benzema, Diogo Jota, and Mohamed Salah.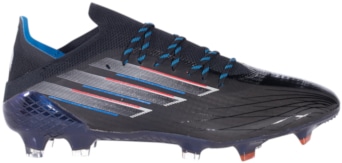 The Best Adidas Soccer Shoes of 2023
Here's a list of Adidas' best soccer cleats (in no particular order):
Adidas X Ghosted.1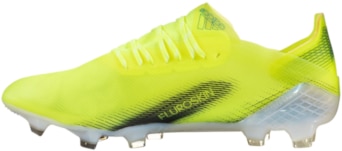 Many consider the models of Adidas X as the most comfortable and nimble speed cleats. And if you want to be the first on the ball, Adidas X Ghosted.1 is the new speed cleat for you. Weighing only at 6.5 oz, the X Ghosted.1 is the favorite boot by some of the game's fastest players today.
This soccer cleat feels similar to the Mercurial Vapor 14 (including the touch on the ball), Nike's number one speed cleat. However, if you have narrow feet, you might be more comfortable wearing Adidas X models, while the Vapor 14 will be more comfortable if you have wider feet.
Having the roots of a speed boot, this latest item of Adidas X has a more locked-in fit than its predecessor. It now has unique carbon fiber in the outsole to help you propel forward and go faster. And it has a semi-translucent Fluroskin upper, which molds to the shape of your foot like a second skin. This new appearance makes the boot more attractive.
The only sacrifice you are to make wearing speed cleats like the Ghosted.1 is that it will hurt when another player steps on your foot since they are super thin.
Adidas X Speedflow.1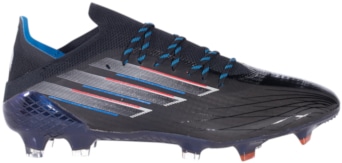 Effective positions: Striker, Center Forward, Winger, Central Midfielder, Left/Right Midfielder, Defensive Midfielder, Fullback, Center Back, and Wingback.
Adidas X Speedflow.1 will replace the X Ghosted.1, the speed cleat that is still rising in popularity. It has a major update on the upper material that will make you want it more than its outgoing model. This new cleat offers a zero-distraction fit for the fastest and most agile players of the game.
Adidas X Speedflow.1 now has a more pliable upper material, a premium engineered Primeknit upper that feels more supportive and comfortable than the less flexible Fluroskin upper of the X Ghosted. The new laceless model, the X Speedflow+, is also better than its predecessor. Both new models have an Engineered Agility Frame underneath the upper for better lock-in and stability in every direction.
This soccer cleat may now have a slight advantage over the Mercurials in terms of comfort. Having a more pliable upper, it can now fit wide feet. It still uses the Carbitex SpeedFrame outsole, a super aggressive and responsive outsole.
Shop On Soccer
Adidas X50 Flow.1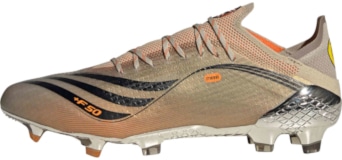 Introducing Messi's new soccer cleat! It's another special edition from Adidas, and this time, it's a speed cleat with inspiration from F30 boots that Messi wore 15 years ago, where he scored that famous goal against Getafe.
If you can recall, Messi scored one of the best goals ever when he dribbled the ball from the midfield past at least 6 Getafe players (including the goalkeeper) before putting the ball at the back of the net through a hard angle.
Adidas X50 Flow.1 has an old-school colorway with modern construction and a lacing system that Messi loves. It has a thin and soft upper, which offers comfort almost identical to (or even surpasses) the models of X Ghosted. And it uses the famous Carbon Fiber SpeedFrame found in X Ghosted, designed to empower your stride when you take off in all directions.
Adidas Predator Freak.1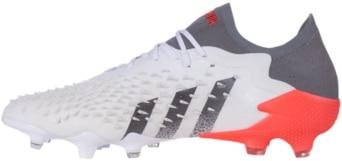 Effective positions: Goalkeeper, Defensive Midfielder, Central Midfielder, and Attacking Midfielder.
Adidas Predator Freak .1 is an improved Predator 20.1 with several changes, but only a few obvious ones. But the price went up by $25. So should you upgrade to this new boot or choose the Predator 20.1 instead?
If you put the Predator Freak .1 side by side with its predecessor, this latest item in the Predator lineup will look more premium in terms of material.
The Predator Freak .1 uses new rubber elements on the upper, which now covers the front and sides of the boot. Adidas calls the new design a 360° coverage. These rubber spikes will help you control the ball better and increase ball swerve during passes and power shots.
Adidas Predator Freak .1 also comes with a new PRIMEKNIT collar, which gives you more freedom of movement and an ensured locked-in fit around the midfoot and ankle. It continues to use a lightweight CONTROLFRAME outsole, a split soleplate, which offers a more comfortable and responsive ride.
Shop On Soccer
Adidas Nemeziz 19.1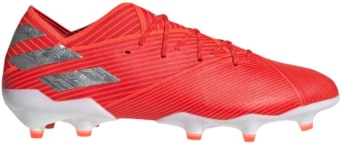 If you are looking for an agility boot with a well-structured upper that can give support for sharp directional changes and help protect your foot from a powerful impact, Adidas Nemeziz 19.1 is one of your best options. It has Tensiontape technology on the upper, designed to provide excellent support for quick cuts and lateral movements.
It's a favorite soccer cleat by midfielders and forwards with conical-like studs and split plate tooling that gives the foot natural freedom and allows it to perform better on the soccer field. This model is Messi's last agility boot, which he used for almost a couple of years.
Adidas Best Soccer Cleats (K-leather Upper)
Adidas Copa Sense.1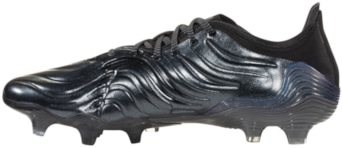 Effective positions: Goalkeeper, Center Back, Sweeper, Wingback, Defensive Midfielder, Central Midfielder, and Attacking Midfielder.
If you are looking for a K-leather boot, Adidas Copa Sense .1 is arguably the most elegant-looking soccer cleat this year. This latest model of the Copa has been through plenty of changes, but it feels like having a lesser leather material than its predecessor, the Copa 20.1. It has a roomier toe box compared to its predecessor but is still best suited for players with narrow feet.
As the name suggests, the Copa Sense .1 now has SENSEPODS technology designed to eliminate negative space around the ankle and Achilles, which you will like a lot. It has a new TOUCHPODS technology placed on both the medial and lateral sides of the boot, which absorbs impact from the ball so it won't go through your foot.
Adidas Copa Sense .1 uses the FUSIONSKIN technology on its leather upper, which adds more flexibility and resists water during wet conditions. The FUSIONSKIN combines with the upper knit material to deliver a second-skin-like fit when the upper of the boot molds to your foot.
Shop On Soccer
Adidas Copa 20.1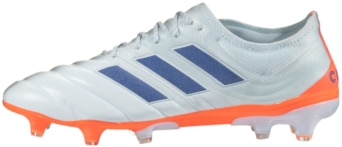 Effective positions: Goalkeeper, Defensive Midfielder, Central Midfielder, and Left/Right Midfielder.
Adidas Copa 20.1 has a soft kangaroo leather upper, which offers a plush feel each time you touch the ball. The leather material is thicker than most modern leather cleats, with a welded texture for increased control of the ball. It's the 8th most popular soccer cleat with over 340 professional players using it in defensive and midfield positions.
This boot offers a precise locked-in fit and a barefoot-like touch on the ball. It has an Exoframe outsole with conical-like studs for stability and maximum traction. With its rotational studs, it's easy to turn and make a quick change of direction.
Shop On Soccer
Adidas PREDCOPX SUPERBOOT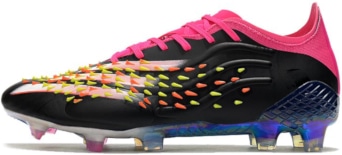 If you can't decide which soccer cleat to choose among the models of Predator Freak, X Ghosted, and Copa Sense, Adidas PREDCOPX SUPERBOOT is your best option. It combines all the best features of these three excellent Adidas boots into one. Adidas calls it the ultimate soccer cleat mashup. And if you have tried these technologies before, you know how good they are.
This soccer cleat has 360° coverage of rubber spikes on the upper designed to provide more grip on the ball, a new k-leather upper with FUSIONSKIN technology from the Copa Sense, and CARBITEX soleplate (with its unique Carbon Fiber SpeedFrame under the forefoot) from the X Ghosted designed for speed and explosiveness.
Adidas has done a good job putting together all the technologies and materials into this boot, which means it will perform very well on the soccer field. However, Adidas PREDCOPX SUPERBOOT is a little heavier than any of the three models mentioned.
Did you know Adidas is the largest sportswear manufacturer in Europe?
Final Thoughts
Choosing your best soccer cleats is crucial to soccer. And as you develop your skills and become more competitive, you will compete in higher-level tournaments where perfection is a must, to become the champion. If this is the year to do it, rely on the most improved soccer cleats.
Adidas is at the top of the game with established brands, and you can never go wrong choosing any of its soccer cleats for your field of play. Besides, these new soccer cleats from Adidas are improved versions of their predecessors.
You may also like: