Birkenstock Arizona is one of the top sandals where once you get the perfect fit, it can quickly become your favorite sandal. This light shoe is most famous for its all-cork footbed, which is contoured and offers better balance and foot alignment from heel to toe.
This flagship sandal of Birkenstock features two top straps with buckle closures for an adjustable fit. OUTSIDE Magazine considers it as the most classic of all sandals. With its timeless looks and practical design, many sandals of today don't move away from the base design of Arizona.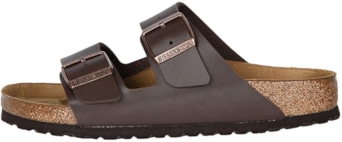 This sandal is available in an all-cork footbed and Birkenstock soft footbed, where it features a foam layer inserted between the cork layer and suede liner for a softer feel. The Arizona sandal is also available in all-EVA material, where Runner's World gave it an award as the easiest to clean among sandals. The Arizona EVA is one of the best sandals for spring and summer.
About the Cork Material
Cork is one of the lightest solid materials because its plant cell volume is 50% air. Under normal compression, it can retain its original form back to 100%. This material is highly frictional even when wet. So it is one of the preferred materials used for non-skid products. Not only that, but cork is also an efficient non-conductor of heat, absorbs vibration and redirects impact, and is a tough material with high stability. Put these features together in a midsole of a shoe, and you'll have amazing results.
Key Features
Weight: 7 oz
Two top straps with buckle closures for an adjustable fit
Raised toe bar which encourages the natural gripping motion of your feet
Suede lined, contoured footbed which will mold to the shape of your foot, creating a custom footbed that supports and cradles your every step
Anatomically correct cork footbed, crafted from cork that is 100% sustainable, which encourages foot health
Dual-layer Jute: top wicks away moisture while the bottom adds strength
Neutral heel profile and deep heel cup, which keeps the natural padding of your foot where it belongs
Flexible EVA outsole which offers lightweight, shock-absorbing support with lasting durability
Note: If you want to have a Birkenstock sandal, make sure the contours of the footbed correspond to your heel and arch. And the raised toe bar is well-placed under your toes for a natural gripping motion. Although if you have excessively rigid flat feet, you might find the arch support too high. But there are Birkenstock sandals with moderate arch support.
A 12-month Experience with Birkenstock Arizona
We spent many hours with the Arizona sandal in shopping malls, walking around town, walking along the beach, and using it as a post-workout sandal. After 12 months of using it, we are ready to give feedback on what to expect with the Arizona sandal.
Although this is not the lightest of all sandals, Arizona is lightweight enough to deliver the comfort you need even during long walks on the sand and pavement. And you can stand on it for a long time and won't feel any foot pain. The contoured footbed works its magic by aligning your foot for a stable stance and stride.
The Arizona sandal keeps your foot cool even in hot weather. And it looks to have the materials that can hold out against odor when your foot sweats after lengthy use. The flexible EVA outsole is durable and can last longer even if you often use it on hard surfaces.
But after several months of using it, the two top straps with buckle closures stretched out, and I had to readjust the fit. And the glue that sticks the outsole to the midsole lost its grip.
Who Should Wear Birkenstock Arizona?
Anyone who loves his feet should try these sandals. It has an anatomically correct cork footbed that can improve foot health. It will align your foot at the right angle; then, the cork footbed will do the rest giving you cushion, support, and comfort. If you can get the right size for your feet, this sandal will amaze you.
This sandal works with the following foot conditions:
Arthritis
Bunions
Plantar Fasciitis
Heel Spurs
Morton's Neuroma
Hammertoes
Diabetic Foot
Most helpful testimonials:
I have troublesome feet with high arches, advanced arthritis, and a tendency to get plantar fasciitis. These shoes have made it possible for me to take walks again…
I have very high arches and wear orthotics, and I have had double bunion surgery. They are so comfortable. They are the only summer type of shoe that works for me.
My foot doctor recommended these when I was diagnosed with plantar fasciitis; I wear them around the house…
I have a heel spur, and these are fantastic feelings. I wish I could afford a whole closet full of Birks.
Who Should Not Buy Birkenstock Arizona?
76% of the people who wear this sandal felt it is true to size. Birkenstock doesn't offer a half size, so you have to order the next larger size if your original size doesn't fit well. In our experience, the Arizona sandal will only feel comfortable if the footbed is well-placed under your heel, arch, and toes. If your foot doesn't correspond to the contours of the cork footbed, you will not enjoy walking on it.
This sandal doesn't like getting wet. So if your outdoor action always makes your feet wet, choose the Arizona Essentials instead because it has a waterproof EVA material and is much easier to clean.
Final Thoughts
Birkenstock Arizona is a must-have if you love a contoured footbed and a classic look. Once you get the perfect fit, you can never go wrong with it. This sandal can deliver better balance and foot alignment from heel to toe, even for those with problem feet. It is lightweight, durable, and lasts longer than a normal sandal.
You may also like: