Our pick of the best soccer cleats for narrow feet:
Non-leather cleat: Adidas X Speedflow.1, one of the best speed cleats that can give the narrow-footed player the best barefoot-like experience.
Leather cleat: Mizuno Morelia Neo III, a narrow-fitting soccer cleat with arguably the best performance among leather boots this year.
Like any high-impact sport, soccer needs a precise fit in footwear for better performance on the soccer field. In fact, no matter how good you are, if you are not wearing your best soccer cleats, your boots can limit your touch of the ball and control of the field.
All soccer cleats have the design to fit the regular feet. But there are exceptional ones that offer the snuggest fit for narrow-footed players. So how much space should a soccer cleat have on your foot? You may ask. There should be no space on both sides of the foot and around 6.35 millimeters in the front.
The secret to a snugger fit is in the upper construction. However, we have found only a few soccer cleats that can fit narrow feet. But worry not because these are top football boots that won't disappoint.
RELATED: Most Comfortable Soccer Cleats of 2022
Best Football Boots for Narrow Feet 2022
Here's a list of the best football boots for narrow feet:
– Mizuno Morelia Neo III –
Leather boots normally have a tighter fit than synthetic boots because of the thicker upper material. In fact, you may have to go up half a size in some leather boots to get the snuggest fit. Of all the leather boots, the models of Mizuno Morelia Neo have arguably the narrowest fit.
Proudly made in Japan, Mizuno Morelia Neo III has high-quality materials built for durability. It has technologies that blend well with its materials, making it one of the best leather cleats on the market. The models of Mizuno Morelia are arguably the most comfortable leather cleats around.
Mizuno Morelia Neo III has a stitch pattern that prevents the leather from overstretching. It has a thin synthetic material in the midfoot that keeps the boot super lightweight (7.0 oz only). The outsole has a mesh material, which offers added stability and responsiveness. And under the soleplate are conical studs designed to make the foot function normally.
Shop Morelia Neo III at Soccer »
– Nike Mercurial Vapor 14 –
The models of Nike Mercurial Vapor have always been favorable for narrow-footed players. But this latest model, which is arguably the best Vapor ever made, has upper materials that even the wide-footed players can feel extremely comfortable.
Nike Mercurial Vapor 14 is the most popular speed cleat and has everything you need to be ultra-effective on the soccer field. It has a Flyknit upper the hugs the foot like a second skin, interior heel cushioning that offers long-lasting comfort, and NikeGrip technology on the insole that reduces foot slippage. See full review »
Shop Mercurial Vapor 14 at Nike »
If you want more support around the ankle, go for its twin brother, the Mercurial Superfly 8. It has the same DNA as the Vapor 14 but with a higher Dynamic Fit collar.
– Adidas X Speedflow.1 –
Adidas X Speedflow.1 directly competes with any speed cleats. It's arguably the best speed cleat Adidas has ever made. And it offers a better fit than its predecessor, the X Ghosted.1.
Adidas X Speedflow.1 has the best barefoot-like sensation among soccer cleats today. Its upper material is now made from a more pliable Primeknit material with Engineered Agility Frame, which molds to the shape of your foot for an adaptive fit that has better lock-in and stability than before.
This new model continues to use Carbon Fiber SpeedFrame under the forefoot, which offers a smooth and responsive toe-off while maintaining your fast, explosive movements. See full review »
Shop X Speedflow.1 at Soccer »
If you want a cleaner ball contact, go for Adidas X Speedflow+, the laceless boot with the cleanest upper design. It is the best laceless boot ever made.
– PUMA FUTURE Z 1.2 –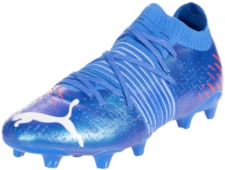 Yeah, you will see PUMA FUTURE Z 1.2 in our best soccer cleats for wide feet, but it has an upper construction that can fit a narrow foot as well. In fact, it can fit any foot shape. This soccer cleat is longer than usual, so you may go down half a size and still feel very comfortable.
PUMA FUTURE Z 1.2 has a FUZIONFIT+ compression band in the midfoot that can adjust to any foot type. This compression band provides optimal locked-in sensation and support for your explosive movements. And when reinforced by the laces, it can give amazing support to even the most energetic players of the game. See full review »
– PUMA Ultra 1.3 –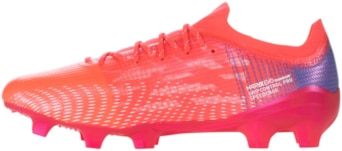 While its predecessor (the Ultra 1.2) may be too wide for narrow feet, this new model has a snugger fit, which provides an opportunity for narrow-footed players to test PUMA's own speed cleat.
The ULTRA 1.3 is PUMA's lightest soccer cleat for training and competition. And weighing only at 5.47 oz, this boot is at its best when making explosive straight-line acceleration. It uses lightweight MATRYXEVO technology woven upper with carbon and transparent mono yarns and GripControl Pro Skin coating. Underneath the upper is the new SPEEDCAGE technology for lightweight support in all directions.
This speed cleat still maintains the ultra-fast SpeedUnit outsole, designed for rapid acceleration. Instead of offering an option for width, PUMA offers a women's soccer cleat for this model, designed to conform to the anatomical shape of the woman's foot. See full review »
Final Thoughts on Narrow Soccer Cleats
Narrow feet aren't any different from any other foot size. But if you are new to soccer, you may have to shift from one soccer cleat to another (and from one brand to another) to get the best fit. But as soon as you find the best boots, stick to that brand because it has the right footwear for you. And in choosing your most comfortable soccer cleats, also look into their ability to perform well for your role on the soccer field.
You may also like: