Soccer will always be a young man's game, but if you are careful with your health and make sure you don't play with injuries, you can prolong your years as a soccer player. The fact is, we have seen a few professional players over 40 years old and are still very dependable on their assigned roles on the soccer field.
But some people are born with flat feet. And if you have issues with them, you may deal with tough challenges in a high-impact sport like soccer. Because not only will you face problems with stability, but you will also deal with foot fatigue during any game.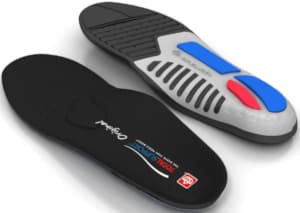 While you can't change the structure of your favorite soccer cleats to make you feel more comfortable, you can replace the standard insoles with athletic shoe inserts that work well with flat feet to solve this problem.
The standard shoe insert of a soccer cleat is usually flat and thin, although you'll see some models with a contoured footbed, which is a plus for those who have flat feet.
But a thin insole will allow you to have a better feel of the ball and excellent control of the ground. But if you suffer foot pain because of flat feet, your best solution is to replace the standard insole with a more supportive one.
RELATED: Best Soccer Cleats for Overpronation & Flat Feet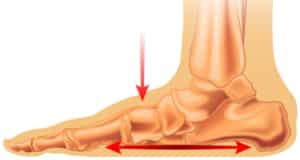 What are the Best Soccer Insoles for Flat Feet?
The best soccer insoles for flat feet have excellent support in the arch tendon of the foot. Weak arches accompany flat feet and need dependable support in that area of the foot. Not only will good arch support raise the arch, take the pressure off the heel, and align your foot for efficient running, but it will also solve common foot problems.
However, having special insoles in soccer has a trade-off. Because even though they'll give you the right cushioning and support, they are usually thicker and may cause a tighter instep. They can also alter your feel of the ball and the ground. So unless you have issues with flat feet, stick to the standard soccer insoles.
Heads up: As an Amazon Associate, we earn from qualifying purchases.
Best Soccer Insoles for Flat Feet 2023
Note: Not all insoles for flat feet are good for soccer cleats. So we have hand-picked the best athletic insoles that can blend well with any soccer cleat. Some of these insoles have ultra-thin and low-profile designs, which mimic regular soccer insoles.
Spenco Total Support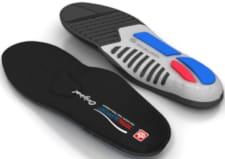 As the name suggests, this athletic insole will give you total support from the heel to the forefoot while reducing overpronation. This stability insole has excellent arch support and a deep heel cup for optimum stability. It has pods on the key areas of the foot and metatarsal support that take the pressure off the ball of the foot.
Spenco Total Support Original can prevent blisters, control odor, and provide alignment that can prevent pain in the foot, leg, and back. However, it is thicker than a regular soccer insole, which may cause a tighter instep.
Superfeet Premium Black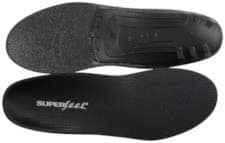 Superfeet Premium Black is a low-profile insole (which means it can feel like a standard soccer insole) that provides reliable support, comfort, and stability. It's a resilient insole that can maintain its shape almost throughout its lifetime.
It has a deep heel cup with a stabilizer that can reduce extra movements of the foot. The Superfeet material fights odor and provides a fresh feeling to the foot. Having a black colorway, this insole will look good on any soccer cleat.
Shop On Zappos
VIONIC Oh Active Orthotic

All VIONIC insoles have podiatrist-designed footbeds. And the Oh Active Orthotic provides greater control during high speeds. It's an EVA orthotic, which provides motion control and stability. It provides shock absorption in the heel to reduce foot fatigue.
VIONIC has contoured the Oh Active Orthotic to fit the foot around the heel and arch regions. It has a rear foot wedge designed to prevent over-flattening of the arch and solve various foot problems.
Shop On Amazon
VIONIC Oh Relief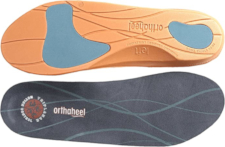 VIONIC Oh Relief Full Length offers a pain-free solution for those who suffer pains in the foot because of poor lower limb alignment and arch problems. Designed to provide control and support for an active person, this insole helps align your foot to its proper position.
It has Biomechanical Tri-Plantar Motion Control technology, designed to stabilize the foot. It has a molded EVA with a deep heel cup that can cradle the heel and provides total comfort and support. And it has shock absorption systems in the heel and forefoot for cushioned heel strike and toe-off phases.
Shop On Amazon
Powerstep Original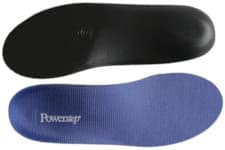 Powerstep Original is very popular among athletes because of the confidence it can give to them during tough challenges. This insole has excellent arch support that not only raises the arch and makes it function normally, but also takes the pressure off the heel during heel strike.
It has an ultra-thin and low-profile construction built for performance in any high-impact sport. This shoe insert can fit on any soccer cleat. It has cushions in key areas of the foot. And the responsive support provides cushioning where you need it the most, as well as reduces foot fatigue.
Shop On Zappos
Birkenstock Birko Sport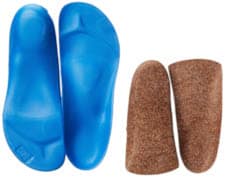 This sport insole has the famous contoured footbed that made Birkenstock footwear very popular because of its ability to provide long-lasting comfort and support. The company has built this two-part shoe insert for performance in any high-impact sport.
Birkenstock Birko Sport Arch Support has a blue foam that will mold to the shape of your foot for a customized fit, while the cork heel cup will force your foot into the proper alignment to prevent pain in the lower limb and body. This arch support insole will prevent over-flattening of the arch and solve various foot problems, including foot fatigue.
Shop On Zappos
Powerstep Comfortlast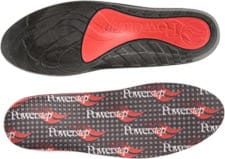 Powerstep Comfortlast has a low-friction footbed made from Polyester fabric that can prevent blisters and control odor throughout your game. It has an excellent shock-absorbing system in the heel designed to reduce impact during heel strike. And excellent arch support can prevent over-flattening of the arch and will also take the pressure off the heel as you run.
Powerstep made this special shoe insert using a high-performance foam that can follow your foot in all directions. It has a contoured footbed design to add more stability, a sure grip, and motion control to the foot. And it provides a natural grip under the insole that locks the insole to the soccer cleat and reduces foot slippage.
Shop On Amazon
Final Thoughts
The above shoe inserts can help align your feet and give you efficient cushioning and support in all directions. For added stability, make sure the upper material of your soccer cleat has structured support. For the ultimate comfort, go for leather cleats. Also, if possible, choose conical studs because they are more stable than blade cleats.
However, if after having replaced your regular insoles with special insoles, you still experience pain in your foot, the pain may come from a more serious problem. So you must visit your doctor before going back to the soccer field.
You may also like: