Our top choices among the best soccer cleats this year are:
Non-leather cleat: Nike Mercurial Vapor 14, the soccer cleat admired by the majority of professional soccer players. It's the best Vapor ever made and arguably the best boot when it comes to performance.
Leather cleat: Mizuno Morelia Neo III Beta, one of the most comfortable and the best-performing leather cleat this year. This boot has the perfect blend of technology and materials.
To be the best on the soccer field, you need the boots that can bring out the best in you. While your most comfortable soccer cleat can make you perform better on the ground, you'll need the most effective one that can match your skills.
There are plenty of outstanding football boots worth mentioning this year, but we will only feature ten of the boots we think are the best of the best. If your favorite soccer cleat is not on this list, it doesn't mean it isn't effective for your style of play.
Disclosure: We provide links to shoes mentioned in this article and use our affiliate links to earn commission income from qualifying purchases at no cost to you. This website is an associate of Soccer and Nike.
Best Soccer Cleats for 2021
Here's a list of the best football boots for 2021:
– Nike Mercurial Vapor 14 Elite –
Nike Mercurials are the holy grail of speed cleats. And any new fast football boot will have to compete with them in terms of technology and innovations to be popular in the soccer world. In our view, these latest Mercurials are the best Mercurials ever made.
In fact, over 50% of the soccer players in the UEFA Champions League are using Nike Mercurials for the 2020-21 season. While the Superfly 8 tends to be Nike's elite offering, the vapor 14 seems to be more popular among professional players.
But the only clear difference between these twin brothers is the Superfly's higher Dynamic Fit collar, which offers a better locked-in fit around the ankle.
If your greatest strength as a player is speed, the Mercurials are for you. In fact, these soccer cleats are arguably the fastest when it comes to acceleration. Weighing only at 7.2 oz, each of these speed boots has a stripped-down Flyknit upper with an "Avail Q" lining, which allows you to control the ball better. The Mercurials have a Speed Band around the forefoot for better locked-in and explosive propulsion.
– Mizuno Morelia Neo III Beta –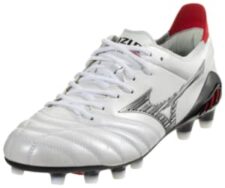 The Morelia Neo III Beta is Mizuno's own speed cleat. And if you are a player looking for a leather boot, this is the one for you. Proudly made in Japan, it has the quality materials that will make it a good investment for the one who wants a soccer cleat that will last long on the soccer field.
Mizuno Morelia Neo III Beta directly competes with any speed cleat but doesn't seem to get the credit it really deserves. But once you have tried it, you will speak good things about it.
This soccer cleat has a super soft and thin kangaroo leather with a stitch pattern that ensures the material will only stretch to conform to the shape of your foot and not as you play. The leather upper helps protect you from impact injury.
Moreover, it has a lightweight mesh in the outsole, which offers added stability and responsiveness. And it has conical studs designed to deliver more stability, optimal traction, and pivoting ability on any natural surface.
– Adidas X Speedflow.1 –
Adidas X Speedflow.1 has the softest and arguably the most comfortable upper material among speed cleats. The upper is more pliable than its predecessor, the X Ghosted.1, and it can now fit wide feet.
This new model now uses a premium PRIMEKNIT upper, which provides an adaptive fit that can give optimal support for sudden movements. It has an Engineered Agility Frame, which wraps the foot for better lock-in and stability. And a Carbitex SpeedFrame outsole for explosive take-offs in all directions. There's a carbon insert under the forefoot, which enables an instant transfer of power through the forefoot.
– PUMA FUTURE Z 1.2 –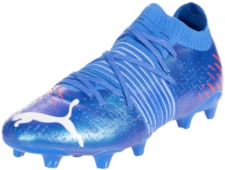 PUMA FUTURE Z 1.2 is Neymar's official soccer cleat, and it never stopped gaining a new following since it was first introduced to the public. This new PUMA boot is as comfortable as it is good-looking. Although we wished PUMA had made it a bit shorter because it tends to be longer in the forefoot, and it gives a little distraction when striking the ball.
But if you have narrow feet, this soccer cleat can be perfect for you. It's comfortable right out of the box and doesn't require any adjustment.
PUMA FUTURE Z 1.2 has a unique adaptive FUZIONFIT+ compression band, a knit construction designed to provide supreme locked-in and support for any movements of the energetic soccer player. It has an outsole, which offers agility, explosiveness, and a responsive take-off in all directions.
– New Balance Furon V6+ Pro –
New Balance has really been doing great for the past couple of years. And we are impressed by the new Furon V6+, an improved version of the Furon V6. In fact, more and more professional players are noticing this brand and are shifting to using the Furon V6+, the flagship speed cleat of New Balance.
This soccer cleat is extremely comfortable. It has a soft Hypoknit upper with Fit Weave technology, which provides a sock-like fit with great stability even at high speeds. It has an infiniGRIP shoe insert, which helps reduce foot slippage and a nice lining with padding in the right places.
Moreover, the Furon V6+ has a pro-level nylon plate with a ribbed midfoot that offers plenty of stability through every change of direction. It has Chevron-shaped studs that give a sure grip on any natural surfaces.
– Adidas Predator Freak.1 –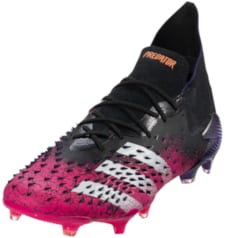 If you want total control of the ball, even making it spin during power shots, the models of Adidas Predator Freak are the soccer cleats for you.
This latest Predator model now has a 360° coverage of the new rubber elements on the upper, designed to help you control the ball better and increase ball swerve. Plus, the soccer cleat looks more premium than its predecessor.
Adidas Predator Freak.1 comes with a new PRIMEKNIT collar, which gives you more freedom of movement and an ensured locked-in fit around the midfoot and ankle. This latest model uses a lightweight CONTROLFRAME outsole, a split soleplate, which offers a more comfortable and responsive ride.
– Nike Tiempo Legend 9 Elite –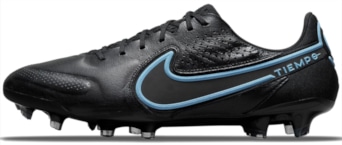 Nike Tiempo Legend 9 is so comfortable and stable that even some sports doctors recommend it for soccer players with problem gait. This soccer cleat has more lateral and ankle support than most soccer cleats.
Weighing now at 7.3 oz only, the Legend 9 is now more suitable for any field position. It offers a comfortable fit through a one-piece k-leather upper with soft foam pods underneath that hug the foot for a better lock-in through every change of direction.
This new model uses a Hyperstability plate, which offers comfort and traction in all directions. And it has mixed blade and round studs designed to deliver more stability, excellent grip on the ground, and superior turning ability.
– Nike Phantom GT2 Elite –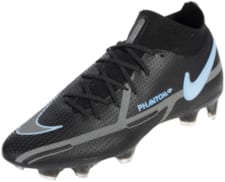 Update: This new model has an updated design of the Generative Texture (GT) technology for better control of the ball.
Nike Phantom GT2 is so versatile; you can wear it on any field position. It has dynamic traction that makes it stable on the midfoot and responsive on the forefoot. The outsole of the Phantom GT2 is well developed in all aspects.
The upper material is made from a one-piece Flyknit that is excellent in locked-in fit and follows your foot in all directions. The upper has a unique Generative Texture technology all over the place, a grippy texture that can enhance your control of the ball during dribbling and shooting.
Nike Phantom GT2 has a wide width and is most suitable for wide-footed players. But if you have narrow feet, it isn't uncomfortable either. Although you may have to go down half a size if you have super narrow feet.
– PUMA Ultra 1.2 –
If you are looking for a comfortable speed cleat, don't look past the models of PUMA Ultra. In fact, it has a bit more volume (with padding in the right places) than Nike Mercurials and Adidas X Ghosted.
Some reputable sources say that it is not only the most comfortable speed cleat, but it is also the most comfortable modern football boot.
PUMA Ultra 1.2 replaces the models of PUMA One. Weighing only at 5.6 oz, the Ultra 1.2 is a true speed cleat with awesome control on the ball through its MATRYXEVO woven upper and studs that can deliver an explosive take-off and easy change of direction,
Note: PUMA Ultra 1.2 has a leather cleat, the Ultra 1.2 Lazertouch. It is almost identical in weight to the synthetic model and uses the Lazertouch technology to enhance your touch and control on the ball. This leather cleat has premium soft k-leather, which has more volume than some leather cleats on the market.
– PUMA Ultra 1.3 –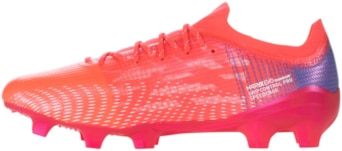 If you are looking for a super comfortable soccer cleat with a more barefoot touch on the ball, PUMA Ultra 1.3 is one of your best options. Unlike its predecessor, the Ultra 1.2, this new model has less padding under the upper, which brings the foot closer to the ball (although it may also provide less protection for impact).
This speed cleat has a redesigned upper with new materials – transparent mono yarns, a new addition to MATRYXEVO technology, and internal SPEEDCAGE for multidirectional support during rapid acceleration. The Ultra 1.3 still uses the SpeedUnit outsole, an aggressive outsole with a running spike DNA.
Final Thoughts on the Best Football Boots
For a football boot to be considered the best, it must have the technology that blends well with its materials. It doesn't have to be an all-rounder shoe but is most effective in performing specific roles on the soccer field.
Since the first quarter of last year, we have already seen some ingenious innovations, new technologies, and new materials that greatly improved the modern soccer cleat.
Although the growing trend of thinner materials and more lightweight boots make you more prone to impact injury, the modern soccer cleat will also greatly improve your performance on the soccer field.
Frequently Asked Questions
What are the Best Women's Soccer Cleats?
Most soccer cleats are unisex except for PUMA Ultra 1.3, which offers a separate model for women soccer players. For the best women's soccer cleats, you have to look for the top-performing boots this year and size down a full size to get the best fit. The boots with conical studs may also be helpful for women because they add more stability and allow the female feet to perform better on the soccer field.
What are the Best Men's Soccer Cleats?
The best men's soccer cleats are the top-performing boots this year. If you are in a position that requires power on straight-line acceleration, go for the Nike Mercurials, New Balance Furon V6+, and PUMA Ultra 1.3. However, if your role on the pitch involves a lot of multidirectional movements, go for all-rounder cleats like Nike Phantom GT2 and PUMA FUTURE Z 1.2.
You may also like: