The most simple words that can best describe this running shoe are bouncy, comfy, and durable. Although Adidas Alphabounce Beyond has a much lower price than most running shoes of Adidas, it appears to have all the features an excellent runner would need.
The Alphabounce Beyond features a special technology called Bounce energy-returning, which promises a light, fast rebound with each stride. Adidas designed this running shoe specifically for cross-training with a seamless Forged mesh upper that hugs your foot comfortably and reinforces support for side-to-side movement. Plus, this shoe has the grippy Continental rubber outsole with a springy bounce to energize every stride for lasting comfort.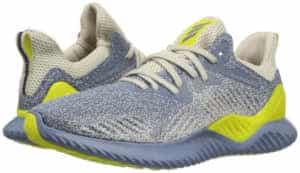 Speaking of Continental, this German automotive manufacturing company, with over 140 years of tire technology, supplied Adidas with traction compound soles in 2007. And Alphabounce Beyond is one of over 80 Adidas shoes with Continental traction compound soles. This Continental technology for runners has rising expectations because of its progressively expanding coverage, a promise of up to 30% more grip experience, and Guinness World Records attempt by professional athletes.
Like tires are for cars and shoes are for runners, expect this grippy Continental rubber outsole to perform well in any weather as you run out there and back. This technology continues with its newest version, the Alphabounce Beyond 2.
Notable Features
Cushioning: Lightweight, flexible response
Weight: 13 oz
Differential: 10mm
Smooth, textured textile and synthetic upper materials
Bootie construction that offers a sock-like fit for optimal comfort
Smooth textile lining
Lightly padded textile footbed
Bounce energy-returning technology that promotes light, fast rebound with each stride
A Fitcounter molded heel counter that provides a natural fit that allows optimal movement of the Achilles
Grippy Continental rubber outsole
Who Should Wear Adidas Alphabounce Beyond?
This running shoe is only for those who need neutral to underpronation (or supination) support type. But people with high arches and those with special orthotics that are thicker than the removable Bounce insole might find this shoe tight on the instep.
It has great reviews from people with a bad back from which this shoe has been a saving grace. Other positive feedback you'll hear from actual users is "super comfortable" and "a lot of cushions in the heel." There are also reviews from people who wore this shoe for walking around all day and never felt pain in their feet, knees, or back.
Our experience with Adidas Alphabounce Beyond
After testing this running shoe for over a month of at least 5 miles of daily road running, we are ready to give feedback on what to expect with this shoe.
Although it's not the lightest of all running shoes, the Alphabounce Beyond is definitely fashionable. It is comfortable, giving the runner an enjoyable experience with its quick rebound on each stride. There were no complaints about pain in the foot, knee, and back. And the support was always present until the end of each run.
But if you are new to running, make sure not to go beyond your limit because the Bounce energy-returning technology in this shoe will always encourage you to run forward with its fast rebound features.
Reasons Not to Buy Adidas Alphabounce Beyond
This running shoe has an added rubber to the sides of the outsole, intended to provide reinforced support for side-to-side movement (for stability) that sometimes collide with each other, making the shoe clunky if you run on a narrow path.
Even though the textured textile and synthetic upper materials of Alphabounce Beyond are smooth, they are not as breathable as the knit upper of the Ultraboost, the running shoe which many consider the best shoe Adidas has made so far. The lack of breathability features in this shoe makes it less ideal for long runs. This shoe is best for daily running and not for competition.
The Alphabounce Beyond won't provide a lot of arch support perfect for the neutral runner. So if you have issues with fallen arches or severe overpronation, stay away from the Alphabounce Beyond because you need dependable arch support for stability.
You may also like: