If you want to travel and plan to bring only one shoe, the On Cloud Terry is one of your best options. It looks stylish and unique and is very durable, too. I ran 200 kilometers on it (with no socks), and the shoe still looks brand new after running all those miles. I didn't feel any discomfort either. I also noticed that it maintains its form even if you run 5k consecutively. Although beyond that distance, you may need to wear running socks.
The Cloud is On's lifestyle, everyday shoe. And the On Cloud Terry is arguably the most comfortable Cloud model out there. It has soft-touch materials everywhere. What I like the most is its Terry-fabric tongue because it is partly cotton, which offers a unique locked-in experience.
RELATED: 5 Best On Running Shoes of 2023
Having started as a running shoe years ago and then becoming a lifestyle shoe today, the On Cloud is equally comfortable for any walking and short-distance running activity. It can live up to your active-lifestyle expectations. However, I feel that it now leans more towards being a walking shoe than a running shoe.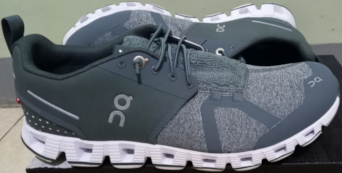 Fit & Feel
The On Cloud Terry feels true to size but may feel narrow if you have wide feet. It also looks noticeably slender if you wear loose jeans. I have wide feet, and the shoe feels tight on the instep and around the rear foot if I wear socks. Over time, the upper became looser and adjusted to the contours of my foot.
I guess it is more comfortable and looks better without socks. I feel that On made this shoe with comfort in mind, even if you decide not to wear socks. You won't have blisters after long walks. And when running, if you position your lower limb to have a correct running stride, it is one of those shoes you can slip on and go for miles comfortably.
The speed-lacing system does an excellent job of keeping the shoe firmly in place on the move. The laces are resilient and offer almost perfect tightness. The shoe also comes with traditional laces if you prefer to use them.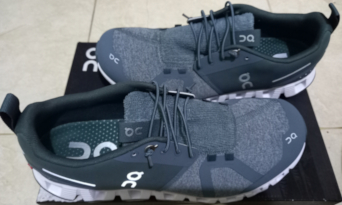 Comfort & Performance
Even though On Cloud Terry has experimental materials, including vegan leather and other technical stuff, it performs well on any walking and short-distance running activity (except walking and running on a trail). The soft materials are durable and maintain their form pretty well. And if you use it for walking only, it can last longer than many shoes.
I loved the On Cloud the first time I wore it. And although it feels a little narrow for my wide feet, it has a comfortable, roomy toe box. It also has a contoured removable insole, which offers comfortable support even for flat feet. The sole does a great job centering your foot so it won't have excess side-to-side movements. However, it may not work well if you badly need total support on the medial side of the foot.
The Zero-Gravity foam and CloudTec in the outsole do an excellent job of providing soft, cushioned landings. I can also feel the Speedboard technology, although, for this shoe, I wished it had more energy generated into forward motion like the Nike Zoom technology.
The 6 mm heel-to-toe drop is perfect for my stride. And I don't experience any pain in my knees, hip, and back. But it makes my calf muscle work a little, and sometimes I need to massage that area to relax it after running.
I use On Cloud for running on the track. I like it better than my Nike React Infinity Run Flyknit. But I never used it for running on pavement because it tends to slip when the road is wet. I once slipped and fell on a wet surface, where my Nike shoes usually provide a sure grip. I know On already addressed this issue on the latest Cloud.
The outsole design for this model can also easily pick up a stone, and it becomes a little annoying when it gets stuck in there because you have to stop to remove it.
Final Thoughts
The On Cloud Terry is a must-have if you are looking for a comfortable, durable, and stylish everyday shoe. It's a head-turner because it looks unique compared to other shoes. Although the shoe feels a little pricey, it is one of those you can wear for several years because it doesn't have any compromise in build quality. However, the regular size may feel narrow if you have wide feet.