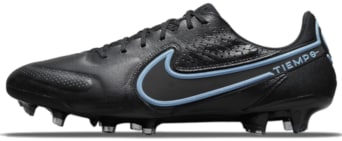 Did you know that Nike Tiempo Legend 9 is the lightest Tiempo ever? This 9th generation is 2.8 grams lighter than its predecessor and is fast becoming a great all-rounder. It is the most famous leather cleat among professional goalkeepers, defenders, and midfielders, with over 840 elite players using it in high-level competitions.
The Tiempo is most suitable for soccer players looking for classic comfort, durability, impact protection, and modern technology. If you have tried and loved its previous version, you'll surely be delighted with the improvements Nike has made for this new model.
Nike Tiempo Legend 8 Vs. 9
The new Tiempo has received a significant upgrade on the upper construction and now offers a softer impact through a series of soft foam pods underneath the leather. The Flyknit tunnel and Quadfit mesh in the previous model are gone. But the shoe now feels like a pure leather cleat, although we wish that the Nike logo is also leather instead of synthetic.
Nike also redesigned the Hyperstability plate to provide you the speed you need when making quicker cuts and sharper stops. It has raised texture on the forefoot and in instep locations for a better grip on the ball. And the overall look is now more modern than before, which younger players may find appealing.
Despite all these changes in material and design, the new Tiempo will still give you that dependable and familiar classic comfort and support, which are the features why people buy it.
What Player Position is Best for Nike Tiempo Legend 9?
You can use the Tiempo on any field position but be aware that it is around 28 grams heavier than the top speed cleats on the market. The soleplate may also have less technology on straight-line acceleration compared to the speed cleats. However, it will also perform well even in wet weather conditions because it is water-resistant and retains friction on wet surfaces.
The new Tiempo is built for comfort, support, and speed and is most famous among professional goalkeepers, defenders, and midfielders. Some sports doctors also love it and recommend it for soccer players with a problem gait like overpronation because of its stiffer outsole, well-structured upper, and excellent support on lateral movements, which help protect the ankle. It is also comfortable for wide-footed players.
Choosing the Right Tiempo Model
If you want the best performance of this soccer cleat, you should choose only between the Elite and Pro models.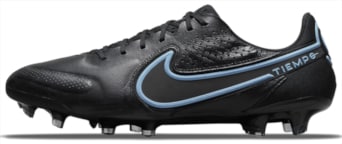 The Elite Model. It is the top-tier, most expensive model with the best material and technology. It is the lightest model yet has more support and padding than any other Tiempo model. It has the most elegant, classic design with a thinner premium kangaroo leather material, designed to bring the foot closer to the ball for a better touch. It also feels less bulky than an old-school leather cleat.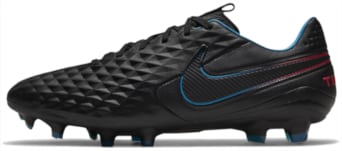 The Pro Model. This first takedown model feels like the elite offering but is $100 cheaper, which is a viable option if you are on a tight budget. With Tiempo's latest upgrade in performance, this next-tier model has also benefited from the improvements.
The Pro model has a good value for money. It even competes with other top-tier models in performance. However, it doesn't have the complete technologies found in the Elite model. And it uses a soft calf leather upper, which is a heavier material compared to the kangaroo leather. The soleplate also has thinner studs compared to the top-tier model.
Final Thoughts
If you are looking for a leather cleat with classic comfort and modern technology, Nike Tiempo Legend 9 is one of your best options. It is Nike's flagship leather cleat, which now offers a more modern look, better touch of the ball, and a quicker soleplate. Even with much improvement, the latest iteration still maintains that familiar Tiempo feel, which soccer players love from the start.
See also: Best Nike Soccer Cleats