If you have weak ankles or have previously suffered from an ankle injury, you'll be more prone to ankle sprains. And for a high-impact sport like soccer, practice positioning your body properly so you won't twist something when tackling.
While there are soccer cleats that can provide extra compression around the ankle, which can make the ankle feel more stable, there's not an ultimate boot that can prevent ankle sprains on the soccer field. And when such a forceful twist of ligaments happens, it can make you remain on the sidelines for the rest of the tournament.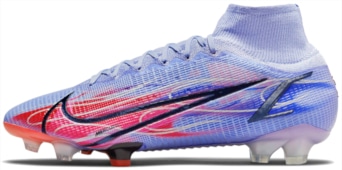 What are the Best Soccer Cleats for Ankle Support?
High-top soccer cleats have extra ankle support, which can make the ankle feel more stable. But that's not the only support you should look for in a football boot.
If you have weak ankles, choose your most comfortable soccer cleats. An excellent heel counter may also help for rearfoot stability. And a comfortable footbed with anti-slip technology is a must, to help absorb shock and lock the foot down in each direction.
There are only a few cleats that provide better ankle support, and we have handpicked the ones that also provide comfort and performance.
Nike Cleats With Ankle Support
– Nike Mercurial Superfly 8 Elite –
The Mercurial Superfly 8 is Nike's elite offering, and it's arguably the best Superfly ever made. This boot has a premium locked-in sensation with a Dynamic Fit collar, a mid-cut collar that provides compression around the ankle. It has an interior heel cushioning for rearfoot stability. And NikeGrip technology on the insole that prevents the foot from sliding.
Professional soccer players admire the Mercurial Superfly for its excellent and responsive locked-in fit from the ground up and an aggressive soleplate that can make you move quicker than your opponent. Some sports medicine physicians recommend it for its perfect blend of comfort, flexibility, support, and shock absorption.
Shop Mercurial Superfly 8 at Nike »
– Nike Phantom GT2 Elite –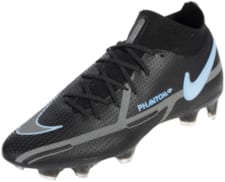 Nike Phantom GT2 has the combined technologies of the Phantom Venom and Vision. And like the Phantom Vision, Nike raised the collar to provide compression around the ankle.
This new model is a smooth all-rounder that can do anything on the soccer field. It's a versatile boot suitable for any field position. It now has an improved Generative Texture (GT) on top of its one-piece Flyknit upper for better control of the ball.
Nike Phantom GT2 feels like a wide Mercurial but may have a slight advantage over the Mercurials on side-to-side movements because of its Hyperquick soleplate system, which provides support for quick changes in the lateral direction. But it's not as fast as the Mercurials on straight-line acceleration.
– Nike Tiempo Legend 9 Elite –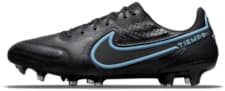 If there are low-top soccer cleats that must join this list, they have to be the models of Nike Legend. According to some sports medicine physicians, these leather cleats have more lateral and ankle support than most soccer cleats.
Nike Tiempo Legend 9 is the lightest Legend ever. It has a refined upper for better touch and control of the ball. And a redesigned outsole that boosts quicker cuts and sharper stops. This boot is a doctor-recommended soccer cleat for flat feet.
Shop Tiempo Legend 9 at Nike »
Adidas Cleats With Ankle Support
– Adidas Nemeziz 19.1 –
Adidas Nemeziz 19.1 is an agility boot designed to give you power and support for multidirectional movements. It uses Tensiontape technology, which offers an adaptive fit with a slightly raised collar to support the ankle. This upper material gives not only structured support, but it also offers protection for impact injury.
The Nemeziz 19.1 is Messi's last agility boot before he went back to the original speed cleat design that made him score that famous goal against Getafe some 15 years ago. This boot uses split plate tooling with conical-like studs to give the foot natural freedom and better performance.
– Adidas Predator Freak.1 Mid –
If you want total control of the ball and field, Adidas Predator Freak.1 is your best option. It's the most popular soccer cleat for midfielders. And it now has 360° coverage of the famous rubber spikes that provide an extra grip on the ball.
The new materials also feel more premium than the materials used by its predecessor. But of all the Predator Freak models, the mid-cut version is your best option if you want more ankle support.
Adidas Predator Freak.1 Mid has a more supportive tongue, and a raised collar that provides compression around the ankle and a locked-in fit in the midfoot. It uses a lightweight CONTROLFRAME outsole for optimal grip and control of the ground. This control cleat has conical-like studs underneath the forefoot designed to allow the foot to function normally.
Shop Predator Freak.1 at Soccer »
PUMA Cleats With Ankle Support
– PUMA FUTURE Z 1.2 –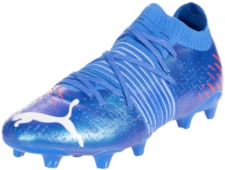 This good-looking boot has unique features admired by the fastest and most agile players of the game. It's one of the most comfortable soccer cleats and is Neymar Jr's official soccer shoe after first using the King Platinum in one of his matches under PSG. The star seems to be pleased using this one.
PUMA FUTURE Z 1.2 has an adaptive mid-foot FUZIONFIT+ compression band, which helps lock the foot down through every change of direction. It has a raised collar that feels comfortable around the ankle. And a Dynamic Motion System asymmetric outsole for traction and multidirectional movement. The entire upper part of the boot is also well-structured. See full review »
A Better Solution to Prevent Ankle Sprains
The above soccer cleats will give you extra support around the ankle, but they won't help strengthen the ankle. In fact, if you depend on ankle support, you'll always have weak ankles.
A much better solution is to focus more on strengthening the ankle, so you won't limit yourself to wearing just a few soccer cleats. There may be other soccer cleats that can help you perform better on the soccer field.
Here are useful tips to prevent ankle sprains:
Watch for uneven surfaces on the soccer field.
Complete your warm-up exercises before starting any game or practice.
Apply weak ankles exercises.
Be well-rested and don't play if your foot hurts.
Get rid of excess body weight.
You may also like: