Our topmost choices for the best leather soccer cleats:
Modern design: Mizuno Morelia Neo III Beta — the best-performing leather cleat this year. It is super lightweight, comfortable, and fast, with a modern fit admired even by elite strikers.
Classic design: Adidas Copa Mundial — a timeless soccer cleat loved by both amateur and elite players. The Copa is super comfortable and supportive, with all-conical studs for stability and better performance on the ground.
Soccer players prefer leather cleats because they offer a better fit, comfort, durability, and protection. Although they are pricey, they are worth having even for once in your life as a soccer player. And if you are new to soccer, a pair of leather cleats is one of your best options.
The leather material in a modern soccer cleat is breathable and allows airflow to keep your feet cool and dry. It is easy to clean and maintains the best natural smell – the smell of genuine leather. Leather is also eco-friendly and provides added impact protection to the feet.
Leather looks more elegant than synthetic but may not be the best choice during wet conditions because it can become heavier than synthetic when soaked with water.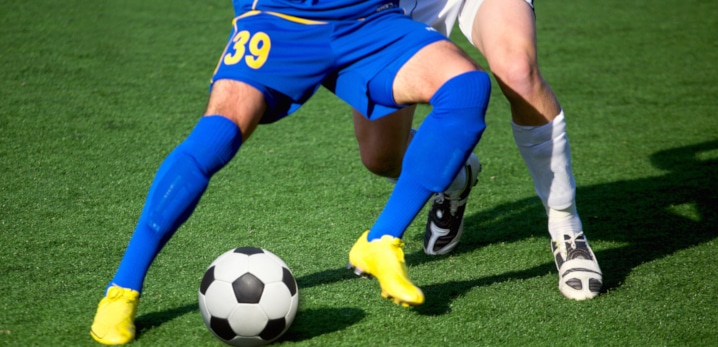 Kangaroo Leather Material
Kangaroo leather is the best material for leather cleats because it is the strongest and lightest. It is also thin and protective and can outlive the shoe itself. And if you are okay wearing leather shoes, you will be fine wearing k-leather.
Modern vs Classic Design
Modern leather cleats offer a thinner upper, so your foot will be closer to the ball. On the other hand, classic leather cleats offer a thicker upper, which provides more impact protection. If you want your leather cleat to be more lightweight, go for the modern design.
What are the best leather cleats?
The best leather cleats can perform well regardless of your role as a soccer player. The leather material blends nicely with the technology from the ground up, offering long-lasting comfort, support, and performance on the soccer field.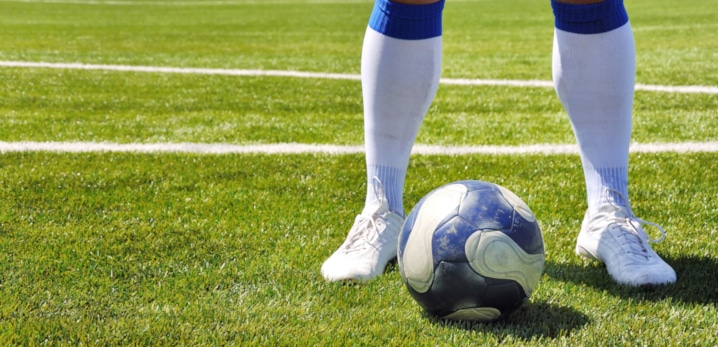 Heads up: As an Amazon Associate, we earn from qualifying purchases.
The Best Mizuno Kangaroo Leather Soccer Cleats
— Mizuno Morelia Neo III Beta —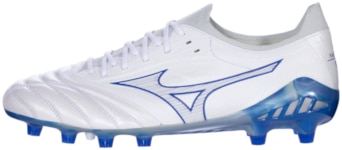 Effective positions: Goalkeeper, Center Back, Sweeper, Fullback, Wingback, Defensive Midfielder, and Central Midfielder.
Mizuno Morelia Neo III Beta is an all-time favorite because of its consistent design since the first Morelia Neo model. You can never go wrong with this leather cleat. And if you choose the MIJ model, you'll have a hand-made shoe.
The Morelia Neo III Beta is arguably the best option for forwards or strikers looking for leather material. But there are also professional goalkeepers, defenders, and midfielders using it consistently.
This leather cleat has an excellent fit with the best lightweight and skin-tight feel. It is only around 5 grams heavier than Nike Mercurial Vapor 14. And has conical studs that provide superb traction and pivoting ability.
Shop Morelia Neo III Beta at Soccer »
Cheaper alternative: Mizuno Morelia Neo III Pro KL. It is $210 cheaper than the Neo III Beta but has a k-leather upper, a sockliner with rough coating, and a soleplate with plenty of stability and comfort.
— Mizuno Morelia II —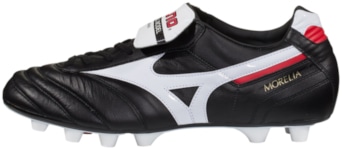 Mizuno Morelia II has been around six years already. And like the Copa Mundial, this leather cleat also offers timeless performance. It has stood the test of time and may still be around for several years more.
This soccer cleat competes with the Copa and is an excellent choice if you want a modern feel in leather cleats. It also feels less bulky than the Copa because it has a skin-tight design.
And if you choose the model from Japan, you will get a hand-crafted version with the highest quality materials. This shoe has a classic-looking outsole with all-conical studs that provide excellent traction and pivoting ability.
— Mizuno Rebula Cup —

Effective positions: Center Back, Sweeper, Fullback, Wingback, Defensive Midfielder, and Central Midfielder.
Mizuno Rebula Cup is all about comfort and speed. It has a more premium all-leather upper than its predecessor, the Rebula 3. Some elite goalkeepers and forwards wear it. But it may also work well for defenders and midfielders.
The Rebula Cup has a soft k-leather upper with precise lock-in, comfortable fit, and added control on the ball. It has a stable and agile outsole, which offers a responsive ride and a more stable base. The soleplate works well with its stabilizer studs, which provide plenty of stability and grip on the ground.
The Best Nike Leather Soccer Cleats
— Nike Tiempo Legend 9 Elite —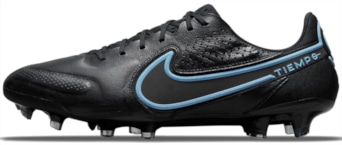 Effective positions: Goalkeeper, Center Back, Sweeper, Defensive Midfielder, and Central Midfielder, and Center Forward.
The models of Tiempo Legend are the best Nike kangaroo leather cleats. And this latest model is the lightest Tiempo ever made. This soccer cleat comes with a refined upper featuring k-leather + soft foam pods, which offer a better lock-in and touch on the ball than its predecessor.
Nike Tiempo Legend 9 has blade and conical studs, which offer more stability, superior turning ability, and quick release from the ground. It has an excellent fit and is most suitable for any field position.
Shop Tiempo Legend 9 at Nike »
Cheaper alternative: Nike Tiempo Legend 9 Pro. It is $100 cheaper than the elite model. But it has quality materials and looks and feels very much like its top-end model.
— Nike Premier 3 —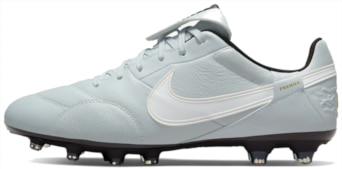 If you haven't tried a leather cleat before, Nike Premier 3 is an excellent starting point. This soccer cleat has the best value for money. It has a low price that other brands cannot beat. Although it has a full kangaroo leather upper, the quality is not as good as the premium leather of Diadora Brasil.
Not much has changed since the launch of the first Premier. There is a minimal color option, and you can hardly tell if this latest model is better than its predecessor. But it is definitely more stylish than the previous models. And it continues to have round cleats that add stability and comfort underneath the foot.
The Best Adidas Leather Soccer Cleats
— Adidas PREDCOPX SUPERBOOT —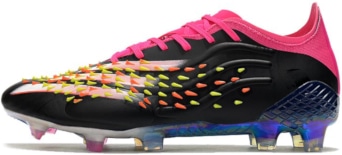 This hybrid soccer cleat is not only a mixture of two excellent boots but three. Adidas PREDCOPX SUPERBOOT combines all the best technologies of the Predator Freak, Copa Sense, and X Ghosted. But will it replace the three models like Nike Phantom GT replaces the Phantom Venom and Vision? Right now, you will only see it for a limited time.
But Adidas PREDCOPX SUPERBOOT is one of the best leather cleats you can have. It has rubber spikes on the upper, soft k-leather with FUSIONSKIN and PRIMEKNIT technologies, and a CARBITEX lightweight soleplate.
Adidas has done a great job putting all the technologies together. It makes more sense to have a thinner leather upper on this one than in the Copa Sense. And if Adidas can make it lighter, it can be the perfect soccer cleat.
— Adidas Copa 20.1 —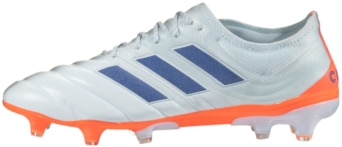 Effective positions: Goalkeeper, Defensive Midfielder, Central Midfielder, and Left/Right Midfielder.
Many consider the models of Copa as the best Adidas kangaroo leather cleats. Although this model only has a subtle upgrade, it has durability that can last longer on the soccer field.
Adidas Copa 20.1 is very efficient, and many elite players depend on it. It has a soft k-leather upper that offers flexibility and a plush touch on the ball. It has a precise locked-in fit and elegant skin-tight sensation. But it weighs 8.4 oz and may need an improvement in weight.
— Adidas Copa Mundial —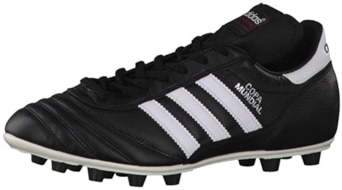 Adidas Copa Mundial is arguably your best option if you love a classic look in soccer cleats. It has been around for decades but didn't change much since Adidas first introduced it in 1979. And it still has a loyal following of elite players using it in defensive positions.
The Copa is one of the best Adidas k-leather cleats. It has full leather upper, making it heavier than a modern leather cleat. It has a traditional lacing system and well-placed Adidas three stripes. And it has longer, round studs that offer better grip on softer surfaces and more comfort underneath your foot.
Other Brands with the Best K Leather Soccer Cleats
— PUMA Ultra 1.2 Lazertouch —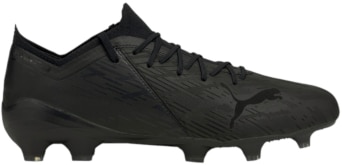 This leather cleat from PUMA is much better than the Ultra 1.1 Leather (and it is $50 cheaper, too). If you love the Ultra 1.2 because it is an all-rounder, you will love the leather touch of the Lazertouch.
PUMA Ultra 1.2 Lazertouch has a premium soft k-leather upper with Lazertouch to enhance your touch and control of the ball. It has a knitted slip-on construction, which improves the snug fit of the leather material. And an ultra-fast Pebax SpeedUnit soleplate for rapid acceleration on natural and artificial surfaces.
— Diadora Brasil —

This review won't be complete without mentioning this handmade soccer cleat from Italy. Diadora Brasil has a premium kangaroo leather upper and maintains the classic looks of the 1990s Diadora boots with a subtle modern innovation. It has traditional round studs, which offer comfort and better grip on softer surfaces.
Diadora Brasil offers a luxury feel and deserves to be at the top of your list of leather cleats. It is simply one of the best World Cup football boots that are still on the market today. Diadora made even the logo on this shoe from leather.
Shop Diadora Brasil at Soccer »
— Umbro Speciali Pro —
Umbro Speciali Pro is another classic leather cleat that competes with Adidas Copa Mundial. It has a similar soft kangaroo leather upper with more stitching than the Copa. This added stitch helps prevent overstretching of the leather material as you play.
The Speciali Pro also has a comfortable footbed with a thick, spongy insole with raised sidewalls. This soccer cleat can fit wide feet and has all-conical studs that provide stability and help the foot function better.
Final Thoughts
Leather cleats are an excellent option if you want the ultimate comfort in soccer cleats. They look elegant and offer superior comfort, better fit, and durability that can outlive the shoe itself. And if you have an extra budget for your new pair of soccer cleats, go for the leather material. They are the only shoes you need for any given match.
Frequently Asked Questions
How long do leather cleats last?
A good leather cleat may last between 5 and 10 months, depending on how often you use it. Thicker leather material may last longer than thinner leather. If you use kangaroo leather, it may outlive the outsole. But when the fit becomes loose, its performance will also decrease.
Is synthetic better than leather?
Synthetic soccer cleats used to have a clear advantage over leather cleats in weight. But the modern leather material is now thinner and more lightweight. For example, the latest Morelia Neo Beta is just 5 grams heavier than the Mercurial Vapor 14. In terms of performance, some synthetic boots have an advantage over leather shoes because of their more aggressive designs on the outsole.
What cleats does Mbappe wear?
Kylian Mbappe wears Nike Mercurial Superfly 8 Elite for season 2021-22. But he previously used the Superfly 8 Elite iD. Mbappe plays as a Forward for Paris Saint-Germain.
Why are leather football boots good?
Leather football boots can give you next-level comfort while protecting you from impact injury. The thicker the material, the more protection you get and the longer it will last on the soccer field. Kangaroo leather is the most durable material in leather cleats. It will provide a soft covering that molds to the foot over time.
Are leather football boots durable?
Yes, especially kangaroo leather because it is more durable than any leather type. Leather boots will also provide long-lasting comfort and protection from any impact.
You may also like: