If you love the Nike brand and you are looking for a great running shoe under $100, Nike Air Zoom Winflo 7 is your best option. This running shoe is the most affordable and has previous models admired by experts for being reasonably priced.
But runners don't recommend the Winflo 7 for just affordability. This shoe has no technological compromise that can limit you from going farther as you run. However, it might not have the premium feel of the top running shoes twice its price.
The Winflo 7 has mixed reviews in terms of support type. And if you look at the product details on the Nike website, you'll not see any clues if it's for neutral runners or overpronators. Some sources say it's a neutral running shoe, while others say it's a stability shoe.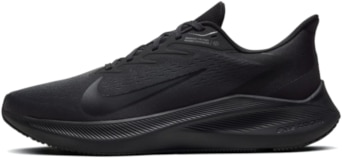 But this running shoe has evident arch support and a contoured footbed and is a little rigid in the midfoot area compared to some neutral running shoes. Do you want to know what we think about the Winflo 7? It's a supportive, neutral running shoe. It has plenty of cushioning in the heel but is just regular in the forefoot, which is a distinctive quality of a neutral running shoe.
Key features of the Winflo 7:
Mesh details throughout the upper, which helps promote airflow with every step.
An Air Zoom unit in the heel and forefoot, which tunes the shoe for speed and provides cushioning where you need it.
More foam, which offers a springier feel and is responsive and durable.
A heel counter that helps secure your foot through each stride.
How Does the Winflo 7 Feel on Your Feet?
This running shoe has super comfy heel cushioning. Heel strikers may benefit from it, as well as those who have heel problems. This shoe now offers more foam, so it feels springier and more responsive than its predecessor. It can fit a wider foot size, but people who have bunions may struggle with the toe box that is not so roomy.
The Winflo 7 also has a heel counter, which helps your foot feel secure through every landing. It is flexible in the forefoot and gives your toes freedom of movement when pushing off. However, it feels like it only has regular cushioning in the forefoot.
The Winflo 7 can be a concern for those with forefoot issues, such as Morton's neuroma, metatarsalgia, bunions, and so on. But it may work for people with hammertoes because the sole is firm in the forefoot, and the upper material is soft.
Most helpful consumer reviews:
I am very particular about how a shoe feels. These are perfect! They make me feel energized after working all day in them. The cushion in the step is awesome!
These are the most comfortable shoes I've ever owned! I bought them to wear at work. I stand all day, and my feet never hurt!
How Does the Winflo 7 Perform as a Walking Shoe?
Since there'll be consumers who will use it for walking only and standing for long periods at work, we tested the Winflo 7 by walking around town for three days with at least 5 hours of walking and standing each day.
It satisfied us with how it sustained its cushioning and support throughout the whole time. It gives the impression that the shoe is quite durable and could offer excellent support for long periods.
How Does the Winflo 7 Perform as a Running Shoe?
The Winflo 7 has a stable base and excellent heel cushioning. Although it has the same 10 mm heel-to-toe drop as the Adidas Alphabounce Beyond, it is better at taking the pressure off your knee, hip, and lower back. Our tester never experienced muscle pain through those runs.
The outsole also provides typical durability like any good running shoe. However, since it doesn't have a super breathable upper, it doesn't allow much airflow during warm weather. But your feet will feel comfortable when the road isn't hot.
You may also like: