Lotto Sport Italia offers excellent shoes for high-impact sporting events. It is a renowned brand in Tennis and Football with sponsorships of at least 25 elite football clubs. Lotto soccer shoes continue to improve with the help of professional players who provide input to fine-tune the technology and design of the footwear.
This famous brand focuses on delivering dynamic, innovative, and quality Italian design. It is passionate about providing ultra-effective customer service and will listen intently to customer feedback. However, Lotto soccer shoes may not be as good-looking as some of the most famous shoes. Even so, they have high-quality materials and battle-tested technologies that can help bring out a better version of yourself in any match.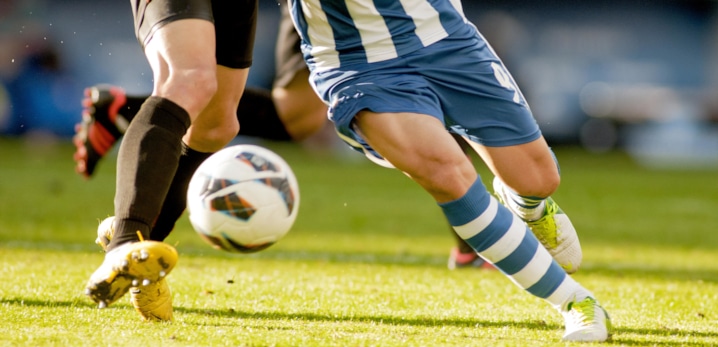 The Best Lotto Soccer Shoes of 2023
Lotto football shoes have special technology in the forefoot that offers responsiveness and extra flexibility at toe-off. Here's a list of Lotto soccer cleats you can try for your next match or training session:
Lotto Solista 200 IV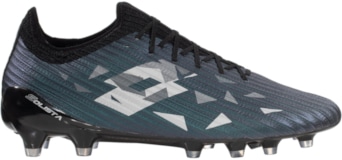 Effective positions: Goalkeeper, Center Back, Sweeper, Fullback, Wingback, and Attacking Midfielder.
Lotto Solista 200 IV is the most affordable top-tier soccer cleat used by at least seven elite players in the Premier League, Serie A, and La Liga for this season. Surprisingly, it is cheaper than some takedown models of top brands but has premium materials and technologies that compete with any speed cleat on the market.
The Solista 200 IV offers a skin-tight fit through its soft 3D knit upper. The one-piece upper has embossing for better touch and control of the ball. The interior is also squishy with padding for extra comfort and support. And underneath it is a modern soleplate with well-placed studs that enhances stability, acceleration, flexibility, and traction.
Shop On Soccer
Lotto Solista 100 IV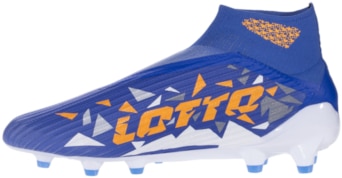 Effective positions: Goalkeeper, Center Back, Sweeper, Fullback, Wingback, and Attacking Midfielder.
If you are looking for a great alternative to Nike Mercurial Superfly 8, Lotto Solista 100 IV is one of your best options. This top-tier model is $75 cheaper than the Superfly 8 but offers high-quality materials and proven technologies. It has a laceless, high-top design and an upper that feels similar to the Mercurial. There is also a sticky coating for better touch and control of the ball.
The Solista 100 IV has a one-piece upper made from a soft 3D knit, which gives a stable locked-in fit that goes with the foot in all directions. It has an identical outsole to the Solista 200 IV, which composes of a modern plate with well-placed EVO and conical studs for enhanced stability, acceleration, flexibility, and traction for multidirectional movements.
Shop On Soccer
Lotto Stadio OG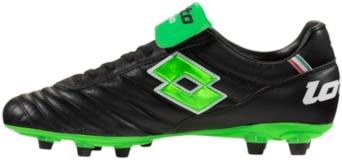 Lotto Stadio OG is a leather cleat that follows the standard classic design of all leather cleats. It is an OG remake of an elite and iconic shoe with a very functional style. You can think of this soccer shoe as the Copa Mundial of Lotto but with better quality and a more expensive price tag.
The Stadio OG has a premium kangaroo leather upper, which offers maximum durability and the best touch and control of the ball. The footbed has Lotto's Shock-off technology for extra cushioning and shock absorption. It also provides a more responsive and flexible forefoot through Lotto's PuntoFlex technology. And it has a classic outsole with long all-conical studs for optimum traction, stability, and better foot function.
Shop On Soccer
Lotto Maestro 100 IV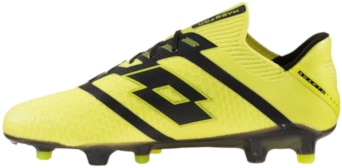 Lotto Maestro 100 IV is a top-tier football cleat with high-quality materials and tons of unique technologies. It has Lotto's Control-Fit 3D knit upper, which gives an impressive lockdown of anatomical fit. Lotto also improved the PuntoFlex technology in the forefoot of this shoe for enhanced responsiveness and flexibility during take-off.
The Maestro 100 IV has a low collar design, which offers complete freedom of movement around the ankle, although some players don't like the heel design and long for a better lockdown on the rear foot. But the heel cup has a unique technology called ADAPTO, which offers comfort and support to your tendons around the heel.
This football cleat has a modern soleplate with a blade and conical studs, which provide stable support, excellent turning ability, and quick release from the ground. It offers extra stability underneath using a BFC (Biomechanical Foot Control) Pebax insert installed in the soleplate. This BFC technology encourages natural foot motion.
Shop On Soccer
Conclusion
Lotto soccer shoes are among your best options if you are looking for great football cleats apart from the big brands. They offer only a few models, but these are shoes with a solid history that continue the dynamic and innovative approach to making high-quality footwear based on input from elite players and experts in the sport.
You may also like: