I started taking Genacol Aminolock Collagen around eight years ago after my sports doctor introduced it. I still use it today, per the doctor's advice. Thankfully, I still enjoy all the benefits and none of the side effects. I am a former soccer (football) player, and this diet supplement helps me stay active even if my days of competing as an athlete are over. I hope this Genacol review will help answer some of your questions.
For me, taking Genacol is like taking fruits where the health benefits are subtle and sometimes unnoticeable. Fruits can give you natural power when you step into action, but they won't make you feel like a superhuman. However, once you stop eating them and start going for undesirable foods, you'll notice a big difference. It will always feel like your body is missing out on something (big time).
Table of Contents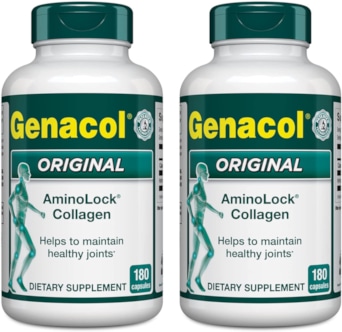 The benefits of taking Genacol Collagen
I usually take three capsules in the morning, with only a glass of water, before going for my usual runs. I am on a 16/8 intermittent fasting, and my body has adjusted well to it. Additionally, Genacol appears to be more beneficial when you exercise.
After several years of using it, I want to mention the following favorable experiences:
Pain relief. Having started playing soccer at an early age, the wear and tear on my joints (especially my knees) were evident as I got older. Genacol didn't help rebuild my joints in an instant, but as I continued using it, they got healthier. Now, there are no joint pains even after a heavy workout.
Strength. I feel 20-25 percent stronger based on the extra miles I can run having this supplement. Good sleep may also have something to do with it. Plus, I always eat healthy foods.
Concentration. It gives me the ability to think more carefully, and I have mental strength. I feel sharp and focused the whole day, even if I do a lot of thinking.
Good mood. I can sleep very well at night, so it helps with improved mood and reduced anxiety symptoms.
Improved appearance. Although I don't consider this a big deal, my skin's appearance improved. And my wife notices it and compliments me now and then.
It must have other health benefits, but these are the ones I see.
Did I experience any side effects mentioned in other Genacol reviews?
No, I did not experience any Genacol Collagen adverse side effects mentioned in other Genacol reviews. But I wouldn't hesitate to stop using it and look for other alternative measures if I experience discomfort or my laboratory tests show something different.
There was a time when I stopped using it, and I struggled a bit with my workouts. But not until after a week or so of not taking it. I wouldn't say that without Genacol, I can't finish my exercise routines because that would be untrue. It just felt like there was less inspiration exerting more effort.
My 8-year Genacol review
After my team lost 1-0 eight years ago in the dying seconds of a Seven-a-side open championship match, we felt disappointed at having played all day, but only to lose in the last minute of the soccer tournament. It was almost sundown, and all we wanted was to bring home the championship trophy.
At 40 years old, my zone as a right full-back was the favorite spot of the fastest players of the opposing team, where they attempted to pass at my territory all day long, thinking I was an easy target because of my age. But I wasn't the oldest player on my team. Our sweeper was older than me.
I played through the day with no substitute to replace me. But in the last match, defending against the best forwards was most difficult. After the referee blew the final whistle, we lost 1-0 to a much younger team. So I thought to myself, that's about it — or so it seems.
The moment the excitement subsided, I could not walk straight back to the bench. When I looked down, I noticed swelling on my knees. They got injured through those twists and turns. Then, I realized my body couldn't keep up anymore with the demands of the game.
It was my first time getting injured like that, and it was hard going back into action again. I spent over a month dealing with the injury. And when I finally recovered, my doctor said I needed to build healthy joints again and prevent premature wear and tear.
That's when the doctor introduced Genacol Aminolock Collagen to me as a supplement to try if it works. I knew there were plenty of diet supplements with collagen content in them, but Genacol was the one to try during that time.
Genacol Aminolock Collagen: Is it right for you?
According to science, when you are young, your body has an abundance of collagen. But when you reach 25 years old, the collagen production declines, and you will need to get it through alternative measures. Thankfully, foods like fish, chicken, eggs, berries, avocados, red and yellow vegetables, leafy greens, and many more are collagen-rich.
To stay more active, you will need to maintain powerful muscles and healthy joints. I have tried Genacol and loved it. And will continue to use it for as long as I enjoy the benefits and none of the side effects.
See also: Foods that Burn Fat Fast