Our pick of the best firm ground soccer cleats:
Non-leather cleat: PUMA Ultra 1.2, an ultra-comfortable and versatile speed cleat that can do it all on the soccer field.
Leather cleat: Mizuno Rebula Cup, a comfortable all-leather cleat with one of the best soleplate designs this year.
The best leap in firm ground soccer cleats in technology and innovation happened in 2020. Although there are timeless football boots that are still in existence today and are lifelong favorites, top brands have worked extra hard to produce new soccer cleats that can match the demands of the modern soccer player.
If you are a soccer player looking to improve your skills on the soccer field, you now have tons of options among the top brands: Nike, Adidas, Puma, Mizuno, and New Balance. In fact, the best modern soccer cleats aren't new from the ground up, but are genius innovations using tested and proven technologies.
Since the first quarter of this year, we have already seen plenty of new soccer cleats, which may be better than their already great predecessors. And if you already see your favorite boots on clearance sale, there may have been a new replacement for that model.
Some new football boots have only incremented the model number but already got the improvements. In contrast, some have completely new names, and you don't easily realize that they have replaced previous soccer cleats that were already discontinued.
If you are looking for a new pair of firm ground soccer cleats, this list will provide you with the best ones you can get this year.
Best Firm Ground Soccer Cleats of 2022
– PUMA FUTURE Z 1.2 –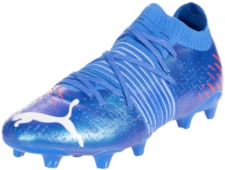 PUMA FUTURE Z 1.2 is Neymar Jr's second pair of PUMA football boots. Having first used the King Platinum, a comfortable soccer cleat with premium k-leather upper, the football star reunited with PUMA last December 2020 for the FUTURE Z. And he has been phenomenal with it since then.
PUMA FUTURE Z 1.2 has a unique adaptive FUZIONFIT+ compression band, a knit construction designed to provide supreme locked-in and support for any movements of the dynamic soccer player. It has an outsole, which offers agility, explosiveness, and a responsive take-off regardless of the direction you choose, whether forward or lateral. You'll also love the ankle collar of this shoe. See full review »
Note: PUMA FUTURE Z 1.2 is longer than usual, but it can fit a wider foot size. So you may have to go down half a size to get a proper locked-in sensation.
– PUMA Ultra 1.2 –
This new speed boot replaces the models of PUMA One. And it's our top soccer cleat in terms of comfort and innovation. In fact, you can never go wrong with any models of the PUMA Ultra.
While many soccer players consider PUMA Ultra 1.1 as the most comfortable model, PUMA Ultra 1.2 is the most preferred speed cleat by most professional soccer players using the PUMA brand. It feels like it has more padding inside than the Adidas X and Nike Mercurials, yet it can easily fit a wider foot size.
Weighing only at 5.6 oz, the Ultra 1.2 is a true speed cleat with exceptional control on the ball, studs that can deliver an explosive take-off and easy change of direction even at high speeds, and an upper that can amplify your power shots when shooting the ball to score a goal,
– Adidas Copa Sense+ –
Adidas Copa Sense+ is arguably the most elegant-looking leather football boot on this list. Of course, you can choose the model with laces, Adidas Copa Sense.1, but it will have less premium looks. So it will give you an idea that Adidas wants you to buy their laceless soccer cleats.
Although the leather of this latest item of the Adidas Copa feels thinner than its predecessor, it uses k-leather, a material battle-tested on the field for durability. But the upper is not merely a kangaroo leather; it has a FUSIONSKIN technology, a flexible material that molds to the shape of your foot and even repels water during wet conditions.
– Adidas Predator Freak.1 –
If you are looking for a soccer cleat that is all about control, Adidas Predator Freak.1 is one of your best options. This latest item of the Predator now has 360° coverage of rubber spikes designed to help you control the ball better and increase ball swerve during passes and power shots.
This soccer cleat has a CONTROLFRAME technology in the outsole, which offers optimal grip, power, and control on any natural surface. Even though this soccer cleat seems to have minimal changes over the model it replaces, it has new materials that look more premium than the past Predators. See full review »
Shop Predator Freak.1 at Soccer »
– Adidas X Ghosted.1 –
The X Ghosted.1 is Adidas' answer to the latest Nike Mercurials. In fact, these speed cleats (although they are in different brands) will feel very similar on your feet, including their touch on the ball.
So if you'll have difficulty choosing the right one, it will be easier to decide on the brand you like to most. Although Adidas X Ghosted.1 is most suitable for the narrow-footed player, while the Mercurials can fit wider foot sizes.
Having the roots of a speed boot, this latest item of Adidas X has a more locked-in fit than its predecessor. It now has unique carbon fiber in the outsole to help you propel forward and go faster. And it has a semi-translucent Fluroskin upper, which molds to the shape of your foot like a second skin.
– New Balance Furon V6+ Pro –
The Furon V6 continues to increase in popularity. It now has over 10 professional soccer players using it in the UEFA Champions League for the 2020-21 season. This latest model is a refined and simplified Furon. And it's better than its predecessor.
New Balance Furon V6+ is 20 grams more lightweight than the Furon V6. It has a Fit Weave technology in the upper, which offers a sock-like fit with excellent stability. It now has an enhanced knitted collar, which offers freedom of movement on the field and the ball.
This football boot also prevents foot slippage with the help of infiniGRIP technology, an insert that locks your foot down and stops unnecessary movements. It has added stability in the outsole through a lightweight nylon plate with a ribbed midfoot, enabling you to generate power in all directions. See full review »
Shop Balance Furon V6+ at Soccer »
– Mizuno Rebula Cup Japan –
Mizuno is arguably the best maker of leather soccer cleats. Because the quality of the material blends well with its modern performance. And if you are looking for a leather boot that is all about control and speed, Mizuno Rebula Cup made in Japan is one of your best options. This soccer cleat directly competes with Nike Tiempo Legend 9.
Weighing only at 7.05 oz, Mizuno built the Rebula Cup for the fastest players of the game. Having a super soft k-leather upper offers long-lasting comfort, stability, and protection that can even surpass the life of the shoe itself. This soccer cleat has a responsive, stable, and agile outsole with studs that offer optimal grip on any natural surface.
Shop Rebula Cup Japan at Soccer »
– Nike Mercurial Vapor 14 Elite –
The Nike Mercurials are still the most favored speed cleats on any soccer field today. In fact, over 50% of the professional soccer players in the Champions League are using either the Vapor or Superfly for this season.
These new Mercurials have a translucent outer layer, which allows you to see the internal components of the soccer cleats. They have a limited edition dragonfly design, which we think is the most attractive option to have. The new Mercurials also feature a supportive spine on the outsole that links the forefoot to the heel for a snappy takeoff. See full review »
Although there are more professional players using the Vapor 14, Nike's elite offering appears to be the Superfly 8.
Shop Mercurial Vapor 14 at Nike »
– Nike Phantom GT2 –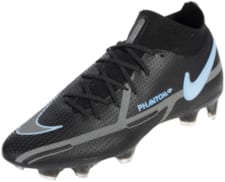 If you are looking for a sleek, fast, and aggressive soccer cleat with a closer feel on the ball, Nike Phantom GT2 is one of your best options. It's not only fast on pushing forward, but it is also quick on lateral movements, making its outsole arguably better than the Mercurials.
Weighing only at 7.6 oz, Nike built the Phantom GT2 for the creative forwards who love to unlock the opposing team's defense. This soccer cleat has a one-piece Flyknit upper, which hugs the foot like a second skin.
The upper is further enhanced using a unique Generative Texture, which offers a precise touch and control on the ball. And the updated studs provide the dynamic traction you need for a quick change of direction at any speed. See full review »
Note: If you are a wide-footed player, you'll feel very comfortable with the Phantom GT2. But if you are narrow-footed, you may have to go down half a size to get a proper locked-in sensation.
See also: