Our topmost choices for the best turf soccer shoes:
An artificial turf is an ideal option for places where it isn't easy to get sunlight to care for natural grass. Turf comes from tough synthetic fibers that don't require sunlight, irrigation, and trimming. It is shorter than natural grass, so you'll have to play on a more shallow surface.
But the more depthless the playing field is the lesser room for mistake. That is why, if you are playing on turf, wear turf shoes. Because using FG or AG soccer cleats on a shallow surface will only increase your risk of getting injured.
Turf shoes have shorter rubber studs placed closer to each other. These studs scatter throughout the entire outsole of the shoe. These shorter spikes make the turf shoe more comfortable and absorb shock better than the FG and AG boots.
The fact is, you can use turf shoes for training on firm ground and artificial grass as recovery shoes if your feet need recovery from previous tough training. But you have to wear these shoes only on dry fields.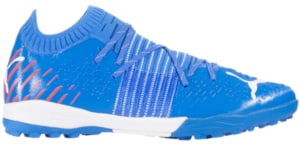 The Best Turf Soccer Shoes of 2023
All turf shoes will feel similar underneath your feet, but there are exceptional innovations that will make some of them stand out from all the rest.
Adidas Turf Soccer Shoes
— Adidas Mundial Team —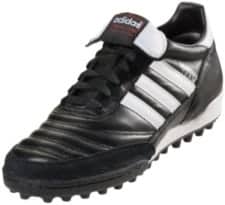 If you are looking for the most classic turf shoe, Adidas Mundial Team is your best option. It has the three stripes logo well-placed on the sides of the instep of the shoe. This timeless logo from Adidas was first introduced in 1949 but still looks fresh and stunning on this footwear.
Adidas Mundial Team is a high-quality turf shoe, with full-grain k-leather all over the place. Even the tongue of this shoe is k-leather. This turf shoe has a soft lining and a reinforced toe for extra durability. It has a multi-studded rubber, which delivers excellent traction on any artificial surfaces and dry natural fields.
— Adidas X Speedflow.1 TF —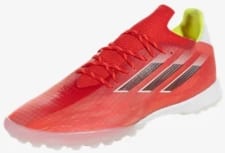 Adidas X Speedflow.1 TF is a turf shoe designed for the fastest players in the game. It has the materials and technology of Adidas' best speed cleat designed for magicians and forwards.
This turf shoe has a comfortable and pliable PRIMEKNIT upper with an Engineered Agility Frame for lightweight multidirectional support. It is excellent on straight-line runs and agile on quick cuts and turns.
Shop X Speedflow.1 TF at Soccer »
— Adidas Copa Sense.1 TF —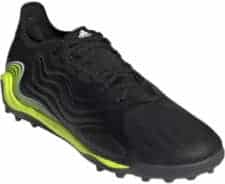 Adidas Copa Sense .1 TF is a new entry to the Adidas soccer shoe lineup. It has modern technologies that can help improve your touch on the ball and performance on the artificial pitch.
This turf shoe has well-placed SENSEPODS designed to improve your touch on the ball during dribbling and shooting. It has a plush lining inside with foam padding, which not only provides comfort to your feet but also delivers a precise fit.
This shoe has TOUCHPODS on the medial and lateral sides of the shoe, which absorb impact each time you strike the ball. Its flexible leather upper has a FUSIONSKIN technology, which helps the upper material mold to the shape of your foot for a better locked-in fit.
Puma Turf Soccer Shoe
— PUMA FUTURE Z 1.2 Pro Cage —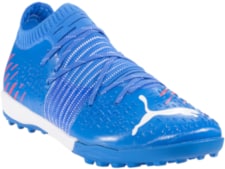 There's a good reason PUMA FUTURE Z is Neymar Jr's new soccer cleat. It is one of the most improved boots re-engineered to level up the game of one of the best soccer forwards the world has ever known. If you are a playmaker, PUMA FUTURE Z 1.1 turf shoe is one of your best options.
This shoe has a FUZIONFIT+ adaptive compression band, which delivers the ultimate locked-in fit. It has an embossed material on the upper, which offers a superior touch where your foot meets the ball. And a low-profile outsole with a Dynamic Motion System, a technology that gives you freedom of movement and a smooth change of direction at any speed.
Shop FUTURE Z 1.2 Pro Cage at Soccer »
Nike Soccer Turf Shoes
— Nike React Tiempo Legend 9 Pro —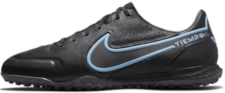 Nike Tiempo Legend 9 is your best option in the Nike brand for leather cleats. It's the lightest Tiempo ever. And it's super comfortable with an improved touch and control of the ball.
This turf shoe has a soft calfskin leather upper, designed to offer a fit that feels like a second skin. Its upper material is molded and stitchless, which enhances your control of the ball.
It has a Nike React foam cushioning, designed to provide a soft, springy, and stable ride. And a rubber-studded outsole, which offers superb traction on any artificial surface.
Shop React Tiempo Legend 9 Pro at Soccer »
Final Thoughts
The turf playing surface is an old-school artificial pitch every soccer player should know how to play. It has shorter grass-like synthetic fibers, which require turf shoes to be effective in the game. Turf shoes are more comfortable and are better at absorbing shock compared to FG and AG boots. They are more versatile and are also excellent for training on firm ground and artificial grass.
You may also like: