Our top choices among the best soccer cleats for high arches this year are:
Non-leather cleat: Nike Mercurial Superfly 8 Elite, a super lightweight speed cleat with a perfect blend of comfort, flexibility, support, and shock absorption. It has an added ankle support through a Dynamic Fit collar.
Leather cleat: PUMA Ultra 1.2 Lazertouch, a new leather cleat with a more comfortable and supportive fit than its already super comfortable regular (synthetic) model.
Shoe insert: Superfeet Premium Green, the most popular insole for high arches with professional-grade orthotic support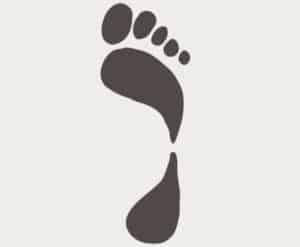 If you have high arches (also known as pes cavus), your foot will have instability, which can cause ankle sprains. This happens when your foot is fully planted on the ground, and your ankle has no choice but to move to the side to get your balance.
The high-arched foot will add more pressure to the ball of the foot even when standing. And the actual cause of this problem gait may still be unclear. As a sign, plenty of the people who have high arches got it from birth.
But if your foot is flexible and you don't have an abnormally high arch, there's no need to worry about it. Just make sure you don't have any existing foot injuries, and you'll be okay on the soccer field. In fact, we have seen plenty of soccer players with high arches who can play a full 90 minutes with no issues.
But if you experience foot pain caused by high arches, you may need to wear orthotics and minimize your playing time on the soccer field to avoid impact-related aches and pains. High arches can cause your body to be unable to distribute impact optimally.
RELATED: Best Running Shoes for Supination
Table of Contents
What are the Best Soccer Cleats for High Arches?
The best soccer cleats for high arches are comfortable boots with remarkable cushioning in the heel and forefoot. They have roomier toe boxes so your toes can splay and generate power when pushing off in all directions.
Note: To support the arch, you need an athletic insole for high arches.
The shoe must have a flexible upper because the high-arch foot will push upward and cause a tighter instep. A cleat with excellent ankle support will be a plus because it will help prevent ankle sprains.
If you need more stability, go for conical studs instead of blade cleats. Although with conical studs, you may have to give up a little on turning ability and grip on the ground because those are the qualities that make blade cleats most excellent.
If you want more impact protection, go for a leather upper. This material is soft and more durable than synthetic but will stretch to conform to the shape of your foot over time.
How We Choose a Soccer Cleat
We spend many hours testing new soccer cleats and reading new technologies, expert advice, and consumer testimonials on various foot types. And we choose the best soccer cleats for a specific problem gait.
Disclosure: We provide links to shoes mentioned in our reviews and use affiliate links to earn commission income from qualifying purchases at no cost to you. This site is an associate of Amazon, Nike, Zappos, Soccer, and Spenco.
Best Soccer Cleats for High Arches
– Nike Mercurial Superfly 8 Elite –
If the Vapor 14 becomes a doctor-recommended soccer cleat for players who suffer from heel pain because of its perfect blend of comfort, flexibility, support, and shock absorption, its twin brother, the Superfly 8, can surpass it with its higher Dynamic Fit collar, which offers more ankle support.
Nike Mercurial Superfly 8 shares the same DNA as the Vapor 14 and may provide a complete solution if you experience pain in your heel due to having high arches. It also has a firmer soleplate that can help prevent injury to the forefoot.
– Nike Tiempo Legend 9 Elite –
Although the models of Nike Legend are physician-recommended for problem gait like overpronation, an irregular running pattern associated with flat feet, it can also work well with high arches. In fact, any problem gait doesn't allow the body to distribute impact optimally, and this leather cleat can address those issues.
According to some sports medicine physicians, the models of Nike Legend have more lateral and ankle support than most soccer cleats. They can fit wider feet, have comfortable footbeds, and stiffer outsoles that can prevent injury to the forefoot.
This new model is the lightest Legend ever made. It continues to use the legendary, soft kangaroo leather upper, which can provide protection against impact injury. The upper has a raised texture for extra grip on the ball, and soft foam pods underneath the leather for a more precise touch on the ball.
– Mizuno Morelia Neo III Beta –
Mizuno Morelia Neo III Beta is the most advanced Neo model, and Mizuno has made it lighter than its predecessor by around 8.5 grams. It has the perfect blend of technology and high-quality materials. You can even wear it all day and still feel comfortable even after removing it.
This leather cleat competes with any speed cleat and is arguably the best option if you want leather material. It will give you a modern feel, and the soft and thin upper will bring your foot closer to the ball for better touch and control. This boot has a modern soleplate with all-conical studs, which offer optimum traction and pivoting ability.
If you want a more old-school design with a modern feel, go for Mizuno Morelia II. It competes with any leather cleat legend. This high-grade boot has a classic-looking soleplate with all-conical studs for better performance.
– New Balance Furon V6+ Pro –
New Balance Furon V6+ has one of the best lock-in support thanks to its Fit Weave technology in the upper that adds more stability to your acceleration and side-to-side movements. It has arguably the best cushioning and supports around the heel as well. It has great flexibility and has an option for width for super wide-footed players.
This cool and good-looking speed cleat is an upgraded Furon V6. It has a soft lining and is well-padded (like PUMA Ultra 1.2) from heel to forefoot. It has infiniGRIP technology on the removable insert that locks the foot down and reduces foot slippage. Also, its nylon soleplate offers plenty of stability and a firmer ride that can help prevent injury to the forefoot.
Best PUMA Cleats for High Arches
– PUMA FUTURE Z 1.2 –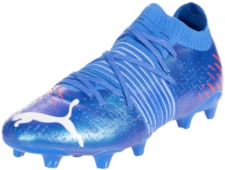 PUMA FUTURE Z 1.2 is an agility football boot designed for control and speed. It is structured in every part of the upper, which offers excellent support for multidirectional movements. It has the best adaptability features and offers comfort in all directions.
This soccer cleat has a FUZIONFIT+ compression band that compresses and locks the entire midfoot area (without restricting the freedom of movement) each time you accelerate and make an explosive side-to-side maneuver.
It has high-quality materials, a snugger fit than FUTURE 6.1, and is one of the most comfortable soccer cleats this year. And it is Neymar Jr's current football boot, which proves how effective it is on the soccer field.
– PUMA Ultra 1.2 Lazertouch –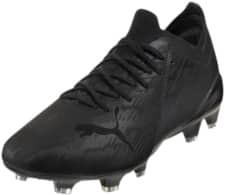 This new leather cleat has the comfort and support you need for high arches. It has a roomy construction that can fit a wider foot, secure heel support that reduces excess movement around the heel, and a better locked-in fit through a premium, soft k-leather that follows the foot in all directions.
PUMA Ultra 1.2 Lazertouch offers comfort similar to the more expensive leather cleats on the market. It has a speed cleat design and weighs almost the same as its synthetic model (the price is identical, too). It's an all-rounder that can do anything and perform anywhere on the soccer field.
Best Adidas Cleats for High Arches
– Adidas Predator Freak.1 –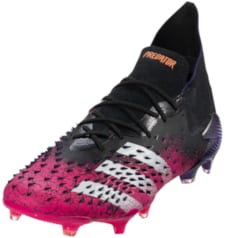 Adidas Predator Freak.1 has more premium materials than the product it replaces. Being a control boot, it doesn't only offer excellent control on the ball, but it also allows your foot to handle the field very well. It is one of the best cleats for dribbling.
Among the available models of the Predator Freak, the mid version offers more support around the ankle and heel. It has an option for pink color, which looks aggressive and best-looking (you'll love it even if you don't like pink).
This soccer cleat has a soft lining with padding in the right places. The outsole will give you a solid base with good flexibility. The soleplate also features new traction studs that lean toward the conical shape, which could add more stability to your foot.
– Adidas X50 Flow.1 –
Adidas X50 Flow.1 is Lionel Messi's official soccer cleat. It's a good-looking speed cleat with a classic touch and modern technologies. It helped the 34-year old Argentinian magician lead his team to the final of the 2021 Copa America, where they won 1-0 against Brazil on Brazilian soil to win Messi's first-ever major international trophy.
Adidas X50 Flow.1 has a wider width than the models of X Ghosted so it can fit wide feet. It has an upper construction that feels more supportive than the X Ghosted. And like any Adidas speed cleat, it uses Carbon Fiber SpeedFrame, a technology that helps you make an explosive toe-off with efficient power transfer in the forefoot.
– Adidas X Speedflow+ –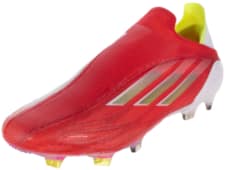 If you don't believe in laceless cleats, this one will make you a believer. Adidas X Speedflow+ is a new speed cleat that will replace the X Ghosted+. And it is better than its predecessor in many ways.
This laceless cleat now uses a more pliable and strong Primeknit upper to replace the Fluroskin material of the X Ghosted. Underneath it is a new Engineered Agility Frame, a technology that wraps the foot and provides structured support that gives multi-directional stability.
The upper construction is the major update to this new model, and it feels more supportive than its predecessor. Having a more elastic upper material, the X Speedflow+ can now fit wide feet. With regards to the soleplate, it looks identical to the X Ghosted+.
Note: If you want a custom fit around the instep area, go for Adidas X Speedflow.1, the new model with the same DNA as the Speedflow+ but with a lacing system that can give you more freedom in securing your boots.
– Umbro Speciali Pro –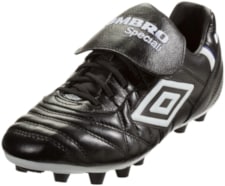 This classic leather cleat ticks all the boxes when it comes to comfort. It has a soft kangaroo leather upper that can shield your foot from an impact because it's thicker than any modern leather cleat. The upper has plenty of stitching, which can prevent overstretching of the leather as you play.
Umbro Speciali Pro is suitable for even wide-footed players. It has a comfortable footbed with a thick and mushy removable insole that has raised sidewalls that run from the heel through the midfoot, which help give extra support on the medial and lateral sides of the foot. It has all-conical studs that provide stability and help the foot to function better.
Even though your foot's biomechanics may change as you grow older, sticking to your most comfortable shoe is oftentimes a great choice.
If you are looking for better comfort and support during practice, choose turf soccer shoes. These shoes are more flexible than regular soccer cleats. Turf shoes enable you to move easily due to the smaller rubber protrusions with very little spacing.
Turf soccer shoes also absorb shock better than regular soccer cleats. However, you may only be allowed to use turf shoes during practice and not during competition.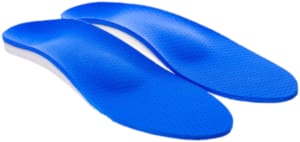 Best Insoles for High Arches
It is common for modern football boots to have a super flat sole and thin insoles. And this will only worsen the condition if you have an injury in your foot. So to prevent a possible problem, replace the standard insoles with the best insoles for high arches because they have the right contours for your feet, a proper heel raise, and enough support in the arch area.
Here's a list of the best insoles for high arches:
1. Spenco RX Orthotic Arch Support
2. Spenco RX Full Arch Cushion
3. Spenco Total Support Gel
4. Spenco PolySorb Cross Trainer
5. Spenco PolySorb Walker/Runner
6. Superfeet Premium Berry
7. Superfeet Carbon Insole
8. Superfeet Premium Green
9. Superfeet Premium Orange
10. Sof Sole Athlete Performance Insole
See full review of these insoles for soccer cleats »
If you over-supinate because of high arches and experience foot pain, you'll need special shoe inserts to provide the right responsive support. But even though orthotics will align your foot with less tendency to get overuse type injury, they can alter your feel of the ball and the touch of special materials that make a clean ball contact.
Final Thoughts on the Best Football Boots for High Arches
Many soccer players with high arches can complete the game without any issues on their feet. They will only need comfortable soccer cleats with roomy toe boxes and a flexible upper during such cases. And for added stability, conical studs will be a plus.
But if you suffer foot pain while playing because of high arches, the pain may come from a more serious problem. So you must visit your doctor before resuming your training. Also, wear the shoe inserts for high arches and limit your playing time on the soccer field.
You may also like: